The 2020 Olympic games, postponed by COVID-19, have come to a close. The few weeks of international competition has been an amazing exhibition of strength, courage, performance and sportsmanship. However, this year, partly as a result of the games being held in the tech-forward country of Japan, the games have become their own exhibition of the latest in technology: including use cases for reality capture, 3D printing, modeling, and virtual and augmented reality.
Improving equipment with 3D printing
While some sports, like running, are relatively low on equipment needs, there are others that rely on external equipment. One of the most equipment-dependent Olympic sports is archery, where materials science and engineering have been put to the test in designing bows that minimize vibration and maximize accuracy. One of the challenges in designing archery equipment, however, is that the grip size and shape can vary from person to person. If the grip of the bow is not fit properly to the archer, the bow - no matter how technologically advanced - may be uncomfortable enough to cause errors or poor performance.
For Hyundai Motor Group, this seemed the perfect application for the most recent advances in 3D printing, by scanning athlete's hands and developing custom grips for their bows. Hyundai has been supporting the Korean Archery Association for years, helping them to design and test their bows in non-destructive ways. While this is not the first year they have been able to provide 3D-printed grips, this is the first year where they have been made available in a greater variety of materials.
Cycling, another equipment-heavy sport, has also embraced 3D printing and additive manufacturing. The Great Britan Cycling team used a bike designed and constructed by Renishaw and Lotus Engineering using advanced 3D techniques, as have other teams. With new technology comes risk, and unfortunately for the Australian cycling team, a component of the handlebar failed during the men's pursuit qualifiers, ultimately leading to a 5th place finish.
Tracking athletes in 3D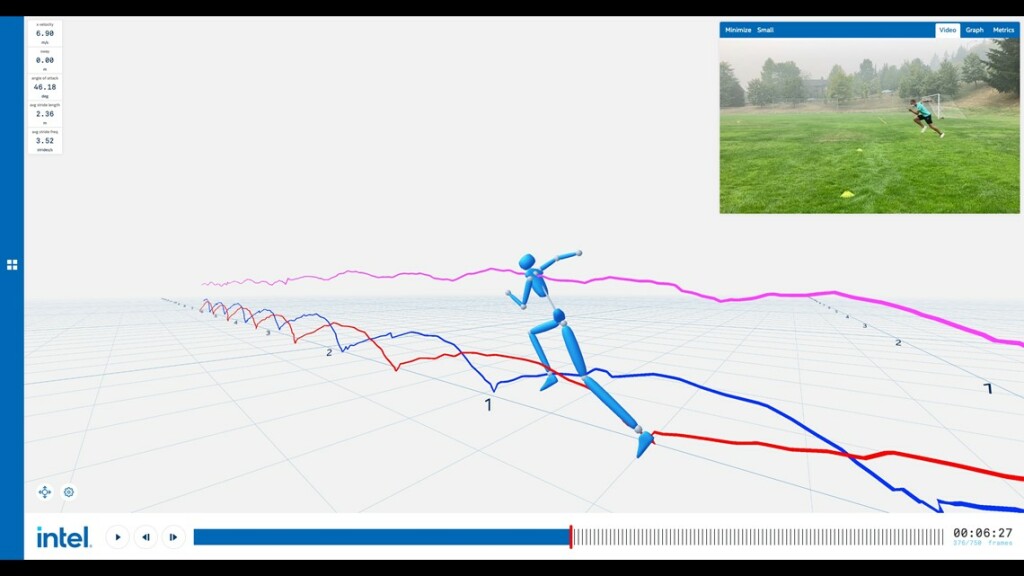 One of the innovations that was particularly interesting was provided by Intel. A system called 3DAT, short for 3D athlete tracking, imports video of athletes running and uses computer vision and AI to create a digital skeleton of the person. Then pinpointing over twenty different locations on the body, Intel tech can then calculate speed, acceleration, stride length and more - providing invaluable information to coaches and athletes. The 3DAT cameras were positioned on the track for several events, and the output of the capture was used and talked about by analysts and broadcasters for the 100-meter, 200-meter and 400-meter dashes.
We've written before about some of the reasons you might want to scan the human body, and here's another one. When aerodynamics are paramount, for example, in cycling, every fold and bump of fabric counts. The Calibry 3D Scanner from Thor3D was employed to streamline the aerodynamics of the Italian cycling team. An Artec 3D scanner was used for five Olympic teams to create custom "skinsuits" that provide the maximum aerodynamic qualities for each athlete.
Spectators can watch in new ways
The technology use at the Olympics was not limited to the competitors and coaches. Throughout the games, new ways of utilizing virtual and augmented reality were employed. While this project was scaled back due to COVID concerns, as part of the Tokyo 5G Project the Microsoft HoloLens 2 was employed to allow some spectators to see augmented reality displays during swimming and other events. By overlaying the lanes with information about competitors, as well as a world record "pace" line drawn across the swimmers, the spectators could use augmented reality to get more information on the races as they were happening in real-time.
In addition, the Tokyo Olympics created a virtual reality content series for VR devices. In a series that ranged from baseball to rowing, virtual events were organized that tapped into virtual reality to "connect the physical sporting world with the virtual and simulation sports gaming community."
Not all audiences are able to have the same experience of the Olympic games, unfortunately. In another virtual reality endeavor, children at the Bokuto School for the Physically Handicapped (and three other schools) were invited to participate in a unique experience to watch the games. In a virtual reality "dome" setup, the children were able to feel like they were present, and were also able to talk to some paralympic athletes virtually.
The future of sports in 3D
While it may be surprising that 3D technology can be involved in something that is fundamentally a demonstration of human-powered physical achievement, the world of professional sports is a business that, in and of itself, has pursued technologies to better itself. Any advantage that can provide an edge for training, competition or equipment can mean the difference between silver and gold. From 3D scanners meant for scanning archeological finds that are now scanning humans to sophisticated computer vision technologies that are changing the spectator experience, the applications of 3D technology and reality capture are continuing to broaden.