The autonomous vehicle market and development around it certainly is not going away, but the commercial progress has been a bit slower than some expected. As a result, we are seeing more startups begin to focus on smart infrastructure offerings to support all vehicles, and municipalities at large, rather than solely focusing on developing individual cars. Seoul Robotics has been one of the companies making headway in both the US and abroad in recent years, developing smart infrastructure like their wrong-way driving detection system and LV5 CTRL TWR. They are exhibiting this week at CES in Las Vegas, and in conjunction with the conference made two announcements as they continue their push to cement themselves among the leaders in city-wide 3D perception and smart infrastructure development.
Firstly, Seoul Robotics announced a new update to their 3D perception platform, SENSR, introducing SENSR 3.0. The SENSR platform, which is at the core of much of what the company does, is "a computer vision software that uses state-of-the deep learning to create highly accurate 3D models of the world in real time." The platform, which is agnostic to hardware and sensors, can be configured differently depending on an end user's application and budget, and is scalable across large areas like cities. At its core, this latest update, which brings with it two new features in QuickTune and QuickSite, is designed around making the software easier to use and install.
Those two main additions in this SENSR 3.0 update, QuickTune and QuickSite, are new tools to expedite sensor calibration and to reduce installation time, respectively. Looking specifically at QuickTune, this new update makes it significantly easier for anyone to install these systems regardless of experience or expertise. The system looks for commonalities in an environment – i.e a wall or corner – and calibrates multiple sensors in a system to speed up deployments. Users can also pick a specific spot for sensors to calibrate instead of the system working automatically. QuickSite, meanwhile, utilizes location information to automatically calculate the optimal positioning for sensors to optimize automated insights. This cloud-based tool accounts for positions and angles, and can virtually adjust the position of sensors to ensure maximum coverage.
In addition to the announcement of this new SENSR 3.0 update, it was also announced this week that the City of Chattanooga intends to build the largest smart intersection network in the United States, an undertaking which will be largely supported by Seoul Robotics. The city's Department of Innovation Delivery and Performance, along with the Center of Urban Informatics and Progress (CUIP) at the University of Tennessee at Chattanooga, plan to deliver 86 new smart city intersections through this endeavor. The $4.5 million project will be funded by the U.S. Department of Transportation, and will utilize it as a "living laboratory" to provide researchers valuable insights into the state of mobility in the city. The intersections are expected to be installed through the next two years.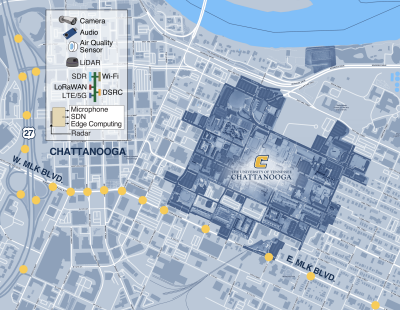 This new plan only furthers an already existing relationship between Seoul Robotics and the city of Chattanooga, as the two entities first partnered for the city's MLK Smart Corridor. With that project being a success, they are expanding the usage of the company's SENSR system through a larger area. Once the system is in place, the city is planning to leverage the acquired 3D data to prepare for the transition to electric vehicles by mapping ideal locations to install charging stations, while also using the gained insights to improve inner-city traffic management and general mobility.
These types of innovations are going to be needed to streamline operations in cities as we move forward, especially as city density is only expected to increase in the coming years. The updates to Seoul Robotics' SENSR system are important, as many of the workers who will be tasked with installing these systems are not experts in the technology. It's key to make that process as simple as possible if they are to be deployed at scale. As this density increases, so too will the importance of understanding traffic patterns, interactions between pedestrians and vehicles, and vehicle emissions. Chattanooga will provide an example of how other cities around the U.S. and the rest of the world can utilize insights from 3D perception systems to enhance their understanding of these aspects of their city and make necessary improvements.
On the announcement of the new SENSR 3.0 system, Seoul Robotics Vice President of Business Development William Muller said in a press statement, "Imagine what we can accomplish if we can more accurately perceive our world beyond what's visible to the human eye: roadways will be safer for both drivers and pedestrians, stores are optimized based on the customer journey, and airports experience reduced wait times. Those are just the immediate benefits that come from installing 3D systems. With SENSR 3.0, never before has it been so simple to set up, calibrate, and scale a 3D system, and this will revolutionize how companies gain value from our technology."
Dr. Mina Sartipi, the Founding Director for CUIP, said of the city's partnership with Seoul Robotics, "Our partnership with Seoul Robotics on the MLK Smart Corridor delivered an entirely new dimension of insights beyond what we anticipated. The level of accuracy and actionability has enabled numerous advancements in how we can make our city safer, more efficient, and healthier for the people who live here. By expanding the project footprint, we will not only position Chattanooga as a pioneer of smart city technology, but also create a blueprint for other cities around the United States to leverage the transformative capabilities of 3D systems."