SkyFi, based in Austin, Texas, was only founded in 2021 but has already made waves in the Earth observation space by providing on-demand satellite and aerial imagery and analytics to anyone with access to a smartphone, tablet, and/or computer. The company, who says their mission is to "easify" access to key geospatial data, has recently announced a series of new capabilities and products to continue along that mission. In late August, they announced that stereo imagery is now live on their SkyFi app, and more recently they announced new products with open data and SkyFi Insights.
We can start with the addition of stereo imagery into the SkyFi app, which was announced by the company on August 28. Stereo imagery involves taking images of the same area or object from multiple angles and combining them to create a 3D image, much the same way that stereo audio comes from multiple sources to create a three-dimensional listening experience. For satellite imagery in particular, this allows users to create 3D models of landscapes and capture precise elevation data.
Some of the use cases SkyFi calls out as beneficiaries of stereo imagery include urban planning, environmental monitoring, disaster response, agriculture, and archeological exploration. More broadly, they note that users will know stereo imagery is necessary if a project requires 3D information and/or elevation data, or if precise measurements are needed.
In their announcement blog, they wrote, "By enabling 3D visualization and precise elevation data, this advanced technology opens up a plethora of possibilities for various industries and applications."
Meanwhile, on Monday of this week SkyFi also jointly announced two new products they are launching for their customers in open data and SkyFi Insights. Starting with the open data, they are looking to provide the easiest access possible to satellite imagery at no cost, which they're accomplishing by utilizing data from Sentinel-2. Launched by the European Union's Copernicus Programme in 2015, the Earth observation satellite provides free and open imagery accessible to anyone. That was true before this SkyFi integration, to be fair, but by being integrated into their app it is now freely available on a more easily accessible platform than previously.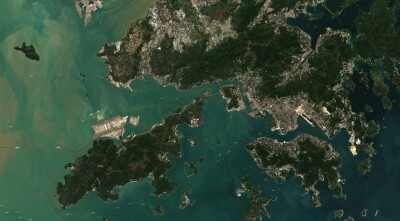 To that point, Luke Fischer, SkyFi's CEO and co-founder, said in the company's announcement, "SkyFi is the first company, in the history of the world, to offer direct access to open satellite data through a mobile app."
With open data providing easier access to the imagery itself, the next piece of the puzzle is making it simpler to derive useful insights from the data. This is where the new SkyFi Insights product comes in. Calling it a "secret weapon for making informed decisions," the offering makes it easy for users to analyze satellite and aerial imagery to complete tasks like tracking change over time and finding hidden patterns. The product is available only on SkyFi's web platform.
One of the biggest trends over the last half-decade or so in the geospatial space has been the increasing awareness in Earth observation data's value. While the data has long been available, this satellite imagery has become easier to access, and in turn more industries have recognized the value it can provide for their organizations.
SkyFi, who has also partnered with Satellogic this year as another step in democratizing this data, is targeting that audience newer to the space, providing easier access to industry outsiders, and these new product additions continue along that space. From being able to create 3D models more simply – another area whose perceived value across industries is rapidly expanding – to accessing free imagery on a mobile platform and analyzing said data in a way that makes sense to non-insiders, it's a good representation of this overarching trend.
"We're not just opening the doors to data; we're inviting you to discover Insights that integrate into your workflow, propelling you into a future where answers layer seamlessly over data and bring clarity to every corner of our planet," said Payton Barnwell, Product Manager of SkyFi Insights.