SketchUp for iPad, launched this week by Trimble, is a version of the popular modeling program SketchUp, which acts as a "bridge" for designers and architects looking to move from paper and pencil sketching to creating 3D models.
Compatible across the iPad models (iPad Air, iPad Mini, iPad Pro, etc.), the app can be used with multitouch gestures, or with input devices of keyboards, mice, and the Apple Pencil. The Apple Pencil support, in particular, enables a more "intuitive" sketching process.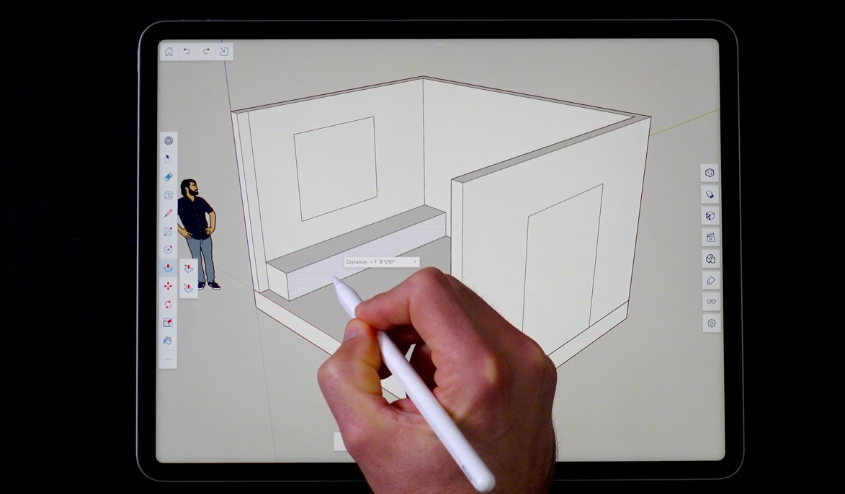 The app uses 5G connectivity and native integration with Trimble Connect, Trimble's cloud-based collaboration platform. Files updated or created on the IPad app can be updated in real-time, allowing for multiple users to stay on the same page, as well as move between the various versions of SketchUp away from the iPad. SketchUp models that are stored in Trimble Connect automatically sync across devices so project stakeholders can move seamlessly between SketchUp for iPad, SketchUp for Web and SketchUp Desktop applications.
There are also some shortcuts that allow architects and designers to spend less time performing repetitive modeling tasks. Autoshape is a new machine-learning feature that can transforms doodles into 3D shapes and configurable components.
Markup mode enables annotations and illustrations to be layered on top of 3D models, which can be useful for gathering quick feedback on design reviews or client meetings.
Connecting the physical and digital worlds, SketchUp for iPad also enables users to import satellite imagery and terrain data of existing site locations, apply photo textures using an iPad camera, and visualize 3D creations in the real world using augmented reality.
Christopher Cronin, Vice President and General Manager of Trimble SketchUp remarked in the launch announcement that the goal is to help to bring a more "intuitive" experience to encourage collaboration and inspiration.
"The way we work has changed, and SketchUp for iPad was designed to go wherever work takes our users with a uniquely intuitive 3D experience to help capture and bring creative inspiration to life—whether on the jobsite, in a coffee shop or meeting with clients in an office."
"We're excited to make 3D even more accessible to designers who've always dreamed of working in 3D. We want to help dissolve barriers between the physical and digital worlds by offering immersive and collaborative 3D experiences that can be shared by all stakeholders, from concept through construction."
Originally launched in 2000, SketchUp was originally created by @Last Software, scooped up by Google in 2006 and was ultimately purchased by Trimble in 2012.
SketchUp lets you create and edit 3D models on iPad via an in-app subscription of $119 USD per year.
SketchUp for iPad is also still a free SketchUp Viewer app. In Viewer mode, you can navigate projects using multitouch gestures for Orbit, Pan, and Zoom, or view models using any of SketchUp's standard views or custom scenes, control the visibility of tags, alter the visual look and feel of a model using styles, take measurements, and view models in AR – all while using either your iPhone or iPad.
SketchUp for iPad is included in all paid SketchUp subscriptions, or can be tested with a 7-day free trial period. To learn more, visit SketchUp for iPad or purchase from the Apple App Store.