While digital twins are largely associated with individual buildings, or perhaps campuses with a handful of buildings to monitor, we certainly know that other industries and project types can benefit from the tools. Infrastructure is a big one, with large-scale projects having a lot to gain from up-to-date and accurate information that can be gleaned from these digital twins. It's also an industry with a lot of overlap with more traditional construction, both in function and in reputation for being laggards in technological adoption.
That reluctance can be overblown, though, and we're seeing both industries further embrace these and other digital tools in recent years. And for infrastructure, Sensat has been providing digital twin software to large-scale infrastructure projects in Europe, and they're looking to start making their mark in the United States in the coming years as well.
Strides are being made in that respect for the UK-based company, who earlier this week announced that they had raised over $20 million USD in their recent Series B funding round. The funding round was led by National Grid Partners, the corporate venture capital and innovation arm of National Grid, one of the largest players in the U.S. infrastructure space. Sensat's co-founder and CEO James Dean spoke with Geo Week News earlier this week to discuss the company's plans with the new funding, the broader goals for the organization, and why he feels the reputation around industries like construction and infrastructure is unfair.
Prior to Sensat's launch in 2017, Dean had worked in remote sensing before transitioning to the world of finance. At that point he had purchased a drone for personal use, and quickly discovered how useful it could be to capture similar data as satellites do in remote sensing work, and started getting some work capturing things like road projects via drones. Quickly, however, it became clear that while the data captured is great, it means little without being able to process and gain insights from it.
That led to the creation of what Sensat is today, which largely centers around their software. While they do collect data if customers require it – Dean compares the model to that of Netflix, which takes plenty of content from others but also creates their own to fill out their library – much of the data is collected by the user themselves, which is then fed into Sensat's software.
That leads to the other big piece of Sensat's mission, and part of what they will work to expand with their newfound funding: Automation. Sometimes in industries like construction and infrastructure, automation is immediately associated with things like autonomous physical equipment – and there is some of that here with Sensat's drones – but in this case it's with regards to software. Creating a digital twin of large-scale projects like infrastructure typically means capturing a ton of data.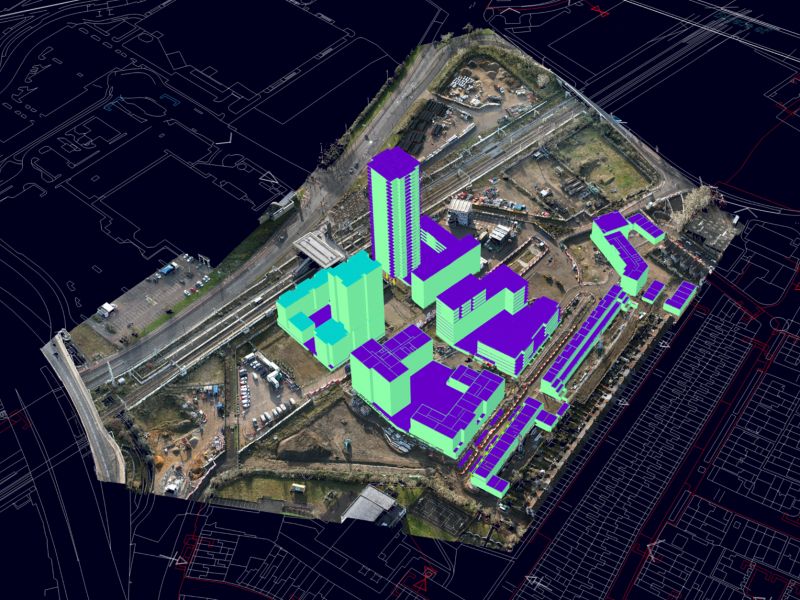 Sensat's automated system processes the data and provides the key insights project managers are looking for, with updates happening in real time as more data is captured via both reality capture and other sensors around a space. With Sensat's computer vision, key insights are automatically processed by the computer as well, leaving the human on the other end freed up to act on these insights rather than trying to process them.
With new funding, Sensat now has their eyes on expanding both in terms of their own scope as well as the platform itself. The scope is really the big part here, and it plays into what they can do with the tool. Dean acknowledges that while there is certainly a large amount of overlap between projects in different places, there is, say, 30 percent that is different between an infrastructure project in New York as compared to London.
These differences will require different functionality and different types of insights captured in their software. That, as Dean says, is why National Grid is a key partner for them moving forward as they look to firm their place in the States, as they are obviously both well-established in the U.S. and extremely knowledgeable about what is needed to make headway in this space.
Dean also talked with Geo Week News about the oft-cited reputation of some of these industries for being slow to adopt technology. Asked why he thinks they have been slow to adoption, he responds with sort of the opposite view. Coming as an outsider to the industry, he says he "finds a bunch of people who are very dedicated to what they're doing and proud of what they do."
He notes that industries that could digitize have, but most of those industries are simply very different from those like construction and infrastructure. The latter fields deal largely with physical spaces and assets, and "only recently through things like reality capture could we take a real world place made of atoms and turn it into a copy made by computer code which we can then start to analyze."
Dean believes that those in the industry really are hungry for these tools, because they will save money and make work more efficient. There's little doubt anyone would oppose those things. It's just taken time for the technology to catch up to what is inherently an extremely complex space. Sensat is one of the companies looking to continue that progress, and their latest round of funding should keep them on that path.