Combined firm targets maritime robotics market
Bluefin Robotics, a manufacturer of Autonomous Underwater Vehicles (AUVs), said Monday it has acquired Scotland-based SeeByte, Ltd., a developer of autonomous platform software for underwater sensors, vehicles and systems.
Terms of the deal were not disclosed but all SeeByte staff and offices have been retained, Bluefin said. SeeByte is now a wholly owned subsidiary of Quincy, Mass.-based Bluefin, which is a wholly owned subsidiary of Battelle Memorial Institute, a nonprofit applied science and technology development firm in Columbus, Ohio.
SeeByte has worked with Bluefin for over five years developing software and capabilities for Bluefin's Hovering Autonomous Underwater Vehicle (HAUV) and Bluefin-21 AUV, used for offshore surveys, search and salvage, archaeology and exploration, oceanography, and mine countermeasures.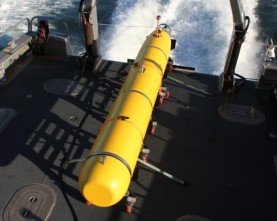 SeeByte will continue to provide clients in the military and oil and gas sectors with open architecture, platform-agnostic software and support to boost capabilities of underwater sensors, vehicles and systems. The development team will continue to support and evolve products such as SeeTrack Military, SeeTrack AutoTracker and SeeTrack CoPilot.
The combined companies will sell autonomy products for remotely-operated and unmanned surface and underwater vehicles for customers in commercial and defense markets.



"Bringing these two companies together will allow us to bring integrated expertise in vehicle control, low-level vehicle to high-level mission autonomy, sensor processing, operator interface, and power subsystems to our customers," said David Kelly, Bluefin Robotics CEO.