DigitalGlobe posts 48% jump in Q2 sales, earnings loss
DigitalGlobe, Inc., a provider of commercial satellite and aerial imagery and geospatial content, has reported a 48 percent jump in second quarter revenue to $150.6 million and a $21 million net loss compared with $9.6 million in profit in last year's second quarter.
World's largest satellite image library
Based in Longmont, Colo., the company maintains the world's largest satellite image library and operates five earth imaging satellites to provide sub-metre basic, standard, and orthorectified satellite imagery. Much of the high resolution-imagery in Google Earth and Google Maps is provided by DigitalGlobe.
The company serves customers in urban planning, defense and intelligence, public safety, civil agencies, air and marine transportation, map making and analysis, environmental monitoring, oil and gas exploration, infrastructure management, navigation technology, and providers of location-based services.
Stable of 5 satellites
Its five satellites – IKONOS, QuickBird, WorldView-1, GeoEye-1 and WorldView-2 – are capable of capturing over one billion square kilometers of imagery annually and also offering intraday revisits.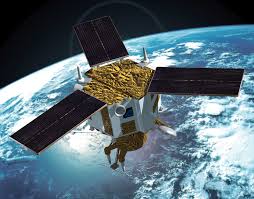 The IKONOS satellite has collected more than 300 million square kilometers of imagery over every continent from its 423-mile-high orbit. IKONOS has a revisit time of once every three days, and downlinks directly to over a dozen ground stations around the world. Imagery captured by the panchromatic and multispectral sensors can be merged to create 0.82-meter color imagery (pan-sharpened).
Commercial sales soar 82%
For the quarter ended June 30, DigitalGlobe grew revenue from the U. S. government by 28 percent to $82.7 million, including a 105 percent increase in value-added services to $19.5 million.
Revenue from its Diversified Commercial segment soared 82 percent to $67.9 million, compared with last year's second quarter.
The company's 12-month sales backlog increased to $485.8 million, up 37 percent year over year, due primarily to recurring customers. DigitalGlobe acquired its largest competitor with satellite imagery firm GeoEye, Inc. in January.
Inks deal to monitor world's longest oil pipeline
During the quarter, DigitalGlobe said it also signed multi-year contract agreements, including one with a Russian customer to monitor the Druzhba pipeline, the world's longest oil pipeline, carrying oil about 2,500 miles from Southeast Russia to Ukraine, Hungary, Poland, and Germany. It also signed another deal to provide a 3D mapping service to a European telecommunications firm.
The company said it also expanded its customer base with location-based service providers in Asia and added relationships with civil governments in Brazil and China through its Global Basemap platform and other large-scale mapping services.
Accelerating revenue growth entering 'peak imaging season'
Second quarter EBITDA was $25.3 million, about 80 percent of which is restructuring and integration expenses related to the GeoEye merger. Adjusted EBITDA was $45.7 million, with an associated margin of 30.3 percent.
"The second quarter capped off a solid first half of 2013, and our sales backlog and pipeline position us for accelerating revenue growth and margin expansion as we enter peak imaging season in the second half of this year," said CEO Jeff Tarr. "Importantly, we are ahead of plan executing our combination with GeoEye, and remain confident in our ability to return to 50 percent EBITDA margins when we complete our 18-month integration plan in the second half of 2014."
2013 Outlook
The company's 2013 revenue outlook remains unchanged, ranging from $635 million to $660 million, "with a greater likelihood at the bottom half of the range," the company said. Full-year adjusted EBITDA margins should be around 36 percent and capital expenditures for the entire year are pegged at $230 million.