Presagis announced a partnership with Airbus Defence and Space that will give Presagis' Velocity 5D (V5D) digital twin production platform customers direct access to the OneAtlas satellite image library from inside the V5D workspace. The imagery serves two purposes: to fill in geospatial data gaps during digital twin generation or for dynamic updating after it has been created. This means that satellite imagery is more than just a background illustration, as it can also be used to complement the procedural generated content by extracting either color or features from the imagery and generating the appropriate digital twin, which will have the same look and feel as the real world.
Direct access to new 30cm Pleiades Neo Imagery
Imagery in general is needed to act as a background or base map to show users geographically where they are located and help them discern better their locations. For example, if a user has imagery that is more than five years old, chances are that the terrain or landscape, either man-made or natural, might have changed. Now in the event that there is not enough information to build the digital twin (such as buildings), having satellite imagery will help extract such data via AL/ML algorithms in the form of feature detection.
OneAtlas Satellite Imagery is available as an alternative option to users that need imagery. The catalog is often refreshed by Airbus and Velocity 5D users will benefit from having access to the latest data. Direct OneAtlas access means that Presagis customers can search and access imagery from the geospatial industry's most diverse offering of satellite data, including the new 30cm Pleiades Neo imagery. Normally, a 30cm-50cm is good for performing AI processes such as building footprint or vegetation areas extraction, whereas higher resolution imagery is needed to extract finer features such as lamp posts or street markings, for example.
Launched in November 2022 by Presagis, V5D is a cloud-based platform that quickly and automatically converts massive volumes of geospatial data into high-fidelity 3D digital twins. With no geospatial processing expertise, V5D users can easily produce accurate digital twins from multiple 2D data sets, including GIS vector layers, remote sensing imagery, and other structured and unstructured data of any size, format, or type.
OneAtlas from Airbus is an online portal that enables users to easily obtain the best satellite image, or combination of imagery, for their specific application, area of interest, and budget. Providing access primarily to the unrivaled Airbus constellation of optical imaging satellites, OneAtlas is the gateway for geospatial professionals to choose from a wide selection of image data resolutions, spectral bands, modes, swaths, and revisits.
Schedule tasking of new satellite imaging acquisitions
The OneAtlas portal also enables V5D users to schedule tasking of new satellite image acquisitions. This dynamic updating ensures that 3D digital twins generated in V5D are always accurate, up-to-date, and realistic. Tasking can be done whenever the archived data is either missing or too old to be used, based on user requirements. It can be also used to keep track of events or locations that are of importance for a user, such as the development of a new city area or major construction.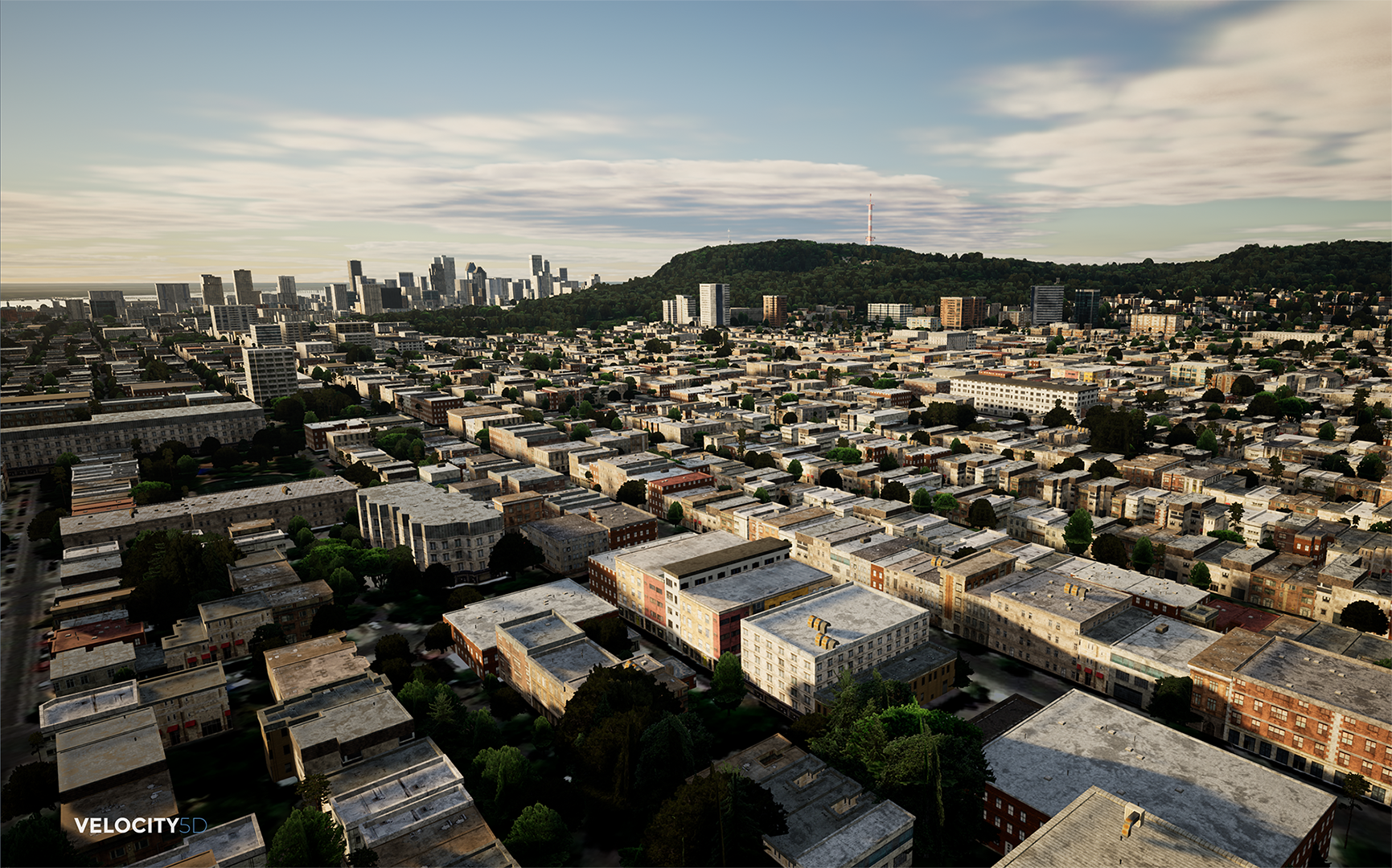 V5D leverages artificial intelligence and game engine technology to run complex visualization and simulation scenarios that derive context from the digital twins. This empowers users to better interpret the dynamic world around them, model for future situations, and make improved decisions by visualizing and prioritizing conditions, challenges, and risks in real time.