Earlier this month, Earth observation company Planet Labs PBC announced the extension of a strategic partnership forged with AXA Climate, a subsidiary of insurance firm AXA which focuses specifically on assisting the agriculture sector, among others, in their adaptations to climate change and biodiversity loss. With this extended partnership, AXA Climate will use satellite-derived insights for the "development of parametric insurance products, which help protect farmers against the effects of drought on their livelihoods," per the announcement of the news.
As mentioned above, AXA Climate is a subsidiary of AXA, and they specialize in helping companies and organizations navigate our changing planet. Per their company website, they "provide consulting services to the agri-food, industrial, financial, and public sectors to help them successfully adapt to climate change and biodiversity loss, in a regenerative way."
More specific to this partnership, which is based largely around drought insurance, the Paris-based company estimates crop yield and losses during drought periods, automatically triggering payouts within a few days of the end of a risk period.
This offering is set to be enhanced by utilizing the vast fleet of Earth observation satellites owned and operated by Planet. It's the largest fleet of Earth observation satellites in history, with about 200 satellites currently orbiting the planet, collecting images of every land-based location on a near daily basis. More specifically, AXA Climate will take advantage of Planet's Planetary Variables offering.
With Planetary Variables, Planet uses observations from both their own satellites and the broader EO ecosystem to measure the changing conditions of the Earth's surface, something more important than ever given the state of climate change around the world. Here, the key portion of the Planetary Variables offering is their Soil Water Content data feed, which tracks the water content of soil around the world and compares it to data covering a 19-year period. This is a preferable method to tracking rainfall, which doesn't account for things like evaporation and runoff.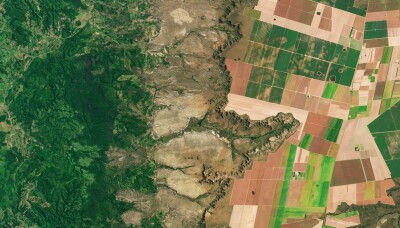 By virtue of this partnership, AXA Climate will receive a measurement of the volume of water contained in soil in their areas of interest in high resolution to a depth of about five centimeters. This information, in turn, allows AXA to determine risk for drought-related losses like crop yields. Using this data, AXA Climate calculates a "soil moisture index" to represent the amount of water available for crops and one that is closely associated with yield variability. This is particularly important for a company like AXA, which is developing parametric insurance products which pay out not based on individual losses, but on the severity of damaging events such as droughts.
"These Planetary Variables provide accurate, daily, global measurements. AXA Climate is using our Soil Water Content variable to monitor, and then provide automatic payments if the soil moisture gets below a certain percent for more than a number of days. This offers a powerful service that can support global farmers in critical situations," said Will Marshall, CEO of Planet. "Abstracting out critical measurables from satellite data enables our customers to reach larger value, enable new applications and thus more customers to get value from Planet's data."
The accelerating effects of climate change are impacting all walks of life and no one solution is going to completely mitigate those effects, but Earth observation satellites are certainly one of our most valuable tools. It's a growing sector that only figures to further balloon, and Planet has not only positioned themselves as a leader in the space but also a company who is going to use their technology to provide insights related to climate change. This is one example, and earlier this year they announced their part in a consortium with the Institute for Health Metrics and Evaluation and the AI for Good Lab at Microsoft to "illuminate emerging threats to health and well-being." There is plenty of commercial value to be derived from this data, including for insurance companies like AXA, but it will also be a crucial tool in navigating a world dealing with increased issues related to climate change.
"With Planet's unique satellite data, AXA Climate has been able to provide a high quality index insurance coverage service for farmers and cooperatives. We can now act quickly to help farmers and stakeholders combat the major threat of drought to agriculture around the world," said Antoine Denoix, CEO of AXA Climate.