Pix4D, a provider of photogrammetry solutions, has made the viDoc RTK rover available for purchase in the USA and Canada. Already available in Europe, the German-designed rover attaches to the latest iOS devices to bring RTK accuracy to terrestrial scanning on iPhones and iPads. "The reason why the US and Canada release followed the European release, that that we were waiting to get the viDoc RTK rover FCC and IC certified before we started selling in the US and Canada respectively", explains Amritha Narayanan from Pix4D.
The viDoc RTK rover, while mounted to a recent iPad or iPhone and used with the PIX4Dcatch app, can transform that handheld device into a GPS rover or 3D scanner for the collection of points or creation of 3D points with accuracy down to less than an inch. "It essentially turns an iPhone or iPad into an RTK-accurate scanner with PIX4Dcatch and the viDoc RTK rover and replace the need for cumbersome and expensive survey tools such as RTK GNSS rovers and terrestrial scanners for a fraction of the price", explains Narayanan.
3D modeling, data processing and further analysis
With the viDoc RTK rover connected to the PIX4Dcatch app, two uses are possible: (1) the creation of high-quality 3D models using photogrammetry with or without LiDAR data and (2) the collection of points. For the creation of 3D models, the PIX4Dcatch app connects to the viDoc rover to capture images that are accurately geotagged by the rover. These images can then be uploaded to PIX4Dcloud for the creation of a 3D model and further analysis such as volume and measurement calculations, inspections, and the easy sharing of models with clients. This is ideal for professionals who are looking for simple, automated ways to achieve results.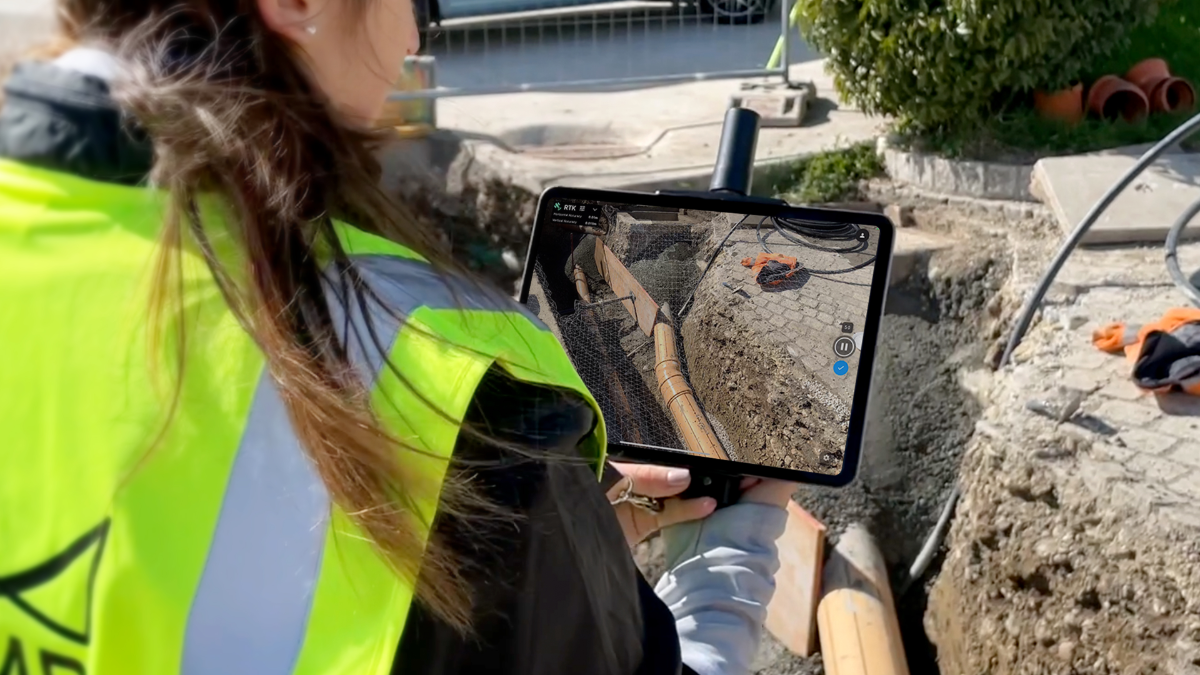 For clients who require more control over their outcomes, the images acquired using PIX4Dcatch and the viDoc rover can be processed using the desktop software PIX4Dmatic. Further analysis such as volume calculation, point cloud vectorization and inspections can be performed using PIX4Dsurvey. Alternatively, for the collection of points, professionals can use the PIX4Dcatch with the viDoc RTK to quickly create and annotate points that can be exported as a CSV file.
Relative and absolute accuracies
"What makes PIX4Dcatch and the viDoc solution standout as a data collection tool is the fact that it's the only readily available solution that tries to achieve both relative and absolute positions in terms of accuracy. The PIX4Dcatch app leverages the depth information in iOS devices that have LiDAR to create depth points clouds that are later used along with photogrammetry data to ensure the correct scale and orientation. As a result, this achieves high relative positional accuracy: on near-ideal settings (open skies, away from buildings, good internet connection), it is possible to achieve positional accuracies of less than 10 cm / 4 inches with PIX4Dcatch and the viDoc", states Narayanan. "In addition, while being connected to the viDoc RTK rover, the images are geotagged in real-time with accuracy of less than one inch, thereby achieving high absolute positional accuracy."
When paired with the PIX4Dcatch mobile app, the two products create a workflow that turns iPhones or iPads into an accurate terrestrial scanning device, with centimeter-accurate RTK positioning from an existing NTRIP network. "NTRIP stands for Real-Time Kinematic (RTK) positioning correction transmission protocol, that allows a rover to accept GNSS data corrections over the Internet with no need for the second local receiver acting as a base, thereby simplifying the workflow with less effort required", explains Narayanan.
Enabling new workflows
The viDoc RTK rover for PIX4Dcatch is designed to be seamlessly integrated with all of Pix4D's photogrammetry solutions. Users can go from scanning a site in minutes with the viDoc rover and PIX4Dcatch to processing on the cloud with PIX4Dcloud for 3D-models and volume measurements. Alternatively, they could process the data from PIX4Dcatch in the desktop software PIX4Dmatic and use both LiDAR and photogrammetry data to get the desired outputs, which can be added to PIX4Dsurvey for vectorization and be made ready for CAD. The viDoc RTK rover bring new workflows to fields including public works, accident reconstruction, and stockpile management.