The 280MP Aerial Solution is Phase One Industrial's latest large format aerial photogrammetric system for aerial surveying. With an image coverage width that exceeds 20,000 pixels, combined with a high image capture rate and dynamic range for large area performance, Phase One raises the bar for manufacturers of aerial photogrammetry systems.
The Phase One Industrial 280MP Aerial Solution consists of multiple components: an iXM-RS 280F large format camera, an Applanix GNSS/IMU receiver (POS AV series), a Somag gyro-stabilized mount (DSM 400), a Phase One iX Controller and iX Flight Management software.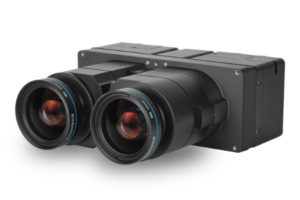 The heart of the system is the iXM-RS 280F, a dual lens metric camera with 90mm lenses for capturing RGB information and providing precision imaging. The iXM-RS280F camera generates a central projection image from two 150MP nadir images with equal ground resolution. The new generation of CMOS sensor eliminates the motion blur thanks to short exposure time, enabled by using high-speed shutters (up to 1/2500 sec) and higher sensitivity pixel design.
The Applanix' POS AVX 210/ POS AV series enable direct georeferencing of aerial images and integrate precision GNSS with inertial technology. The SOMAG DSM400 mount supports the reduction of the angular rate, provides optimal stabilization of the system and allows efficient and precise image capturing. The iX Controller was designed to enable rapid data transfer and controls the cameras, the gyro-stabilizing mount, the GNSS/IMU system and runs iX Capture and iX Flight software, an interactive and intuitive flight management system for precise execution of a mission.
The system offers a wide dynamic range with an image coverage width of over 20,000 pixels, a capture rate of two frames per second. The improved light sensitivity enables more flying hours per day/year and maintains object resolution under low light conditions. The maximal ground speed for a 10cm GSD with motion blur under 1 pixel is 390 knots, while the maximum speed for a 97% forward overlap for 10cm GSD is 150 knots.
280MP four-band configuration
Adding a near-infrared (NIR) camera to the default configuration generates the 280MP four-band configuration, meant for agriculture, forestry and pipeline monitoring missions and comprising a total of three lenses: two dual 90 mm lenses for capturing RGB information, and a 50 mm lens for capturing NIR information and thus providing four-band (R,G,B,NIR) or CIR imagery. With the integrated iX Capture software, distortion-free four-band images are created, by performing an accurate matching of NIR image to an RGB image. iX Capture outputs the following file output formats: TIFF and JPG formats, four-band and RGB+NIR (RGBN), three-band CIR (Color Infrared), NDVI (Normalized Difference Vegetation Index), distortion-free/corrected RGB and distortion-free/corrected NIR.
The full 280MP Aerial solution pricing, including Applanix POS AV 310 and Somag DSM 400, starts at $455,000 USD.
[gdlr_personnel columns="1″ type="static" style="box-style"] [gdlr_tab title="Eric Van Rees" author_image="https://sparmsdc-static.s3.amazonaws.com/uploads/2017/06/eric-100×100.jpg" ]Eric van Rees is a freelance writer and editor. His specialty is GIS technology. He has more than nine years of proven expertise in editing, writing and interviewing as editor and editor-in-chief for the international geospatial publication GeoInformatics, as well as GIS Magazine and CAD Magazine, both published in Dutch. Currently, he writes about geospatial technology, programming and web development.[/gdlr_tab] [/gdlr_personnel]