AVEVA: Owner/operator market for IT management software 'still evolving' and 'hard to predict'
3D engineering, design, and IT management software firm AVEVA Group plc reported Monday an 11 percent increase in revenue to £108.5 million (US$174.8 million) for the first half of FY2014, mainly due to strength in the global oil and gas markets.
The Cambridge, U.K.-based company, primarily serving the process plant, power and marine industries, said in an interim management statement that adjusted profit before tax grew 13 percent to £32.3 million ($52 million), and profit before tax increased by 6 percent to £27.3 million ($44 million).
AVEVA uses a subscription-based license business model, meaning EPC (engineering, procurement, and construction) customers pay a fee for ongoing access to its software. This recurring revenue represents 70 percent of the company's total revenue.
Rental fees were up 14 percent during the six-month period, compared to the 11 percent expansion in initial licence fees. That continued to drive AVEVA's recurring revenue, which grew by 13 percent during the first half.
Oil & Gas industry fuels plant design software sales
The Engineering & Design Systems (EDS) division – offering software for the design and construction of assets in the plant, power and marine industries – saw strong growth with revenue up 12 percent in the first half driven by further growth in demand from EPC customers.
"The increasing scale, complexity of projects, and an ever increasing focus on safety in the oil and gas industry continues to drive strong demand for our plant design tools, particularly in the offshore market where we signed a number of significant license deals," AVEVA said. "We continued to see the backlogs of the major engineering contractors grow and a number of our key EPC customers maintained or expanded their deployments of AVEVA design software during the first half."
The company said it is "aggressively pursuing" business in China and India's power markets, forecast to hold strong demand for new-build nuclear construction.
AVEVA said also cited the "aging infrastructure in developed Western economies" as bearing additional growth opportunities "for replacement and lifecycle extensions."
Marine software sales to conventional shipbuilders were flat during the first half due to the market remaining depressed, AVEVA said.
Siemens embraces E3D software
AVEVA said it now has over 30 customers using its new software platform Everything3D (E3D) for major capital engineering projects, and that "the cumulative monthly revenue, although still small, is building in line with expectations."
AVEVA said IT software giant Siemens' power EPC division announced its intention to adopt E3D for all new projects from the end of 2014. AVEVA said the second half of FY2014 will see more user group meetings popping up as demand for the product grows.
AVEVA said its new E3D Insight for mobile and cloud applications, developed in collaboration with Microsoft and released last month, is the first Windows 8.1 app for plant design.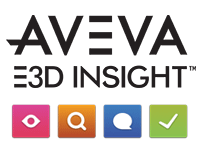 The software allows live visualization, inspection, and approval of E3D design models by project managers in the process, plant, and mining industries from a touch-enabled device such as a mobile tablet on site in fabrication and construction.
AVEVA said mobile applications and cloud-based collaboration "hold the key to facilitate dramatic cost savings and efficiencies for our customers through improving project execution and minimizing waste."
Owner/operator market for IT 'unpredictable'
AVEVA's Enterprise Solutions (ES) segment reported revenue growth of 5 percent over the same period in the prior year, slower than expected due mainly to a major Latin American shipyard customer running "into serious financial difficulties," and a major oil and gas operator abandoning its "plan to roll-out an enterprise-wide information management solution," the company said.
AVEVA also said the owner/operator market for "information management solutions is still evolving and sales cycles are long and hard to predict when measured over the short term and before recurring revenue is built up."
The slower than anticipated growth from Enterprise Solutions in the first half will lead to a lower than expected revenue outcome for that division for the full financial year, with revenue now expected to be broadly in line with that achieved last year.
In May, AVEVA reported record annual revenue with FY2013 sales hitting $344.5 million (£220.2 million), a 12 percent increase over the previous year, and profit for the year ended March 31 of $71.1 million (£45.5 million), a 13 percent increase over last year.
Total annual revenue from end-user markets included:
Oil & Gas: 45-50 percent
Marine: 20-25 percent
Power: 15 percent
Other (Mining, Petrochemical, Chemical and Paper and Pulp): 10-20 percent
Geographic performance
Revenue from the Asia Pacific region was up 22 percent to for the six-month period £42.3 million (US$68.2 million), thanks in part to South Korea, where a trend of major shipyards purchasing licences for offshore oil and gas projects continues.
Stronger demand from North America boosted revenue from the Americas region up 9 percent in the first half to £17.8 million ($28.7 million). Oil and gas has been the main driver for North America with offshore projects, but so have petrochemical and LNG export projects due to shale discoveries. Growth in Latin America was flat.
"We have yet to see signs of a measurable and sustained improvement in Brazil, despite initial positive signs in the first quarter with offshore and onshore contract wins," AVEVA said. "The economic and political backdrop continues to impact overall demand in Brazil and whilst the long-term opportunity is significant, timing remains uncertain."
The reported revenue from EMEA showed an increase of 4 percent to £48.4 million ($78 million) in the first half. AVEVA said it had "good performances" in Central Europe and the United Kingdom but experienced tougher market conditions in the Middle East and Russia during the first half.