Among the products launched at Intergeo by lidar companies were two products from RIEGL focused on UAV-based laser scanning. The RIEGL VUX-160-23 and VUX-120-23 are the updated and extended versions of their UAV lidar sensor product line.
At Intergeo, Geo Week News had the opportunity to connect with My-Linh Truong, Division Manager for Unmanned Laser Scanning at RIEGL USA to learn more about the pair of updated products.
The VUX-160-23 and VUX-12-23, at first glance have a similar size, form factor and shape, with the 160 being slightly larger than its "sister" sensor. Both of the sensors are part of RIEGL's line of NFB (Nadir/Forward/Backward) scanning sensors, which means that they alternate from strictly nadir, to 10 degrees forward and -10 degrees backward.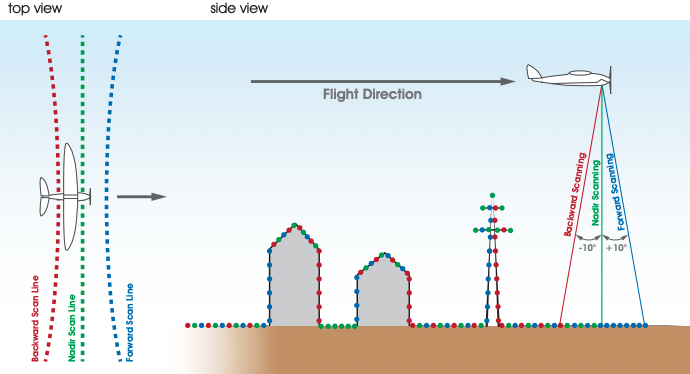 This functionality helps to gather more complete data for applications like corridor mapping and challenging environments with more vertical or overhanging surfaces. It is also adept at handing vertical surfaces, such as the facades of buildings and objects such as masts or poles, which can now be accurately captured.
VUX-160-23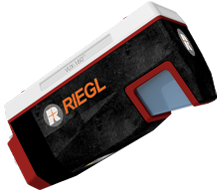 The VUX-160-23 is designed for straightforward integration on to UAV/UAS, or Remotely Piloted Aircraft Systems (RPAS), and can also be deployed on small crewed planes, gyrocopters and helicopters, weighing in at 5.8 lbs (2.65).
The new VUX-160-23 provides up to 2.4 MHz PRR, 400 lines/sec, 10 mm accuracy, 5 mm precision and an extended measurement range of up to 1800 m with only 2.65 kg in weight, according to RIEGL. It is able to capture up to 32 targets per pulse and thus offers excellent penetration capabilities, including power line surveying and forestry.
The updated version offers a wide field of view of 100 degrees and an high pulse repetition rate of up to 2.4 MHz, which provides additional detail. This update - which will be the standard going forward.
"With the field of view, that essentially puts 2 million shots on the ground per second," said Truong.
The VUX-160-23 can be used as a stand-alone lidar sensor, or as part of a UAV-based laser scanning system with INS/GNSS systems. Additionally, interfaces for up to five optional external cameras are available.
VUX-120-23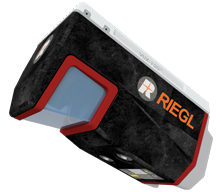 For the smaller VUX-120-23, the aim is to be a highly accurate sensor for low-altitude missions and smaller UAS, compared to the higher altitude, higher-performance VUX-160-23. The VUX-120-23 can be configured with up to two cameras, and weighs 4.4lbs (2.5 kg).
The VUX-120-23 offers a higher PRR up to 2.4 MHz and higher measurement rates in its proven design, further increasing efficiency for tasks with higher point density requirements.
For more information: RIEGL VUX-160-23 / RIEGL VUX-120-23