Microdrones announced a new lidar-based drone, the mdLiDAR1000LR, where the "LR" in the name stands for "longer range". The new system is the first product that Microdrones jointly releases with GE (General Electric), after announcing the GE Industrial Drone Line this summer.
The mdLiDAR1000lR uses an updated version of its md4-1000 drone and offers an end-to-end lidar solution combining a drone, lidar payload and a fully integrated lidar processing and photogrammetry software workflow. Users can create 3D point cloud for a broad range of applications, such as Digital Twin creation and maintenance, corridor mapping, mining volume calculation, contour mapping, precision agriculture, among others.
Product specifications
The mdLiDAR1000LR uses a Velodyne Ultra Puck VLP-32, a light-weight time-of-flight lidar scanner that is class-1 eye-safe. The system has a 90 degrees Field Of View, and comes with a new, upgraded 26MP camera. Combining that with the increased range and high point density means that a lot of area can covered. Georeferencing is handled by Applanix' APX-15 UAV IMU. The systems uses three software products: mdCockpit for tablet, mdInfinity (a set of data processing modules, covered below) and a flight performance app.
The system's take-off weight is 6400 grams, and the system operating temperatures are minus 10 degrees Celsius and 40 degrees Celsius. A lidar point cloud created with the system has an accuracy of 4cm RMSE, while photogrammetric accuracy is 2-3 pixels horizontally and 3-5 pixels vertically. The system's longer range means an increase at which details can be captured, for example powerline mapping at 75m and 90m for transmission, doubling the range of the mdLiDAR1000HR system. Flying at 100m AGL with 20% sidelap, the system can cover over 1.2 square kms in a 30 minute flight and capture a point density of 150 points per square meter, which makes it a recommended tool for scanning large mines and measuring stockpile volumes.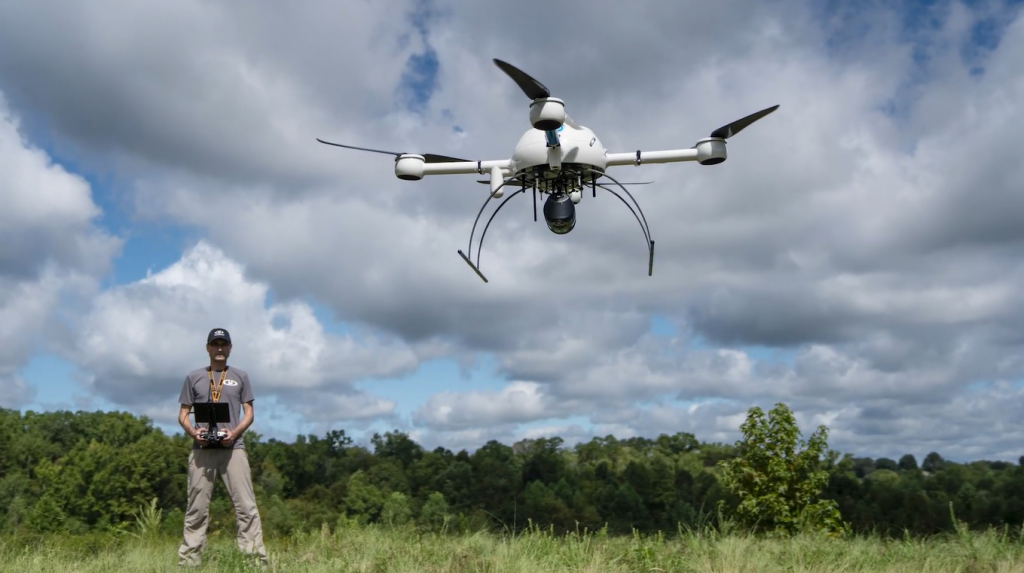 Microdrones as a Service (mdaaS)
With the purchase or rental of one of their systems, Microdrones offers its customers access to its data processing software, mdInfinity, in the cloud. mdInfinity includes the following eight data processing modules:
The Boresight Calibration module used to remove any boresight bias or minor misalignments within the IMU or lidar scanner.
The Trajectory Processing module merges the GNSS and IMU data and exports a smooth best estimate trajectory (SBET file) and exterior orientation files into the needed coordinate system.
The Georeferencing module processes the raw lidar data in the georeferenced point clouds.
Then, the Strip Adjustment module can be used to further remove any errors from the dataset by correcting any misalignments between the strips.
The Precision Enhancement module can be used to reduce the noise levels within the dataset, while preserving irregular features in the data and removing outliers.
The Ground Classification module is a lidar classification routine that identifies the bare earth within the dataset.
The Direct Point Cloud Colorization module is used to colorize the lidar point clouds.
The FORMap module generates orthomosaics or colorized photogrammetric point clouds.
Microdrones lets users buy or rent their integrated system of choice. For data processing, users can use a "pay-as-you-go" token-based system, or subscribe to an unlimited or perpetual-type system. Microdrones introduced a new data processing plan for medium users, who do 8-10 lidar flights per month with a total of 200 minutes of data collection time. This plan supplements their pay-per-project for light users and unlimited plans for heavy users.