3D mine software firm says TopoDrone-100 captures data from large areas for DTM generation
3D mining software firm Maptek Pty Ltd. said Wednesday it now owns 50 percent of startup DroneMetrex Pty Ltd., maker of the TopoDrone-100, an aerial, mapping system that captures digital imagery with an elevation accuracy of 25 millimeters to use as survey data for creating digital terrain models (DTM).
Glenside, South Australia-based Maptek, a developer of the Vulcan, Eureka, and Perfect Dig software platforms, among others, said it made a "significant investment" in DroneMetrex, headquartered in nearby Adelaide, giving it the ability to offer customers rapid, repetitive aerial mapping, which is required for open-pit, or open-cut, mining operations. Maptek General Manager, Australia, Peter Johnson, told SPAR terms of the deal were confidential, but that Maptek now owned half the equity of DroneMetrex.
"Maptek and Dronemetrex can see many new and expanding opportunities by coupling the Topodrone mapping capability with Maptek software," Johnson told SPAR. "Solutions in industries such as agriculture, GIS, civil infrastructure mapping and many more can now be delivered and we will of course be delivering the Topodrone-100 to the mining industry globally."
The TopoDrone-100 is a small, unmanned aerial system (sUAS) integrating a 24- or 39-megapixel, calibrated RGB or NIR (optional) digital camera with 24 mm focal length, modified for aerial mapping with raw image format, and a proprietary Flight Management System, including a 100Hz dual-frequency GNSS receiver and antenna.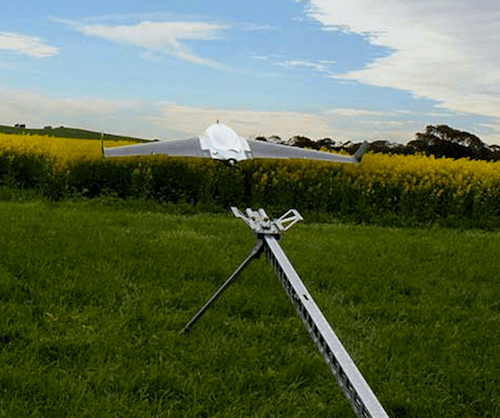 The system contains embedded software in the autopilot firmware that controls a proprietary, gyro-stabilized, active camera gimbal mount near-nadir, crab-free imagery, GPS synchronization, and temperature recording for accurate pixel sensor distortions.
DroneMetrex said the active camera mount uses an algorithm to eliminate the inherent geometric errors of a digital camera on a UAV (tip, tilt, yaw, forward and lateral motion, blur) when capturing the data.
The fixed-wing TopoDrone-100 has a catapult launching system and can fly for about an hour. The UAV system weighs five kilograms, including payloads and airframe. The UAV has several safety options, including a no fly-zone area and geo-fence definition and optional parachute recovery.
Outputs include photomosaics, DTMs and DSMs. DroneMetrex systems will integrate with Maptek's 3D mine planning Vulcan software system, as well as the Eureka regional mapping system, the company said.
"The DroneMetrex technology will be invaluable for many of our customers and will provide new and efficient ways to manage both large projects and regular spatial measurement challenges," said Maptek General Manager Peter Johnson. "This rapid data acquisition capability will deliver immediate rewards to the resources industry."
Maptek also said its I-Site 3D laser scanning system is a "natural complement" to the aerial data captured by the TopoDrone-100.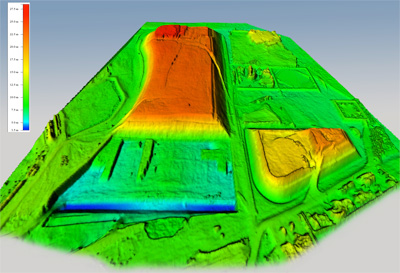 Vulcan 9 release
Earlier this month, Maptek released the latest version of its geological modeling and mine planning software, Vulcan 9. Upgrades include a new graphics engine and the removal of the dynamic memory setting, allowing the amount of data loaded and modeled to be restricted only by the hardware.
The new release also introduces implicit modeling for geologists to rapidly generate models of complex geological domains from drill hole information. And, new functionality for underground engineers targets design applications, underground ring design, and stope optimization.
Vulcan 9 improved the capability in haulage profile tools as well as stratigraphic pit design functionality for environment engineers in the open pit.
New tools in Vulcan 9