When Fern Hollow Bridge in Pittsburgh collapsed with morning traffic atop it early this year, many Pittsburghers—including this writer—took it rather personally. Until a few years ago, I lived for many years five blocks from that bridge and many days walked across it several times a day, watching it rust and rot away as city workers seemed to turn a blind eye to obvious maintenance needs.
The founders of Mach9 Robotics in Pittsburgh also felt repulsion at the catastrophic failure of the bridge, which could have been deadly. The bridge is close to Carnegie Mellon University's campus (which Mach9 founders attended), traversing a ravine in one of the city's sprawling "great" nature parks, and near Regent Square, a small business district frequented by CMU students. Many Pittsburghers traversed it or exercised beneath it, so many wondered at how close they came to walking a bridge collapsing beneath them, or having it fall on them in the tranquil valley below.
The shock of seeing Fern Hollow Bridge pancake on itself on the very day President Joe Biden was in town for a speech on his Infrastructure Plan spurred the employees of Mach9 Robotics into action.
"We started Mach9 to develop technology to prevent infrastructure failures. After seeing how our technology can be applied to bridges and seeing the Fern Hollow Bridge collapse just miles from our office and where we went to college, we were motivated to be a part of the solution to our country's degrading bridge infrastructure problem, and launched the Pittsburgh Bridge Initiative," said Alexander Baikovitz, Co-Founder and CEO of Mach9 Robotics. "The Pittsburgh Project has helped us refine our mapping technology to provide our commercial and government customers with robust, accurate, and fast insights from the built world."
In late 2021, Mach9 Robotics quickly founded their own effort called the Pittsburgh Bridge Initiative to solve the sort of pain points in maintaining infrastructure evidenced by Fern Hollow Bridge. The initiative will map each of Pittsburgh's 450 bridges while providing a use case exhibiting the company's technology.
Using ground-based and aerial vehicles and by meshing visual, spatial, inertial, GPS and radar data, Mach9 Robotics builds high-definition maps of infrastructure that are intended partly for predictive analytics. If this new technology is the success its founders hope for, it should be able to predict the next would-be Fern Hollow-type collapse long before it can happen, which will save taxpayers money and maybe even some lives.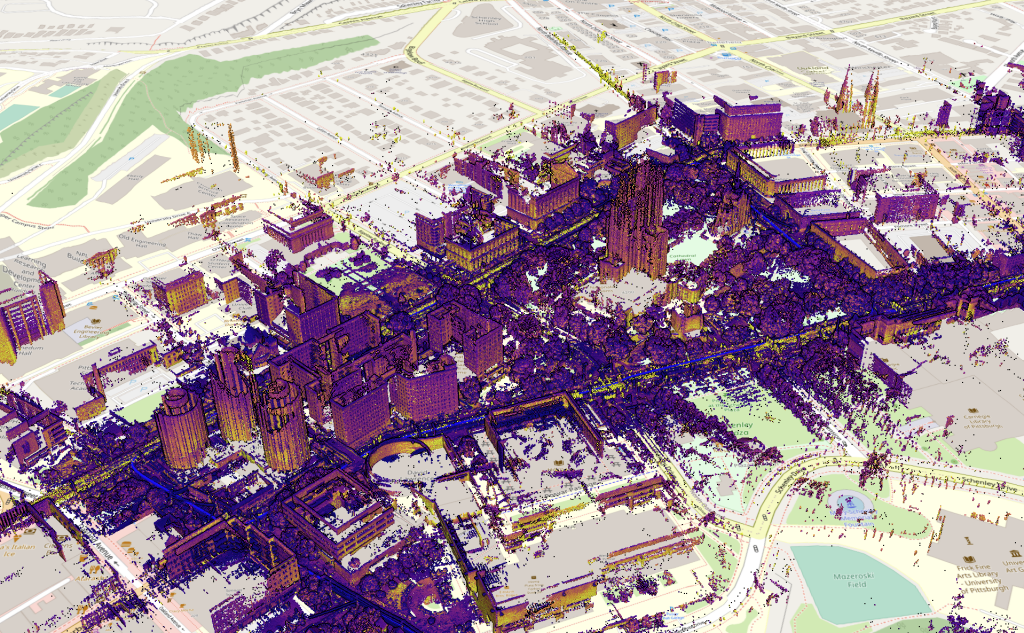 "We've built our own 3D mapping and geospatial computer vision software, which we are actively scaling with different surveying, civil engineering and utility services firms," Baikovitz said.
The current state of reality capture with regards to our infrastructure across the nation leaves a lot of room for improvement, but it is improving, Baikovitz said.
"We're seeing reality capture technology continue to progress in the transportation infrastructure space. However, the infrastructure assessment problem is much greater than creating 3D models and renderings," he said. "Mach9 is providing solutions to help make reality capture data more actionable and help decision makers understand the health of their infrastructure."
The question of whether most cities and municipalities are making progress in digitizing their blueprints and other infrastructure documents is almost beside the point, Baikovitz said.
"Progress varies from city to city, but we find it even more important to question the accuracy of this information," Baikovitz said. "Mach9 has had a focus on underground utility infrastructure, and something that we've learned by working with different utilities and municipalities across the world is that as-built documents are sometimes inaccurate and outdated."
Mach 9 Robotics has partnered with AEC companies and government agencies in working on its platform, but how confident are they that local officials will make full use of these up to date documents they will be providing of the bridges? After all, a tool is only good if it is used.
"Our team has focused on working directly with our customers to build purposeful technology. We're excited to be working with engineering firms, Departments Of Transportation, and municipalities on extracting actionable information from geospatial data to improve organizational efficiency and help leaders make data-driven decisions for the health and safety of our communities," Baikovitz said.
Adoption of the company's platform is meant to be quickly accomplished. Usability is a key feature of the Mach9 platform.
"Our technology fits directly into existing inspection processes and does not require huge changes or substantial training for organizations to adopt new digital geospatial solutions," Baikovitz said.