One year after Leica Geosystems launched its first AI-based autonomous mobile mapping solution, the TRK100 was launched. Compared to the first Pegasus TRK mobile mapping system, this new release focuses more on new data deliverables, especially digital twin production for GIS workflows and asset management data.
More than anything else, ease of use is the most important factor to start using the system, as Leica Geosystems has simplified not only the installation of the system but the entire data capture, storage, and processing workflow. On the one hand, Leica Geosystems pushes the boundaries of what's possible with mobile laser scanning through a new technology named MatchPoint, while on the other hand, they seem to be lowering the barriers of entry to the mobile mapping market by focusing on ease-of-use. Also, rather than releasing two different systems as with the TRK500 and TRK700, the TRK100 offers the possibility of extending the system with more cameras and sensors. In particular, industries such as telecommunications, utilities, and road maintenance can benefit from the TRK100's versatility.
System overview
The system's main sensor unit contains a dual scanner with 600,000 measurements per second. Also included are a multi-constellation GNSS and a 120MP 360-degree panoramic camera. A battery unit guarantees seven hours of operating time, while a ruggedized multi-core PC with a built-in machine learning chip control unit provides real-time data pre-processing and AI-based tasks. The sensor data is streamed directly to the control unit's removable storage which consists of removable SSDs. More info is available in this brochure.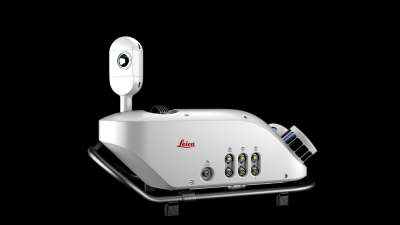 The TRK100 offers a light and small payload (14kg) so that it can be mounted by a single person on any kind of vehicle. The system can be extended by adding more cameras for other use cases: up to four additional 24MP pairs of cameras (front, rear, and butterfly side cameras) can be added to capture front, side, and pavement angles for texture analysis and intrinsic calibration for stitch-free panorama imagery. An additional Leica AS11 GNSS antenna improves the initialization for rail and marine applications. The data sheet mentions the inclusion of an optical odometer, for road applications compliant to various "Motor Vehicle Safety Regulations" in addition to a mechanical wheel odometer for road applications.
Just like the first TRK autonomous mobile mapping system, the TRK100 uses Leica Pegasus FIELD software during data collection in the field, and Leica Cyclone Pegasus OFFICE for post-processing and publishing workflows. For rail and road applications, Cyclone MMS DELIVER offers information and feature extraction.
How AI enhances and improves point clarity for improved accuracy
In 2022, Leica Geosystems announced the Pegasus TRK portfolio, which integrated AI into the data capture and processing workflows. For example, the TRK100 uses a real-time AI object blurring algorithm that makes maps GDPR compliant from the get-go by guaranteeing citizen privacy. The integration of AI technology largely automates the data capture and processing for the user, leading to faster turnaround times.

The TRK100 adds advanced mapping capabilities for visualizing and understanding the location of assets, improving asset management, and supporting infrastructure building and maintenance. A case in point is MatchPoint, a new technology that combines artificial intelligence and a unique machine learning algorithm to enhance and optimize the clarity of points in post-processing for improved accuracy (up to 10mm). In combination with multi-beam scanning patterns, MatchPoint technology delivers crisp and shadow-free point clouds.
This TRK100 will be a featured Tech Highlight at Hexagon's flagship digital reality solutions conference HxGN Live Global in Las Vegas, NV, from June 12-15, 2023.