As KOREC establishes its new relationship with Esri as a Silver Tier Business Partner, its focus will lie in the promotion of several Esri products. First with their Android data capture app, Esri Field Maps and secondly by offering new and existing KOREC customers the full Esri suite of GIS solutions including ArcGIS Pro and ArcGIS online.
Historically, KOREC has worked with Esri customers who used the Windows-based ArcPad data collection software by providing appropriate Windows-based GNSS-enabled data collectors so doing the same with Field Maps is a natural step forward. For the first time, KOREC can be a "one stop shop" for geospatial users who wish to purchase Esri products, including Field Maps and a GNSS-enabled logger, from a single source. KOREC's proposed hardware solutions for Field Maps will include Trimble's TDC150 (rugged and capable of centimeter accuracy) and the TDC600 (rugged smartphone with 1.5m accuracy).
Providing specialist knowledge on Trimble GNSS integration
Silver Tier status will also provide Esri UK's customers with access to KOREC's in-house software development team and its specialist knowledge on the integration of Trimble GNSS into Esri mobile data capture software. KOREC's expertise, from an Esri user point of view, lies with its specialist knowledge of accurate positioning. KOREC can provide the best advice and consultancy in what systems to use to ensure that collected data sits correctly on the map relative to the GNSS position. KOREC sees itself working with Esri Field Map users for whom precision is a determining factor in how they work, for example, within the utilities sector where industry regulations determine that any assets should be captured with 10cm or better accuracy. In some cases, for example when recording manhole levels, centimeter accuracy is also required.
Additionally, KOREC now has access to Esri's software development toolkit (SDK) which allows them to customize workflows. Already up and running, ArcGIS users can automatically view field data recorded using KOREC's specialized industry-specific workflows either online, or on their desktop systems. A good example of the benefits of this is within the gully cleansing industry. Traditionally, data is captured by contractors using a specific workflow running on a GNSS-enabled smartphone or logger whilst they carry out the cleansing. This information, in an automated process, can now be instantly viewed on the managing Council's ArcGIS system.
If this is a public-facing website, members of the general public can now access information on a particular gully to check if it has been cleansed recently. The same principle applies to any of KOREC's industry-focused apps that may be used by Esri ArcGIS customers, for example KOREC's industry workflow for Tree Management. This will be entirely new for the Esri customer base and importantly, their usage requires no additional software installation by the council because everything is done via a portal.
KOREC envisages making more use of the Esri SDK to offer customized point solutions that require specific field capture processes, for example, capturing manual tape measurements for utility infrastructure (manual measurements are still a requirement within the UK utility industry).
Essentially, KOREC's developments will provide a familiar Esri data capture environment but with increased functionality. They can respond to Esri customer workflow requests and build in that functionality within their familiar environment. The beauty of this is that Esri customers can now have access to industry-specific workflows that address their key challenges in the field.
Trimble Catalyst access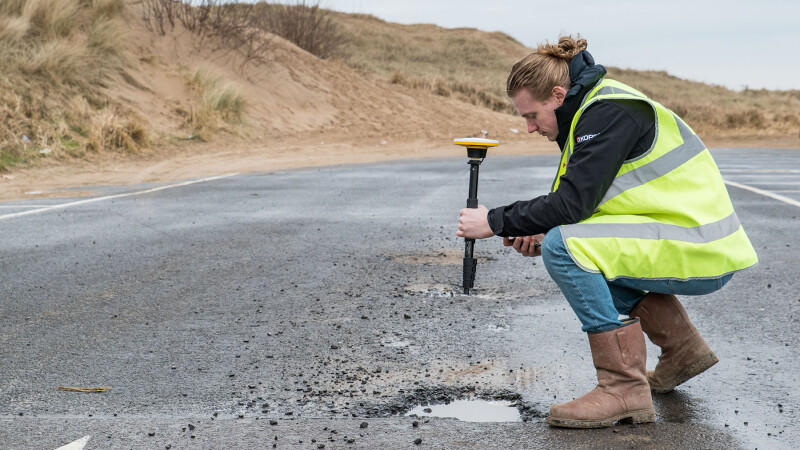 Esri users will now have access to the most cost-effective method possible for cm accuracy by means of Trimble's subscription-based, low-cost Catalyst solution. Trimble Catalyst is Trimble's highly innovative GNSS a pay-as-you-go software receiver with cost depending on usage and accuracy. The only hardware needed is a low-cost Trimble receiver. The system supports basic Android phones and tablets.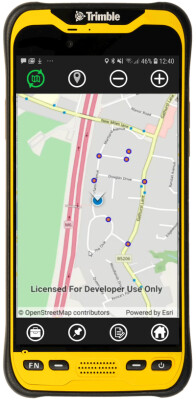 For users of Field Maps, thanks to Catalyst, KOREC can offer a centimeter level, high-accuracy, GNSS solution that works under UK projection (OSTN15). Field Map users can now bring high accuracy capture to workforces in an extremely cost-effective manner. Catalyst is especially suitable for roll outs of 100+ users due to its pay-as-you-go subscription model and the low cost of the antenna used (around £350 per unit). KOREC has ensured that Field Maps works seamlessly with Trimble Catalyst. The result is a highly effective, low cost, centimeter accurate solution that does not require a any specialist GNSS knowledge to set up and is extremely easy to use in the field.
Field Maps and Catalyst is also a solution that is compatible with most Android 'bring your own' devices although we recommend Trimble's rugged TDC600 which has been developed with long battery life, a rugged form factor and excellent outdoor screen.