The system combines a high-resolution camera and cloud-based hosting solution for live progress monitoring of asset inspections and is meant for areas of the industry that traditionally do not have the budget for a mobile mapping system.
The KlearView360° system is a vehicle-based video inspection system that combines a cloud-based hosting solution for live progress monitoring of a project and the assignment of work orders with a high-resolution camera for capturing 360° imagery at typical road speeds. End users who could benefit would include local authorities, highways engineers and consultants and utilities, or anyone with a need to maintain their assets.
KlearView360° is designed to ensure that assets are regularly reviewed and maintained through a simple four-step process: capture, identify, assign and resolve. One of the key benefits of the system is that it ensures full traceability and accountability of an asset's repair. The information that the field worker receives includes coordinates of the asset (for easy navigation and location) and a full 360° view of it to ensure that it can be accurately identified, for example a certain type of crash barrier so that the right tools can be taken to the job for a fast repair. There are many health and safety implications for asset maintenance and this system has been designed to provide an easy to use, cost-effective way for asset managers to identify and act on those that need immediate or timely action.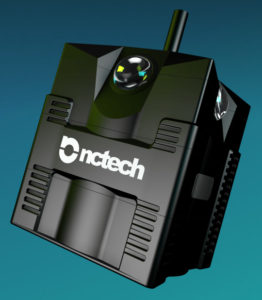 The development of the system can trace its roots back to a conversation between KOREC and NCTech during last year's GeoBusiness event in the UK. KOREC, a distributor of survey and mapping technology, saw an opportunity based around an entry-level camera capable of recording even small features such as cracks and potholes, while NCTech, a UK-based company that acquires high-resolution 360-degree imagery and LiDAR data, saw an opportunity around a simple, streamlined visual inspection software solution. Next, KOREC's in-house development team, K-MATIC, trialed the camera and developed a system workflow.
Carrying out a repair without delay
The camera can be mag mounted on the roof of any vehicle and the software is activated by a single button press on a tablet or phone before driving the route. Once the route has been driven, data is uploaded via a hard drive to a PC or laptop. The video can then be played for a quick review of the captured data. If a defect is identified within the video, it can be paused and with a single click, a 360° view of the asset can be looked at in context to its surroundings. Any existing information about the defect is also brought up. A screengrab of the image can be taken and then assigned to a field worker via K-Portal. The worker will receive this information on a GPS enabled handheld device or phone running K-Mobile field data capture software, enabling the worker to navigate to the correct asset.