AiMaps provides an intelligent view of underground utilities. It processes and interprets data using deep learning algorithms which are trained on ground truth data sets and highlight areas where, with a high probability, hidden underground utilities lie. With AiMAps, underground assets can be visualized as interactive 2D maps or 3D models.
AiMaps works with the post-processing software application IQMaps for advanced GPR data analysis and utilizes Hexagon's HxDR digital reality platform, offering an advanced cloud solution and deep learning service , to handle the complexity of radar data processing. IQMaps is IDS GeoRadar's post-processing software application for advanced ground penetrating radar (GPR) data analysis, enabling fast interfacing between the user and GPR data itself. IQMaps takes advantage of real-time data processing for optimized target management and 3D visualization of radar data acquired in surveying operations of underground utilities.
AiMaps Integration with IQMaps and HxDR
IQMaps software is a customizable processing and analysis tool with a step-by-step approach that guides users in performing the best and the quickest data analysis for utility mapping, archaeological and environmental surveys, and extensive mapping of large size projects. The recently launched AiMaps is a SaaS solution, fully integrated with IQMaps, leveraging AI for intelligent detection of Underground Utilities.
The AiMaps tool for IQMaps exploits Hexagon's advanced HxDR digital reality platform for data processing operations. Once the acquired radar data is imported on IQMaps, users can start AiMaps and connect to the HxDR platform to perform GPR data processing through deep learning algorithms. AiMaps works as an additional tool to support users in the post-processing phase, managing the complexity of radar data analysis through AI, which provides an enhanced tomography for a straightforward view on underground assets.
Tomography is a visualization process that produces an image of what lies beneath our feet: it is a "map" layer of underground assets. Tomography results from the combination of radar data collected by GPR systems , such as Stream UP that carries out utility mapping of extensive areas, and software solutions such as IQMaps, that enable easier data analysis and interpretation. The tomography layer enables users to rapidly depict what's below the surface, such as sinkholes or pipes, when talking about utility networks, and to safely move forward in the digging of a site while avoiding costly and potentially damaging locating errors.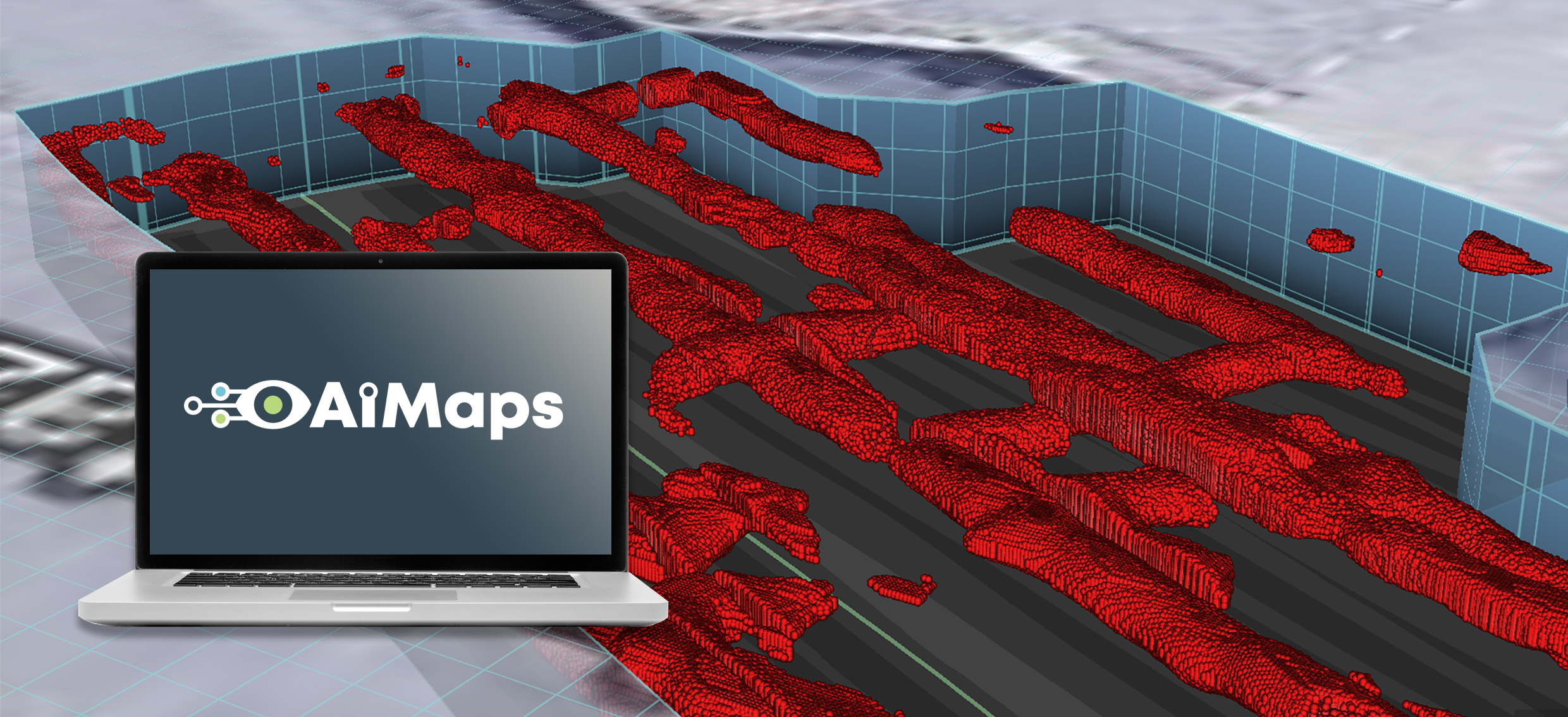 How deep learning algorithms help radar data analysts
Traditional radar data processing without AI analysis is a time-consuming and repetitive activity. The process is based on human interpretation and its performance depends on the user's experience. Also, recently launched GPR systems such as IDS GeoRadar's Stream family GPR solutions collect big amounts of data in a short time frame, which makes the processing and analysis of radar data even more challenging.
When the amount of data becomes overwhelming, AiMaps and deep learning allow utility monitoring professionals to focus quickly on the areas where pipes and other underground elements are likely to be situated. By doing so, AiMaps is able to significantly reduce risks in underground detection while decreasing project time, workload and costs for the utility analysis and extraction process.
AiMaps allows users to define the threshold values for the probability of detection, granting a higher clarity on the areas of interest in surveying. This allows users to focus the attention of specific areas characterized by a higher complexity and to narrow down the scenarios where human interpretation is highly recommended or required.