Earlier this week, an annual conference in Germany for industrial technology, Hexagon unveiled their newest robotic solution, PRESTO. The new automated robotic inspection cell is designed for ease-of-use for manufacturers, promising more efficient workflows with the turn-key solution. In their release of the news, Hexagon says "PRESTO will enable customers, such as automotive OEMs, to cope with the dynamic demands of the market – such as the shift to electric mobility – by increasing measurement capacity, and thus reducing time to market."
This isn't the company's first foray into manufacturing solutions, of course, but they are taking a big step forward here to improve the ability for facility operators to get started in the space. Crucially, the new release incorporates two of Hexagon's key hardwares to produce clean results. Firstly, the robotic solution includes the company's Absolute Scanner AS1 for its 3D scanning capabilities, delivering accurate digital representations of whatever is being inspected, such as car doors coming in from a supplier. Additionally, the robotic cell also includes the Leica Absolute Tracker AT960 for motion tracking and precision. With the two devices combined, Hexagon says scan times could be cut by up to half, indicating that one test with a car door took only six minutes with PRESTO compared to 12 with a horizontal arm plus optical scanner.
Furthermore, PRESTO is also software-agnostic, meaning manufacturers will not have to purchase, download, and train on entirely new tools to make use of the robotic cell. That said, Hexagon does acknowledge that users of their PC-DMIS metrology software get "superior benefits with seamless connectivity throughout the entire inspection process."
In their release of the news, Hexagon points to four specific areas in which their new solution will improve operations for manufacturers. One of those is speed, as mentioned above, and one of the key reasons for this is that their solution does not require parts to be prepared in real-time, but instead can be inspected in any position. Additionally, as a turn-key solution set-up time is limited, and the data is processed in real-time to reduce post-processing wait times.
They also note that the implementation of PRESTO should optimize a manufacturer's product lifecycle. The reasoning, Hexagon says, is that the solution connects the inspection to the rest of the ecosystem within the operation. Plus, since PRESTO can be programmed offline with a digital twin of the cell, inspection set-up can be done by a programmer while an operator conducts measurements, with the ultimate data from the inspection being compared to the digital twin to ensure that design matches reality.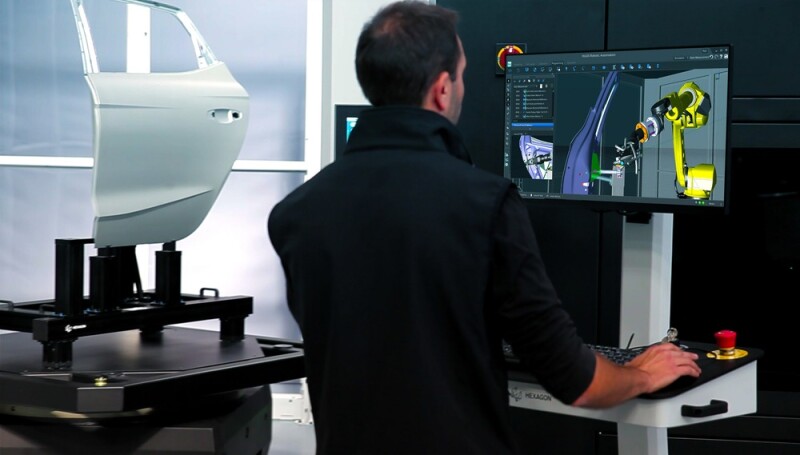 And finally, Hexagon notes that PRESTO can improve ease of inspection as well as safety in a facility. It's clear reading their release of the news that making implementation as simple as possible was a major focus in the release of the solution, and they note that set-up requires minimal effort and is "designed to be as easy to use as a smartphone." Put another way, they want to ensure that it can be used effectively even by those with little-to-no expertise in robotics. And since the cell is contained within clear walls, workers can see progress from the outside from a safe location, and the mobile workstation allows operators to choose from where exactly they want to work in relation to the cell.
To me, there are two key factors here which make this a particularly exciting release for manufacturing, and the automobile industry in particular. The first is that ease-of-use mentioned above. There aren't many, if any, operators out there who are completely against the idea of automation. Instead, for many the perceived lift to get started simply isn't worth it, especially if the staff who would be benefiting don't have previous expertise in robotics. At that point, all of the necessary training to even get started safely - to say nothing of the extra training to truly master the technology - isn't worth it on top of the initial purchase price. However, if something can be used as easily as Hexagon claims PRESTO can be, that changes those hurdles and makes the idea that much more appealing.
In addition to that, the idea that these inspections can be done without having to set assets up in specific ways is a very big deal. Part of that is obviously speed, which is mentioned above, but it also helps in industries like automotive where rapid change is the norm right now. With the shift away from combustible engines towards more electric production, operations need to remain nimble in order to be ready for any sudden shift in the industry. This is made possible by the aforementioned combination of Hexagon's scanning and tracking technologies, compared to other more traditional inspection methods which rely on photogrammetry and thus require more precise preparation.
In a press statement, Hexagon Automated Solutions Director Nicolas Lachaud-Bandres said, "At Hexagon, we're on a mission to empower manufacturers with fast access to critical quality data. So, we believe this roadblock to automating inspection needs to be removed. That's why we've created PRESTO – a solution that enables the future of automated inspection by making it accessible not just to large OEMs, but all their suppliers. It's an off-the-shelf solution that is simple to install, implement, and operate, and can help manufacturers reduce inspection time and costs, without the need for robotics expertise every time something changes."
He continued, "Today's manufacturers are facing huge challenges as entire industries transform. Automotive manufacturers, for example, face their greatest transition in a century. To remain competitive, they must integrate new technologies, increase agility and efficiency, and deliver the next generation of smart, connected electric vehicles. With PRESTO, they can automate processes, improve quality control and, ultimately, reduce time to market."