Swedish 3D imaging firm also digs into S. American mining market
3D imaging company Hexagon AB said Tuesday its Leica Geosystems business will enter the bathymetry and coastal topography markets by acquiring Airborne Hydrography AB (AHAB), a manufacturer of airborne lidar systems for hydrographic and topographic surveys.
SPAR caught up on Tuesday with AHAB Managing Director Anders Ekelund at the Intergeo conference in Essen, Germany, where he had already made a quick transition to the Leica team.
"Bathymetric lidar is the most efficient tool for monitoring shallow water," Ekelund told this reporter. "The purpose of the [acquisition]is for Leica is to get a product in bathymetry. I think this is a great merger and it feels great to be part of this bigger group."
Terms of the agreement, signed Friday, were not disclosed. Kristin Christensen, Hexagon's vice president of corporate communications, told SPAR the acquisition of AHAB is "a great extension to our portfolio," and should be complete within a few weeks.
AHAB, based about three hours south of publicly traded Hexagon's Stockholm headquarters, will then operate as a stand-alone business under the Leica Geosystems brand, she said.
Applications of AHAB's products include mapping and environmental monitoring of coastal erosion, shorelines, seabed vegetation, and seabed classification, as well as infrastructure investments in coastal zones such as harbors, pipelines and powerlines.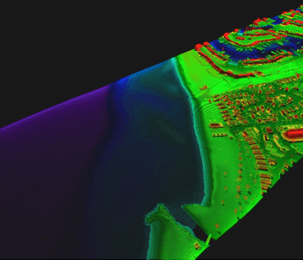 "Highly accurate hydrographic surveys are of particular importance when it comes to monitoring and managing the effects of changing sea-levels, flooding, or coastal damage due to natural disasters," said Hexagon CEO Ola Rollén, who added that the bathymetry and coastal topography markets "are indispensable when it comes to the safety of those that live in coastal regions and the expedited recovery in these areas in the face of the disaster."
AHAB was founded in 2002 as a spin-off of Sweden's Saab group and now provides hydrographic and topographic surveying software and systems for commercial deep and shallow water mapping and monitoring of land, coastal zones and sea floors.
AHAB's airborne lidar portfolio of products include the new Hawkeye III, a combined, multi-sensor, deep-penetrating bathymetric and topographic oblique lidar system, which illuminates objects from multiple angles, minimizing data shadowing, and is ideal for object detection on land and in the water.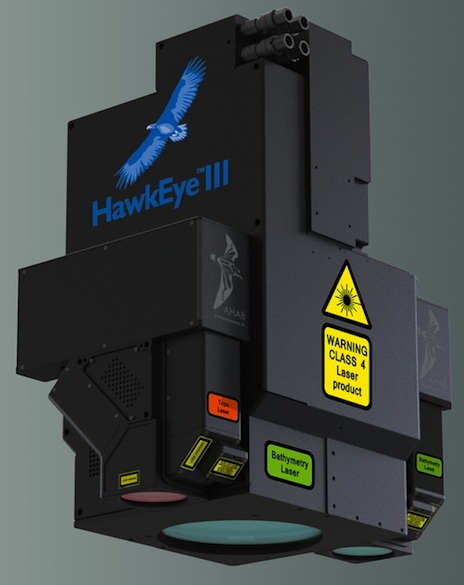 The HawkEye III captures, in real-time, full waveform lidar data in three channels: shallow bathy, deep bathy – with depth penetration down to 50 meters in clear water conditions – and topographic. The system can also be integrated with Leica's Mission Pro software and mid-format cameras including the Leica RDC 30 camera.
AHAB also owns the DragonEye topographic survey system and the Chiroptera lidar system for shallow water surveys.
Hexagon digs into South American mining industry
In related news, Hexagon said it also signed an agreement to acquire Brazil-based Devex, a developer of automation software for open-pit and underground mines, advancing its expansion into South America and the mining industry as a whole.
Hexagon said its mining customers are increasingly using automation technologies to be more efficient and save costs. Devex generated about $16 million (35 million Brazilian Real) in annual sales in 2012 with its flagship software platform SmartMine as well as more comprehensive automation platforms for optimizing mine performance through real-time 3D control and remote monitoring of all mine activities.
Devex has leading market share in Brazil, Hexagon said. That gives it opportunities to cross-sell in the new market as well as product integration opportunities to better serve the automation needs of other segments such as agriculture and construction, Hexagon said.