Connect software updates
Last week, GeoSLAM announced a major new update to its Connect software, bringing automatic processing to users of the ZEB range of handheld scanners. Announced at Intergeo 2021, the new release is aimed to improve the accuracy of the GeoSLAM scanners. For Dr Graham Hunter, CEO of GeoSLAM, this update is all about efficiency.
"Smart organizations want faster results in less time, and GeoSLAM products drive more efficient business. We're pleased to be bringing a whole host of new tools and filters to make GeoSLAM data cleaner and more accurate in the release of Connect 2.0."
The update includes the next generation of GeoSLAM's SLAM algorithm, GeoSLAM Beam, which powers Connect 2.0 as well as new filtering and georeferencing tools, bringing greater accuracy to the ZEB range of scanners.
The Connect 2.0 software updates include new functionality to enable change detection, where multiple point clouds can be compared and any changed areas are highlighted. The point clouds can now also be compared with existing CAD models, enabling better progress tracking in construction or easily highlighting changes between scans. The integrated Connect viewer enables the viewing of multiple point clouds and the ability to measure distances between data points.
In another feature update, Connect 2.0 now allows for horizontal and vertical slices to be taken from any location within the collected point cloud data. Horizontal floor slices can also be set to be taken at any given height above the floor.
Common data capture scenarios, such as UAV, outdoor, indoor, linear, and vehicle, have been characterized in Connect 2.0, and data processing pre-sets for each environment have been defined. These SLAM environmental presents can be selected at the beginning of the data processing stage, simplifying setup.
Connect 2.0 aims to simplify data processing steps through a series of workflow scripts and includes new filtering tools to help users get better results from their datasets. This includes automatic data processing, stop and go georeferencing and stop and go alignment; all available as standard. With stop-and-go georeferencing, known control points are captured during a scan and automatically compared and matched to the associated coordinates during the processing stage in Connect. A rigid and/or a non-rigid adjustment can be made to the dataset and an accuracy report is exported, highlighting the success of the transformation. For Stop-and-go Scan alignment, common static points are captured during several scans meaning that these datasets can be automatically aligned. A single point cloud is then exported as if the data was captured in a single scan.
The new software can be found onboard any new product shipping from today forward. For those who already have a GeoSLAM product, any customers with a Care subscription will get full access to Connect 2.0.
New 16MP camera on the way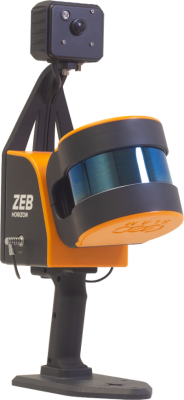 The ZEB Vision 16MP panoramic camera has been announced for pre-order. Able to work with any ZEB Horizon, the new camera solution aims to improve colorization and enable image walkthroughs and point cloud measurements using optional Draw software. The small camera can be mounted above the ZEB Horizon scanner via a screw plate.
Enabling Automation with Remote Access
GeoSLAM has also announced the launch of real-time SLAM processing through Remote Access. Using an API for remote data capture or automated robotic navigation, users can see the point cloud and trajectory in real-time. The ZEB Revo RT can be used on and off a robotic platform for ultimate flexibility.
Further updates will allow GeoSLAM customers to take a ZEB Horizon from handheld to UAV usage, (described as compatible with DJI Matrice 300) to get a more complete picture of projects.
"As automation becomes more commonplace, there's no reason why our industry shouldn't embrace new and faster ways to map and understand spaces. Automation and speed are at the forefront of Connect and GeoSLAM enables customers to get the information they need from their data even faster."
For more information about GeoSLAM Connect 2.0 or for a free 7 day trial, visit: www.geoslam.com/solutions/connect.