Earlier this month, lidar mapping hardware and software provider GeoCue announced the release of three new additions to their TrueView 3D Imaging Systems. The new systems, which combine laser scanning and high-resolution imaging, are the TV625, TV680, and TV680LR. All three systems are NDAA-compliant.
All three of these systems are designed to be incorporated with a UAV, with the company noting that they can be applicable for a variety of industries including surveying, construction, infrastructure management, and environmental monitoring, among others. The systems each include laser scanners from RIEGL to go with three cameras in order to maximize their accuracy and efficiency. In the TV625, the laser scanner is RIEGL's miniVUX-1UAV, while the TV680 includes the RIEGL VUX-1UAV-22 and the TV680LR utilizes the RIEGL VUX-1LR-22. For the camera, all three include three Sony IMX-183s. They each include Applanix systems for positioning and orientation as well.
As far as differentiating between the systems, the TV625 is the more budget-friendly (price is not included on the GeoCue website) and lightweight option of the three. The payload's accuracy comes in within five centimeters, RSME, and it comes in at 2.4 kg. The TV680 and TV680LR – the latter being a long-range system, as the name suggests – are double the weight at 4.8 kg. However, they also have improved accuracy, with the former being within 10 millimeters and the latter within 15 millimeters.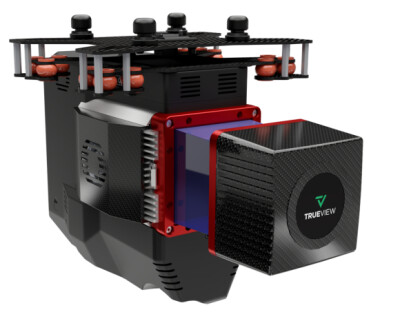 Providing more information in a press statement, GeoCue CEO Frank Darmayan said, "TrueView 680LR is built with the Riegl VUX-1LR with up to a 360-degree field of view, five LiDAR returns, and typical accuracy of 15mm and precision of 5mm. The 680 is integrated with the Riegl VUX-1UAV providing unmatched 10mm survey-grade accuracy and an extremely dense dataset with up to 400 points per square meter at 80m flight height. Both systems capture highly detailed survey data enabling our customers to generate unmatched deliverables."
In addition to these payload systems, surveyors get other add-ons with any purchase, including a thumbdrive, hardcase, and GNSS Antenna. Purchasers also get a GeoCue Accuracy Star, which is a target designed for drone lidar projects which is installed on a tripod (not included). Using the Accuracy Star enables automated vertical and horizontal accuracy checks and improvements. All of that can then be brought together with LP360, also included with purchase. LP360 is a software solution for processing data collected in drone surveying projects, providing end-to-end workflows by providing the payloads as well as the processing software for these projects.
It wasn't all that long ago that combining high resolution imagery with lidar within one system, particularly designed for aerial mapping solutions, was rare. Previously, the weight was just too much for these systems to be practical, even given the advantages that come with combining the two different but complementary data collectors. However, recent years have seen the laser scanner manufacturing industry reduce the size of their lidar systems without sacrificing accuracy, opening up the kinds of solutions like the ones released here by GeoCue. In turn, surveyors are more easily able to collect informative data with colorized point clouds and accurate orthophotos.
Vincent Legrand, VP of Sales at GeoCue said, "We offer turnkey solutions for our customers and dealers. Of course, each of these systems includes LP360 Drone software for seamless data processing and generating deliverables. Getting the hardware, software, workflow, training, and support from one company is a unique advantage that we can offer, and we're excited about the growth that comes with that."