Euclideon is a SaaS developer in the geospatial industry, delivering patented 'Unlimited Detail' 3D data technology to support organizations as they digitally transform their decision-making and operations with 3D data solutions. Early September, the company announced moving closer to IPO with the release of a new cloud-based 3D data management and storage solution, Euclideon udCloud.
Unlimited detail software in the cloud
udCloud is a new cloud-based 3D data management and storage solution powered by Microsoft Azure. udCloud incorporates the company's existing patented 'uds' unlimited detail software that has no data size or scale limitations, which enables visualizing massive amounts of data, including and beyond petabytes.
Historically, data storage legacy systems could not store and manage large amounts of data, and attempting this on premise proved expensive and complicated. udCloud solves this storage and availability problem, as well as the ability to share and stream large 3D data sets from the cloud: not only is 'udStream' is very fast at visualizing unlimited data size into unlimited detail in seconds, it is also a 3D data enhancement and analysis toolkit which leads to decisions made, shared from the cloud, for immediate action.
Microsoft partnership
Euclideon's Microsoft Partnership is a very recent development. Currently, Microsoft Azure has 300,000 global customers/partners on their cloud platform, while 95% of Fortune 500 companies use Azure. Microsoft invest USD$1 billion per year in security to protect customers data from cyber threats. As to be expected, Euclideon's new udCloud platform on Azure is attracting new customers for the Euclideon, that leverages Microsoft Azure cloud data storage and management to streamline the whole 3D process from capture and conversion of multiple formats, uploading and storage on the cloud, visualization, enhancement including future IoT, and analysis incorporating AI and machine learning to sharing from the cloud and usage.
There has been a lot of convergence in recent years, such as Amazon who started out in e-commerce and now offers cloud storage, and Microsoft who started out developing software, and also now offering cloud storage. Being a software developer, Euclideon has a natural cultural fit with Microsoft as software industry innovators. Euclideon currently has no plans to look elsewhere and customers can still utilize their own data from other cloud providers.
Supported data types and tools
udCloud can work with commercial visualized data formats such as Cesium and Esri, and raw formats like Sonar, GIS, GPS, BIM and photogrammetry. udCloud developed its own 'uds' format for faster unlimited detail and unlimited size data processing. While all customer data on the cloud is kept in their original format for use by them, in order to be able to utilize all the benefits of udStream visualisation, enhancement and analysis tools on udCloud, all customer data is converted to the 'uds' format, so that the customer has these two formats at the same time on the cloud.
Subscription model and customer types
While Euclideon udStream's includes an ever-growing toolbox of 3D data enhancement and analysis tools, Euclideon udStream's customers only pay for 3D data storage stored per month. All visualization, enhancement and analysis tools are free and these tools continue to expand year-round through Euclideon's R&D investment.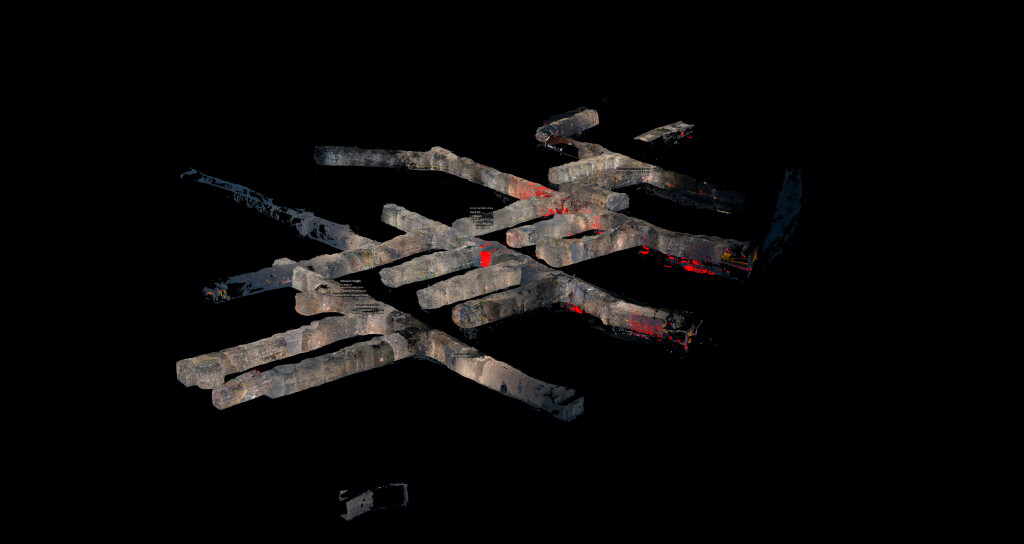 Some of these tools are vertical specific, such a cross sections of road and rail, underground mine height measurements and highlighting foliage overhang. A Professional Service team is available to develop specific bespoke solutions to order, while an additional Software Development Kit (SDK) allows for the building of bespoke applications by independent software developers.
Euclideon distinguishes three customer types: a single user, a project with multiple users, an organization with multiple projects each with multiple users. The billing system is data storage based, total data stored per month: initially, Euclideon offers a free 15GB trial, after which a customer becomes PAYG with a monthly credit card payment, or a larger Enterprise account custom negotiated. The udStream software is the actual tool being used, this is a very point and click intuitive design that can be used by general office staff, not specific to programmers.
Euclideon's culture of innovation and continual improvement will be reflected in a continual pipeline of future product innovation and upgrades to both the Euclideon udCloud data management platform and the udStream visualization, enhancement, and analysis tools: 3D data is stored and access from udCloud, while udStream is Euclideon's visualization tool that can be in used in a desktop application or a browser, without the need for special hardware. Euclideon is currently developing a mobile application to extend customer access further. Data is hosted once and shared to many users, allowing seamless sharing and collaboration.