ArcGIS GeoBIM is a new Esri software product that dynamically links ArcGIS features to documents within the Autodesk Construction Cloud and BIM 360 environment.
While GIS is typically used in early assessments of urban infrastructure development, moving into design and construction, the BIM process is introduced through asset models and files. The Autodesk Construction Cloud manages engineering plans that are usable during the construction phase for contract documentation as well as tracking issues for design and construction that will encompass quality, safety and engineering specifications.
This new capability of linking ArcGIS features with Autodesk documents improves data access across different systems to stakeholders and will form the basis for a new set of apps and collaboration between the GIS and engineering community, for example for proposal reviews, interactive queries, site context evaluations, design and construction coordination, visual analysis, and document reviews.
Integrated visualization and querying
The release was announced by Esri President Jack Dangermond during the plenary session of the virtual Esri 2021 User Conference on July 12. ArcGIS GeoBIM will be released this fall, but a product demo followed later that same day, showing how the interconnectedness between different workflows is established, as well as how to perform integrated visualization and querying within newly created GeoBIM projects.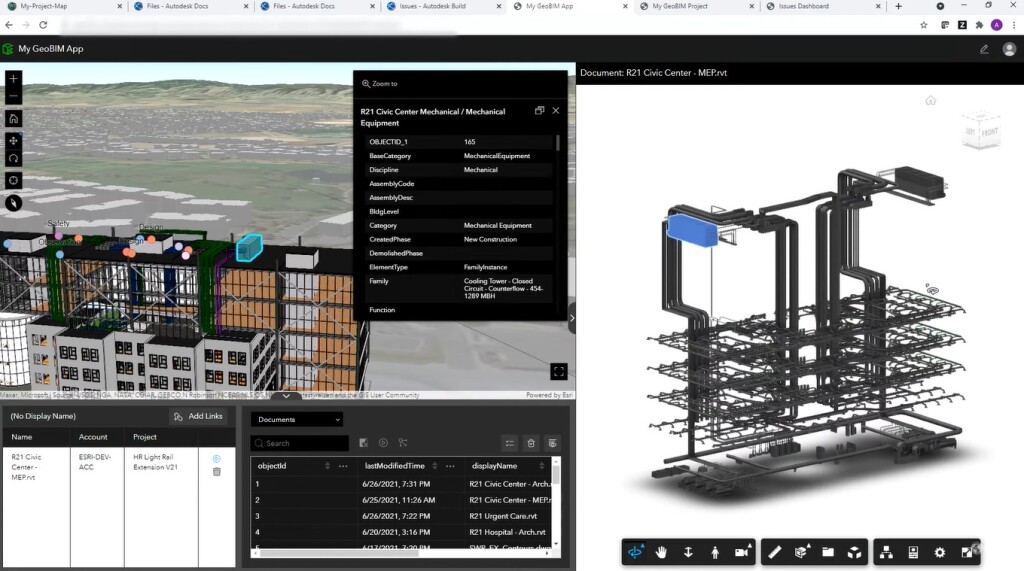 The image above shows an ArcGIS 3D scene on the left, with a base map, infrastructure layers and building scene layers. The right shows an Autodesk Revit model that's also highlighted in the ArcGIS 3D scene. This side-by-side visualization and comparison can also be performed with Autodesk Civil3D models and AutoCAD files. After a feature is selected in the ArcGIS scene on the left, a link can be opened by clicking the green link icon in the bottom-left part of the screen in the far-right column in white, which will open an infrastructure drawing on the right side of the screen, enabling collaboration for the full project team.
GeoBIM Project Manager and Issues Dashboard
To enable the feature-document connection inside the GeoBIM application, it needs to be established through the GeoBIM Project Manager. First, a connection with the Autodesk cloud needs to be created through the account tab. Second, the Tools tab is used for creating links between a GIS and BIM through an automated process. By selecting one or multiple tools to run, engineering documents are selected, issues are located and BIM project boundaries are created by searching in the Autodesk project folder for the required documents and info.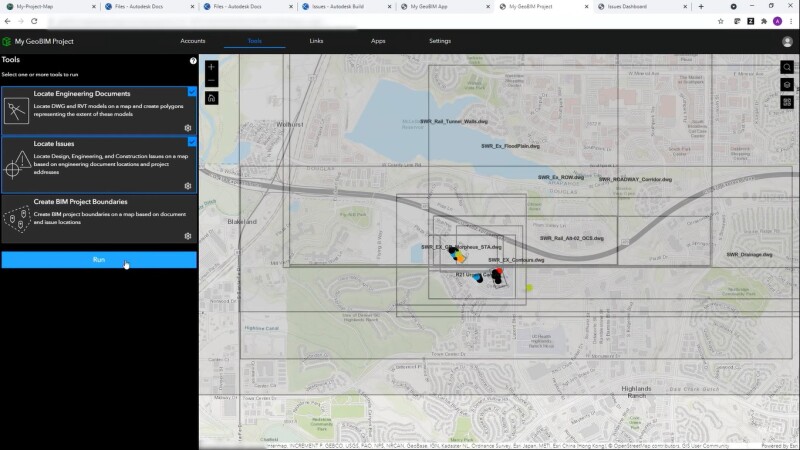 A fourth apps tab functions for creating apps such as for documentation review, progress reviews for clients or site context evaluation. An issues dashboard will be useful for project managers and executives who will need to understand and monitor project progress (below). Issues are highlighted on the map, so it becomes immediately clear where issues exist geographically.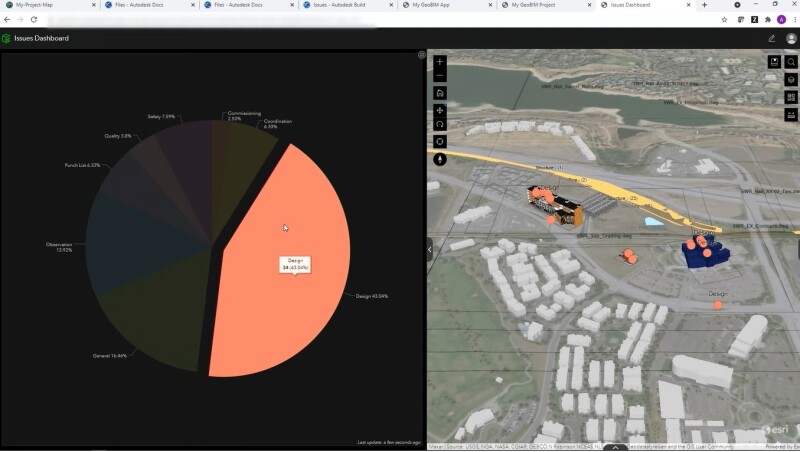 The potential of GEOBim
Building on the collaboration between Esri and Autodesk that was first announced in 2017, this latest product demonstrates a pathway forward for more integrated BIM and GIS workflows. With the ability to enhance how infrastructure assets are planned and built (within their geospatial context) can start to bridge the gap between the two disciplines. Ideally, this can help infrastructure assets be understood within their civil and natural surroundings, and may allow AEC firms and project owners to focus on how to deliver more sustainable and resilient infrastructure, but this will depend on how well these new processes are adopted. Once fully released this fall, it should be interesting to see how this product affects workflows on both sides.