Esri, the leading location intelligence platform and makers of ArcGIS, have made an acquisition announced today that has turned more than a few heads. Esri has picked up nFrames, a photogrammetry software company that has made leaps in the ability to create 3D information from imagery and lidar.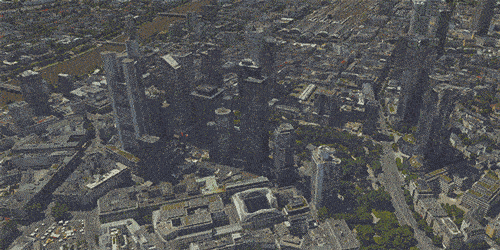 nFrame's primary software, SURE, offers a production engine that transforms imagery and lidar data into point clouds, photo textured 3D meshes, and true orthophotos. This data can then be leveraged as reality capture for large construction sites, cityscapes, and entire regions, were users can process large extents and high volumes of images in a straightforward workflow.
This pickup should strengthen Esri's 3D capabilities – enabling the fusion of imagery with 3D GIS. This could allow nFrames and Esri users to seamlessly capture and analyze 3D data from aerial, drone, and ground-based sensors in an automated end-to-end process. For ArcGIS users, in particular, this may open up new workflows and pathways within ArcGIS that were not possible previously.
The integration should also make it easier for users in industries such as government; national mapping; insurance; and AEC to seamlessly capture, process, and analyze high-quality 3D data from imagery and lidar. nFrame's product, SURE, is used to create accurate real-world depictions in 3D from large scale photogrammetry and lidar datasets, which is particularly useful for city-scale mapping.
Through this acquisition, Esri gains a proven product that can transform imagery and lidar data into point clouds, phototextured 3D meshes, and true orthos.
Jack Dangermond, Esri founder and president, said in a statement from Esri that the news is critical.
"As Esri continues down its path of innovation to create a multidimensional experience, this acquisition enhances our ability to create extremely high-quality 3D data from imagery, which is critical for our customers in the municipal, planning, and AEC industries."
As part of the agreement, nFrame's SURE software will become part of the company's ArcGIS platform. In the future, Esri will make SURE capabilities available in ArcGIS Drone2Map and Site Scan for ArcGIS so users can create better meshes, point clouds, and true orthos from their drone imagery. This will also further improve ArcGIS orthomapping and drone processing capabilities across the platform.
"We are excited to take the next step in our mission of empowering organizations with leading technology for multisensor reality capture—from air and ground," said Konrad Wenzel, CEO and cofounder of nFrames.
"Together with Esri, we will be able to unlock the full value of 3D surface data through GIS by connecting geometry with metainformation to provide spatial context. This fully automatic chain from data capture to analytics will enable smarter decision-making."
The nFrames headquarters will now serve as a new Esri R&D center based in Stuttgart, focused on cutting-edge reality capture technology. This R&D center will continue its work on the SURE technology, support SURE customers, and also provide support for 3D GIS across its line of products.
For more information about Esri and SURE software, visit go.esri.com/esri-and-nframes.