Last month at the SPECS retail industry conference in Texas, EarthCam, a company specializing in live construction camera technology and services, announced their new IoT StreamCam 4K.
As the name suggests, the new product incorporates Internet of Things (IoT) sensors with a live camera which can be placed within an interior jobsite during construction, with marketing particularly directed at retailers to "manage risk during new store construction and renovations," per the company's release of the news. That said, this new product could feasibly have uses both during construction and potentially during the operations phase of other types of facilities like manufacturing plants thanks to the connection to those IoT sensors.
EarthCam's new IoT StreamCam 4K works by allowing up to eight low-power wireless IoT devices to share a 4G LTE data connection, syncing the incoming data with the stream coming from the camera. These connections can be made to sensors which can alert owners and operators to things like flooding within a building, glass breakages, smoke, and more.
With this newest addition to their product suite, EarthCam is continuing their quest to cover a variety of needs for a construction project through the use of live feeds of a site. This latest addition is also made for simple use, weighing in at under 10 pounds for easy transport while also coming with a heavy duty tripod and battery backup.
EarthCam is a specialist in monitoring construction sites through the use of both live feeds from their cameras as well as other integrations like artificial intelligence and other technologies. Just a little more than a year before this latest announcement, the company had made another big release with their EarthCam 4D, which acts as a "time machine" for construction projects.
They also offer their Door Cam, which can be used to track visitors to a site, capture deliveries, and even act as a time clock by reading QR phones from workers' phones which can be used to punch in and out of a site.
All of these can be connected within the IoT StreamCam 4K network, providing what EarthCam refers to as their "visual data ecosystem for construction and facilities management." This entire cycle includes live streaming capabilities, with the ability to record video as well to create a library of footage from a site going back for up to a year. Users can also integrate some of the biggest names in AEC technology within their ecosystem, including integrations with Autodesk, Procore, Salesforce, and more.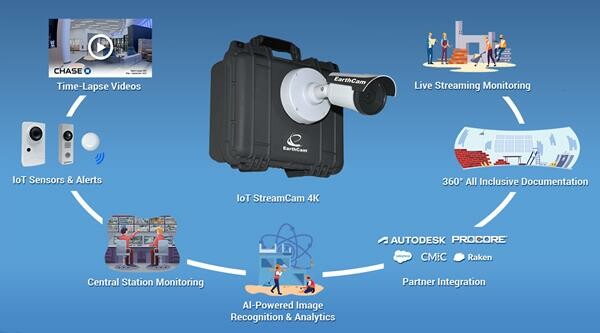 The extra value that can be derived from this ecosystem is enhanced more with EarthCam's AI-power image recognition to streamline workflows, and the aforementioned IoT sensors to alert owners and operators to any potential issues on a site, even if nobody is present. All of this can be monitored remotely as well, via both desktop and mobile devices, and clips from the stream library can be easily shared among stakeholders.
It's not hard to see the use for this kind of technology for any construction or renovation project to be monitored. There's never going to be someone on-site 24 hours a day without hiring an outside security firm, but with this new IoT StreamCam 4K that type of monitoring can be done remotely. Not only does it provide security by using those sensors to detect movement on site and glass breakage, among other functions, but it can also help catch potential issues earlier by looking at video footage.
As an example, if a stakeholder sees a potential issue in a stream of the site, they can enter an RFI through one of the aforementioned integrations and prevent further issues with that proactivity. Similarly, being able to catch something like a plumbing issue causing flooding in a building even without being on site with the IoT sensors could save significant time and money compared to having to wait until the following day when someone shows up to the job site.
On their newest product, EarthCam founder and CEO Brian Cury said in a press statement, "The new IoT StreamCam 4K is EarthCam's best-in-class, and is central to providing data-rich video to monitor jobsites, document progress, and reduce delays."