Just this month, a new report from Allied Market Research indicated that the digital twin market, which had an estimated value of $6.5 billion in 2021, is expected to hit $125.7 billion by 2030, a CAGR (compound annual growth rate) of 39.48 percent from 2022 to 2030. The iTwin platform from Bentley Systems is a major player in this space, and one that continues to add new capabilities. They also partner with up-and-coming companies to assist them in getting to market more quickly, among other things, and this week it was announced that SmartViz, a building energy solution, will be their latest partner.
As part of the deal, SmartViz is also becoming a Premier Partner in the iTwin Partner Program, and they will utilize the iTwin platform as the building blocks for their operational online twin. The partnership will allow SmartViz to better be able to accomplish their goal of providing facilities managers and asset owners the tools they need to create as much efficiency in their buildings as possible.
SmartViz was originally developed under the AEC consulting firm Buro Happold, and ventured off as an independent company earlier this year. The platform has already gotten results, as they report they saved British telecommunications company Vodafone $40 million in excess property and energy costs while also empowering "several" organizations to successfully implement hybrid working arrangements.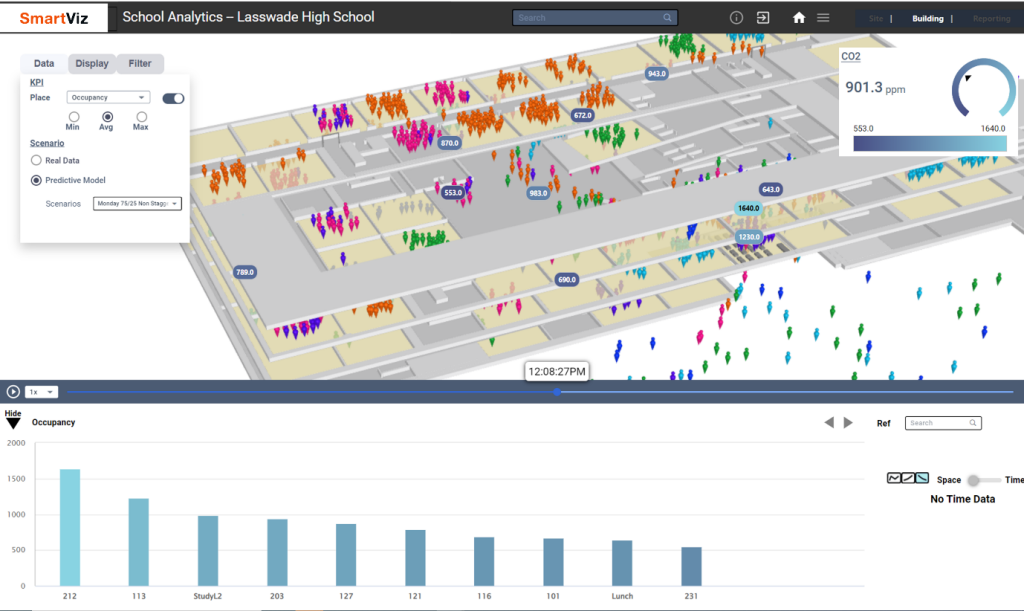 With the SmartViz platform, facility managers can get real-time data analytics on all aspects of their building, from the number of people using specific rooms to things like air quality and noise levels, and also utilize this information to simulate possible solutions to fix problems, such as alleviating congestion and bottlenecks at certain places in a building such as a school. An example they provide is simulating the effects of staggering lunch periods at a school.
In this new agreement, the young company will not only have an established company at their back in Bentley, but also a well-known and battle-tested platform in iTwins to run their building solution software. iTwins was first announced by Bentley in 2018 and has become one of the major players in the space. With the platform, customers are able to manage and grow their digital twin solutions through the iTwin APIs and services. The iTwin Partner Program also takes that a step further, with a goal of fostering a community of organizations who wish to create an open ecosystem for infrastructure digital twins. Partner organizations have the option for a standard partnership or a Premier, like SmartViz, which involves a greater level of guidance and promotional support.
SmartViz is taking on a tall task in addition to logistical goals for buildings, in trying to also assist buildings in reaching their net-zero emissions goals, particularly in a country like the UK where, as the company's founder and CEO Dr. Shrikant Sharma notes, most of the large buildings were built at a time where energy consumption was not a major concern. Being able to have a platform like iTwins will be a big step for them, both on the software side and in the guidance they can be provided in the Premier Partnership Program. Dr. Sharma notes in the press release announcing the partnership, "The SmartViz mission to tackle the core challenges of space efficiency, net zero compliance and user experience. The Bentley iTwin platform is instrumental in helping us achieve this for our customers."