Last year, DAQRI debuted their Smart Helmet, which stitches together MR goggles and a safety helmet. The company says they built this solution to "both protect and provide AR work environments across industrial environments," so it's no surprise it drummed up a lot of interest in the construction space.
DAQRI's newly announced Smart Glasses, on the other hand, are intended to bring the same technology to users who don't need rugged protection. That means you might see it pop up less in the field, and more on the heads of designers, office workers, engineers, and light-industrial workers.
The system looks like the glasses your eye doctor gives you when your pupils are dilated, but cooler. It includes an Intel RealSense camera for tracking and an Intel Core M7 processor. DAQRI says it works both indoors and out.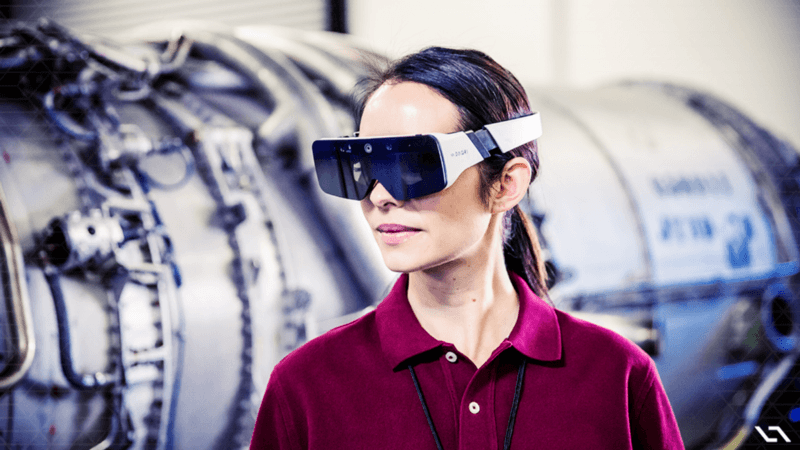 Its functionality covers much of what you've seen from DAQRI's helmet, including heads-up augmented work instructions for performing complex processes, and a remote-expert observation for beaming your expertise out to a worker in the field who needs help.
There are a few important differences. Though the promotional shots demonstrate the glasses working with its own computing unit, the system can also be connected to desktop workstations. Presumably, this will enable the system to display higher quality visualizations than the included processor.
Among the welcome improvements for ease of us, the glasses will come with a Bluetooth keyboard and boast a wider field of view–up to 44° for each eye.
Since the glasses seem positioned to compete directly with HoloLens, it may seem odd that they are not compatible with Microsoft's Windows Holographic environment. Instead of designing the system for easy use for consumers, DAQRI seems to have opted to provide flexibility for professionals. The glasses are designed to operate with a number of different platforms and programs, including CAD software, Unity, Windows, and Linux.
As of CES 2017, DAQRI began taking orders for the developers kit at $5000. No word yet on the final release date or price.