Creaform's most recent portable 3D scanners allow scanning to be performed anywhere and tackle parts of varying sizes, materials and complexity.
Creaform is a developer of 3D portable and automated measurement technologies. The company offers 3D scanning solutions for a wide range of applications, including product development, industrial design and reverse engineering. Two new portable 3D scanners, the HandySCAN BLACK and Go!SCAN SPARK, were added to the company's portfolio that is used by a highly diverse roster of clients.
HandySCAN Black scanner
The HandySCAN Black is Creaform's latest metrology-grade portable 3D scanner. It delivers    accurate, high-resolution and repeatable results, regardless of scanning setup and user experience. It acquires 3D measurements from all types of parts, no matter the size, surface, color or geometry complexity. Featuring eleven blue laser crosses and an accuracy of 0.0009 inches, users can achieve scan-to-mesh in seconds. The HandySCAN Black is primarily used by metrology professionals in manufacturing industries, such as the automotive and aerospace sector.
The HandySCAN 3D product family is a series of portable 3D scanners that can be used in many areas, especially in sectors that cannot compromise on data quality, such as the aerospace and automotive industries. The latest HandySCAN 3D, the HandySCAN BLACK offers 4X the resolution and 3X the speed (1, 300, 000 measurements per second) of its predecessors. It has been completely redesigned with blue laser technology and is now certified ISO 17025.
The HandySCAN BLACK's new blue laser, combined with higher-quality optics and advanced software algorithms, means that users benefit from higher levels of resolution and accuracy, as Blue lasers have smaller wavelengths to red lasers, which allows them to acquire, along with the optics, more quality data. The data can then be analyzed using Creaform software. The eleven blue laser crosses also enable users to scan outside, under direct sunlight, for demanding field applications.
The HandySCAN BLACK features a sleek, more ergonomic design, which allows for a better and easier 3D scanning experience. Creaform further developed the software's data processing and analysis performance to offer users live mesh capabilities; this means that as users scan a physical object, they immediately see the digital mesh files (STLs) on the screen. This instant feedback gives users the opportunity to perfect the way they carry out and acquire 3D measurements in just one scanning session.
Go!SCAN SPARK scanner
Creaform's second scanning release is the Go!SCAN SPARK, a professional-grade and portable white light 3D scanner that offers a quick and simple 3D scanning process and delivers reliable dimensions on even the most complex surfaces. It can also acquire the color of objects. This is a plug and play scanner as there is no setup required, while positioning is performed using geometry, color or targets.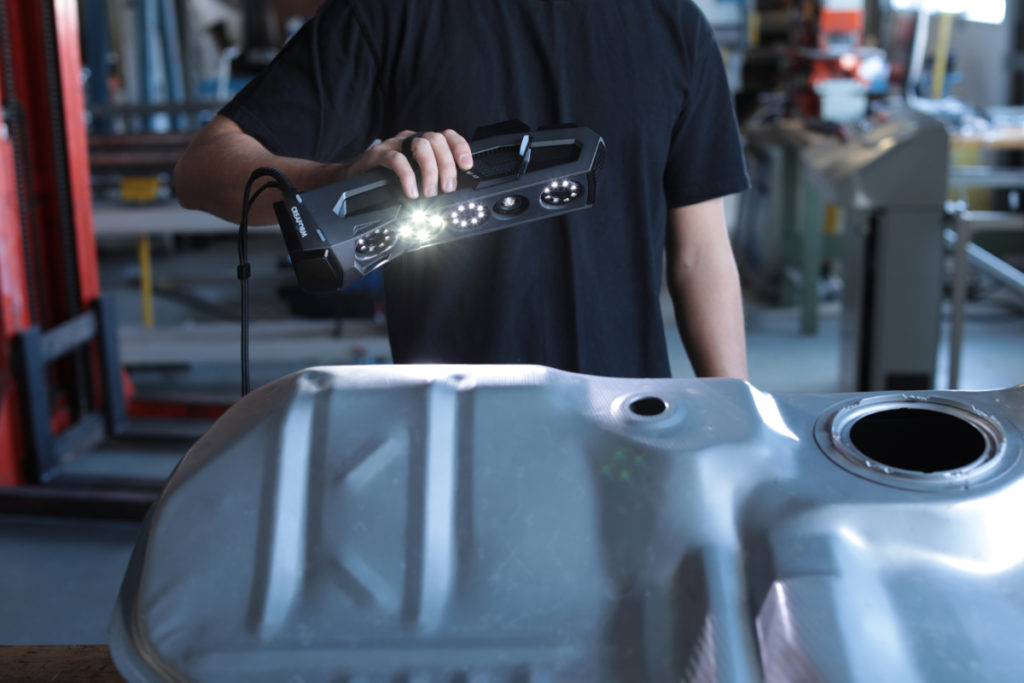 The Go!SCAN SPARK solution can be easily integrated into any 3D modelling software. It is particularly conducive for product development, reverse engineering and 3D printing workflows to accelerate a manufacturers time to market. The Go!SCAN SPARK is also widely used for archaeological, heritage conservation and multimedia applications. The Go!SCAN SPARK 3D scanner combines the powerful features of two preceding generations, but ups the game in terms of performance: the new 3D scanner features 3X the speed and 2X the accuracy than its predecessors. The Go!SCAN SPARK enables better full-field dimensional measurements on all type of surfaces and textures.
3D scanning anywhere
The HandySCAN BLACK and Go!SCAN SPARK are both portable 3D scanners, allowing 3D scanning to be performed anywhere, whether right on the shop floor, in the lab or in the field. Both 3D scanners can tackle parts of varying sizes, surfaces, materials, colors and complexity. However, because Creaform caters to a highly diverse roster of clients that span very different industries, the HandySCAN BLACK is recommended for metrology applications, while other times, the Go!SCAN SPARK is preferable for applications that do not require metrology-grade dimensional measurements.
The portability of Creaform's solutions is extremely important for clients as it is oftentimes easier to bring scanners to parts, rather than the other way around. What's more, portable 3D scanners allow users to access 3D scan data right where they need it. In terms of accuracy, manufacturers across all industries are under increasing pressure to adhere to stricter standards and quality control norms, which requires dimensional measurement solutions that produce highly accurate results.
Creaform believes that the demand for 3D scanning will skyrocket due to several major trends, including the rise of Industry 4.0 and automation, the wide-spread use of additive manufacturing, the drive for quality manufacturing, and the tremendous potential of augmented reality and virtual. All of these trends will require accurate 3D data, creating new market opportunities for Creaform while at the same time developing new solutions existing high-growth markets.