"People shouldn't have to be BIM experts to figure out what's going on in a project." -Carl Veillette, VP Product and Co-founder of BIM Track
The adoption of BIM in architecture, engineering and construction projects has been a process that has helped to remove some of the inefficiencies inherent in the building design and construction process. While there are many benefits to BIM, the workflows that have been created for various job roles can be full of frustrating barriers. Construction design software is often dense and complex requiring specialized training to fully utilize, and is often separate from tools used for project management and tracking.
To be able to collaborate effectively, project data and tasks need to be accessible to everyone – not just the BIM experts. Any stakeholder should be able to report and raise an issue, it should be able to be assigned to the appropriate person to handle, and a project manager should be able to check on its status and follow through with any other needed changes. To stay on time and on budget, it is also crucial that this process happens quickly.
"Modeling software has always been so advanced, but we are still lacking basic information we needed to do our jobs. 'Who's going to fix this clash? How critical is this issue? What was agreed in last week's coordinating meeting?' And, most important, 'Am I going to be able to deliver a model that's reliable to build from – and on time?'" – Christian Proulx, VP Sales & Marketing at BIM Track
The Challenge: Communicating across existing CAD/BIM software
Rather than building in another complicated software to learn, BIM Track takes a different approach. By working with and within the software that AEC professionals are already using, BIM Track helps to connect people with the information that they need, and provide valuable insights and tracking to make sure that projects are running smoothly.
BIM Track utilizes its own connected "software ecosystem" that allows its users to find, address and comment on issues without leaving their existing day-to-day software. With a BIM Track account, you can download BIM Track's add-ins for many of the leading AEC software packages including Autodesk Revit, Navisworks, Archicad, Civil 3D, and Tekla Structures.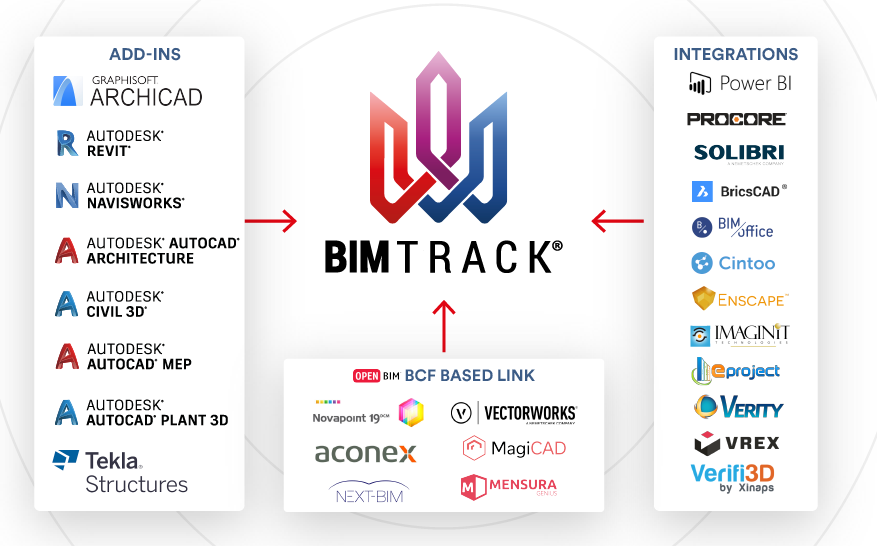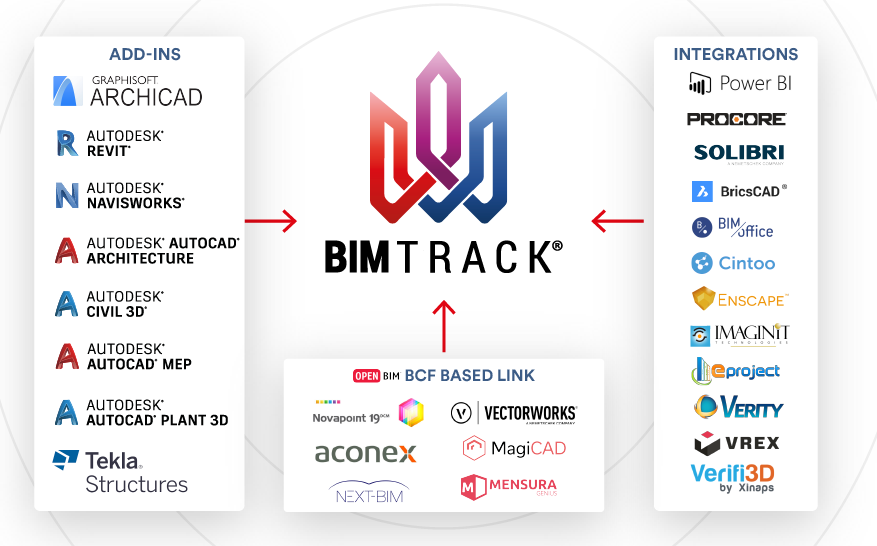 In addition, the integrations within BIM Track's ecosystem can connect between these and other tools, making project coordination between engineers, designers, and owners. Allowing professionals to stay within their preferred software platform – while still sharing the data when and where it is needed – saves valuable time. Working in this ecosystem also allows project managers, owners and stakeholders access to the information they need, such as coordination KPIs and other key metrics, in one centralized location.
---
If you'd like to see how BIM Track can improve your issue resolution, please
contact us

today for a walkthrough.
---
Most requested new add-in : Archicad

One of BIM Track's most requested add-ins was for Archicad, a BIM software package that prides itself on being user-friendly and intuitive, with a strong focus on collaboration between teams. This makes sense, as BIM Track and Archicad are aligned in their approach, as they are both motivated by the desire to improve the ways in which teams work together on complex projects.
In July, BIM Track announced a commercial partnership with , distributor of software and services for construction and design professionals such as Archicad, as well as the developers of Artlantis and BIMoffice software. The R&D teams at Abvent made the BIM Track plugin possible for Archicad 23 and 24, and is available now for all Archicad users.
Newest addition: BricsCAD BIM

BIM Track's latest integration announcement concerns BrisCAD BIM, a cost-effective CAD / LT CAD software from Bricsys, a Hexagon company.
The Bricsys team decided to integrate with the leading issue tracking system, BIM Track, to ensure Bricscad BIM users are connected to other software platforms.
The BricsCAD BIM integration with BIM Track uses the built-in BCF issues panel to pull issue data from BIM Track such as screenshots, priority, status, assignment information, and comments right into the BricsCAD BIM environment. Users can comment on issues directly in BricsCAD BIM and issues will be updated in BIM Track
---
If you'd like to see how BIM Track can improve your issue resolution, please contact us today for a walkthrough.