It's not breaking any news to say that construction projects are extremely complex for a lot of different reasons, not the least of which stemming from the sheer number of stakeholders involved with any given work. Each stakeholder has different levels of say over different areas of the project, and all of these moving parts interacting over the course of a project almost inevitably leads to clashes, resulting rework, and ultimately timing delays along with extreme budget overtures. Although no one tool is ever going to solve the ingrained issues in the industry, many are trying to at least reduce the impact of the systemic pain points.
One such example is the continued partnership between Matterport and Autodesk, which was brought to a new level earlier this month with a new integration between the two platforms. An announcement from Matterport introduces a new integration with Autodesk Construction Cloud, "making it easier for project teams using Matterport and Autodesk Build to collaborate within critical project management workflows." Users of Autodesk Construction Cloud can download the free Matterport App within Autodesk's platform – you do, however, need an active Matterport Business subscription to utilize it – which will allow for much easier importing of 3D scans from Matterport into Autodesk Build.
There are a number of different positives which can be derived from this new integration, but the biggest one highlighted in this announcement from Matterport is in relation to requests for information (RFIs). Autodesk Build is a project management tool from Autodesk which tracks and manages a bevy of documents relating to a project, including RFIs. Many documents in a project right now are stored in different types of files, some of which can be quite complex. When there are information gaps, RFIs are filed which require labeling on these documents and/or images from every involved stakeholder.
It goes without saying that this can be an extremely tedious and cumbersome process, with Matterport citing a Navigant Construction Forum survey which indicates that the average construction project results in more than 800 RFIs, with more than 50 submitted per week on average. With each of these requests taking an average of eight hours of administrative labor, that's 6,400 hours per project, or 160 full 40-hour work weeks. Further, they cite another report, 2018's Construction Disconnected by Thomas et al. – this study was commissioned by Autodesk – which estimates that a whopping 48 percent of rework that occurs in the construction industry in the United States is a result of inaccurate or incomplete documentation.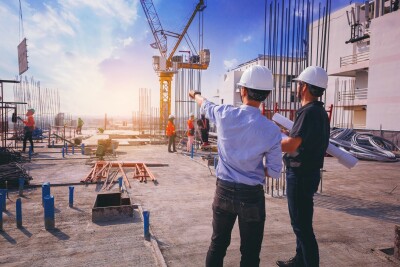 The goal of this new integration is to avoid the majority of the inaccuracies within RFI documentation by having everything connected to 3D scan data imported from Matterport. Rather than having all of these different types of files in different places, the idea here would be that requests and notes can be made within an accurate model, which is constantly being updated and can serve as that vaunted "single source of truth" that is becoming so important in today's AEC environment. Now, a Matterport user can place an Autodesk Build RFI pin at the exact place of concern within the digital twin, which can be viewed by any stakeholder in any location with the ability to accurately contextualize the issue.
This type of ability follows trends we're seeing in both the AEC and reality capture spaces. For one thing, this supports firms in this new era of expanded remote work. There may be stakeholders for a project who are on a different continent than the building and certainly don't have an easy way to constantly see the project in person. These 3D scans from Matterport allow for them to still address issues coming in from those on the ground with full context thanks to an accurate, photorealistic 3D model of any space.
It's also another continuation of the growing trend around accessibility for 3D scanning workflows. We're seeing this with all kinds of scanning, and Matterport is a good representation of this since users can create these models just using a smartphone. These certainly aren't as accurate as what you'd get from a TLS or other more powerful scanners, but for daily scans like this that accuracy isn't always necessary, and this ensures most everyone on a job site can complete this part of the job.
While this new integration is exciting to cut down on some of the most tedious portions of a construction project, it's only the latest development in the relationship between these two companies. Prior to this, Autodesk had a Matterport Plug-In for Revit, which allowed customers to import Matterport add-ons into Autodesk Revit, and Matterport BIM Files, which enabled Autodesk users to transform Matterport scans into BIM (.rvt) and CAD (.dwg) files.
"This integration builds on the digital transformation Autodesk has been leading in the construction industry for decades, leveraging Matterport's digital twins to create a visual source of truth relative to the work to be done onsite in Autodesk Construction Cloud. Now, all project stakeholders can experience a more efficient RFI process from anywhere with the same precision as if they were in person, streamlining communication to maximize project visibility and cut out unnecessary delays," remarked Matterport Chief Revenue Officer Jay Remley in a press statement.
James Cook, director of integration partnerships with Autodesk, added, "Linking Autodesk Build's collaborative RFI workflows with Matterport's 3D scans can help stakeholders improve the velocity and quality of their RFI answers. With this integration, project stakeholders are provided additional flexibility and transparency in the RFI process with a visual representation using digital twin technology."