Intergraph's Smart 3D 2014 platform allows interoperability with other 3D CAD systems
3D engineering and geospatial software provider Intergraph Corporation said it has consolidated its plant, offshore and material handling design software into a single platform called Smart 3D 2014, combining functionality for ship and offshore projects and materials handling with onshore plant design.
Based in Huntsville, Ala., Intergraph operates two segments – Process, Power Marine (PPM) and Security, Government, Infrastructure (SG&I) – as a division of Hexagon AB, a $3.3 billion, Swedish firm selling 3D measurement and visualization software and hardware under the Leica Geosystems, Intergraph, and Hexagon brands for the surveying, power and energy, aerospace and defense, construction, safety and security, automotive and manufacturing industries.
Intergraph said consolidating its SmartPlant 3D, SmartMarine 3D, and SmartPlant 3D Materials Handling Edition software platforms into Smart 3D 2014 offers interoperability with both graphics and data from multiple third-party CAD models, making it suited for brownfield and joint-venture projects.
Other features include Model Data Reuse (MDR) functionality for efficient reuse in other 3D CAD applications. MDR also allows users to reuse front-end engineering design (FEED) or old designs with different catalogs and specifications. Orthographic drawings are also automatically copied and updated. Smart 3D also has 64-bit processing capabilities giving users increased memory for large drawings.
"One of the reasons Technip adopted Smart 3D was because of its integration with Intergraph's 2D design tools," said Thomas Kerjouan, Technip France Smart 3D administrator.
Hexagon reported last month that new product sales and a stronger construction market in Europe boosted third quarter sales of its Geosystems unit by 12 percent to €203.9 million (US$279 million).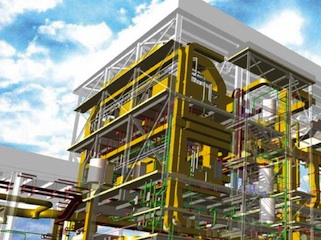 Intergraph comprises Hexagon's Technology segment, which had zero sales growth for the third quarter, posting €188.9 million (US$259 million) in sales. Technology represents 33 percent of Hexagon's net sales. Intergraph PP&M continued to expand and reported organic growth of 7 percent despite tough comparison numbers from Q3 2012. Intergraph SG&I reported negative growth due to the continued downturn in the defense segment which sank 36 percent in the third quarter.