Stormtroopers also have to wait for a drink
Last week, I took a trip out to Las Vegas for the gargantuan Autodesk University. I have been to big events before, but this was maybe the biggest, with over 10,000 people in attendance. Here are the bit takeaways from my time in the desert:
3D capture is still growing
Though the event has been showcasing 3D imaging technology for a few years now, it's clear that laser scanning and photogrammetry are still new to a lot of Autodesk University attendees. Many of the classes I was able to attend were oriented at the beginner (much as our own Sam Billingsley observed at last year's event) and might not have appealed to the seasoned user.
This is a very good thing. Every one of the classes I attended on reality capture were full of people who had never used the technology before, but were excited to learn about what it could do for them. The ReCap stand was packed every time I passed it. Experience in 3D imaging may have been low among attendees in general, but enthusiasm was high–and that seems to indicate an industry in a healthy growth period.

A 3D printed city
Virtual reality might actually be useful
Autodesk is cooking up some cross-product functionality that enables users to work faster. One such package of functionality is called "Live Design," and it works like this: You create a model in Revit (Autodesk's design software) and then hit a button on the menu bar that uploads it to the cloud. There, Autodesk's servers process it in about 8 minutes and then pump it into their new video game engine, Stingray. From there, you can view the model on a VR headset, and move around it like you're actually inside it.
A few things are notable here. First, I'm told that this process of rendering and exporting the model used to be excruciating and time-consuming, so if Autodesk makes it easier, that would allow designers to iterate their models much faster. Design something in Revit, hit a button, wait 10 minutes, explore it, go back to your model to make corrections, and then repeat. You could do this dozens of times in a single day.
Second, the VR is very good. I tested this out on an HTC Vive setup Autodesk had installed on the exhibit floor, and I have to say that I was impressed. It felt powerful, and for the first time a VR headset didn't me feel like I was about to barf on my own shoes.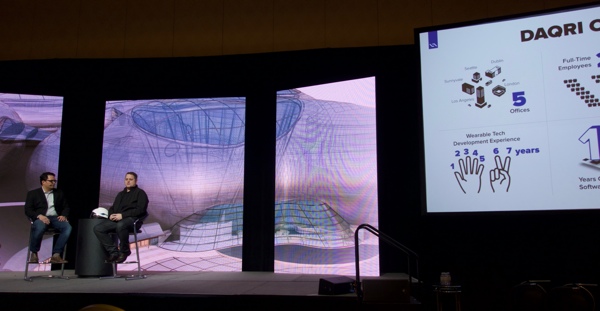 A well-received DAQRI presentation during Autodesk's first-ever construction keynote.
Augmented reality
Autodesk had a HoloLens and a DAQRI Smart Helmet there, and the DAQRI was promoted a bit more aggressively during the sessions I attended. This is unsurprising, since it seems like a more mature product with some very specific use cases in mind for the various industries covered under the SPAR umbrella (I wrote about DAQRI's worksite bona fides here). The very enthusiastic reactions to a DAQRI demo in the construction keynote confirmed these suspicions.
UAVs, UAVs, UAVs
I heard a lot of official AND unofficial talk about SkyCatch and UAVs. From my experiences at the conference, it looks like UAVs are acting as a gateway to reality capture and modeling technology, since many people are finding that they need a way to process the data they're capturing. This leads them directly into photogrammetry and laser-scanning applications, like ReCap and Memento. In other words, people buy the platform and find a new interest in sensors.
A single disappointment
I saw a lot of spectacle, enjoyed myself immensely, ate some wonderful chicken and waffles, and took home a lot of business cards. However, there was one disappointment: I didn't get to test out how well the robotic bartender makes an old-fashioned–too many stormtroopers in line. Maybe next year.