Those who know me well may have come to find that I am a huge fan of American history and our country's founding. I enjoy spending my free time learning about individuals such as Washington, Adams, Jefferson, Hamilton, and Madison. I find them to be truly exceptional characters in all of human history for their foresight to establish a system of limited government based on the rights of individuals and liberty.  Another of my favorite exceptional historical figures is Abraham Lincoln.  Some consider Lincoln to be our greatest president having held our country together during the civil war and having issued the emancipation proclamation freeing the slaves.  This leads me to the subject of this post.
Recently, while exploring the Internet, I came across a website that combined my love of history with my passion for technology and 3D.  There on the screen in front of me was a 3D representation of Abraham Lincoln's life mask in a 3D explorer.
The website is run by the Smithsonian's Digitization Program Office and is called Smithsonian X 3D.  Apparently the Smithsonian has been digitizing artifacts since at least 2010.
The Digitization Program Office was founded to "integrate digitization into the core functions of the Smithsonian."  With 138 million objects and specimens, 157 thousand cubic feet of archival materials, and 2 million library volumes, all of which are housed in 41 facilities, 19 museums and 9 research centers, the scale and diversity of Smithsonian collections presents a unique digitization challenge.
With less than 1% of the collections on display on the National Mall at any given time, there are many treasures and stories that are begging to be brought into the virtual light.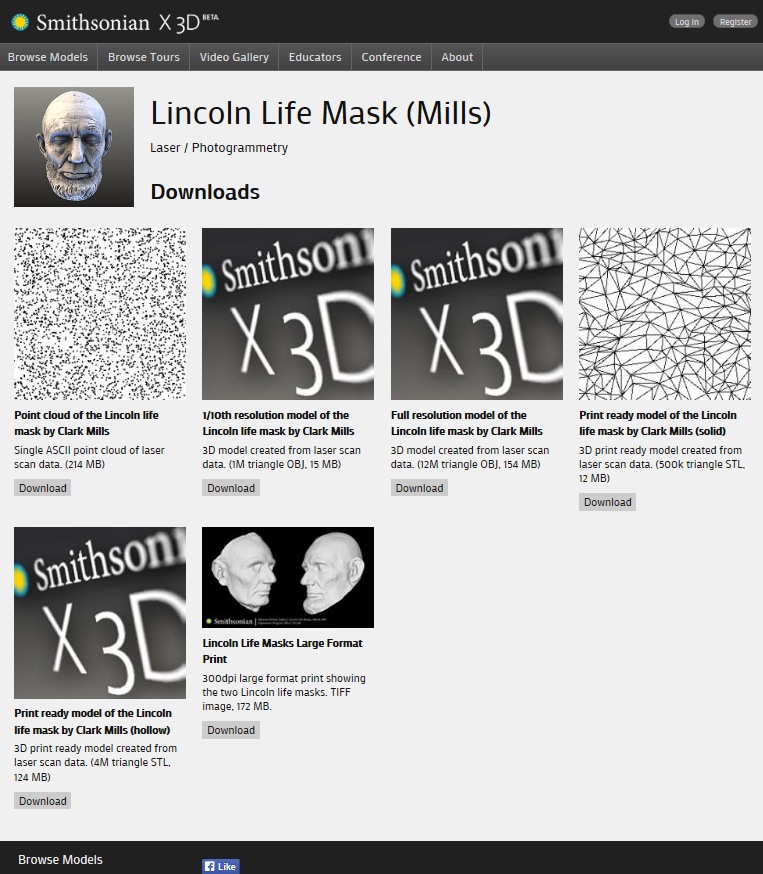 On this website, you can learn about Digitization Program Office activities, as well as the myriad digitization stories evolving every day in the collections spaces of the Smithsonian. The Digitization Program Office's 3D lab works with all of the Smithsonian's 19 museums and 9 research centers. Their team uses a variety of 3D scanning methods and tools to capture the geometric and sometimes color information of Smithsonian objects and scientific research sites: laser, structured light, photogrammetry and Computer Tomography (CT).
I was able to find downloadable objects of Abraham Lincoln in the form of everything from a single ASCII point cloud of laser scan data, 3D models created from the scan data, 3D print ready models and 300 dpi large format print images.
Using the explorer to investigate this 3D virtual representation of Lincoln was fascinating.   In addition, there were other links that took me to other images, writings and videos offering a wealth of knowledge about our 16th president.  As I navigated the site it dawned on me that these types of exhibits will bring history to life in new ways we could never imagine a few short decades ago when I was growing up.