The holy grail, the white whale, the mountaintop: The scan-to-BIM button. Or maybe for your business it's the scan-to-CAD drawing button, or the scan-to-TopoDOT button.
Whatever your line of work, if you're using laser scanning as part of your workflow you are generally stuck with the unenviable task of taking point clouds and turning them into something useful: the deliverable.
Of course, the vendors feel your pain. Each iteration of software works to provide some kind of post-processing "automation." While the easy button hasn't arrived yet, many software packages do offer some kind of automated classification, or point grouping, or de-noising — offering some kind of help in getting from point cloud (data) to useful deliverable (information), and attempting to eliminate tasks performed by people.
Whether you know it or not, that's "artificial intelligence" or "machine learning". In broad strokes, artificial intelligence (AI) refers to software that makes decisions or classifications that would have traditionally been made by human, and machine learning refers to that software's ability to get better at those tasks through repetition and training via human input and feedback. While both terms can inspire thoughts of the Starship Enterprise or SkyNet, today they're actually relatively mundane pieces of just about every new software program that uses algorithms (essentially decision trees, or flow charts) to make decisions, eliminating some manual processes.
Just like your phone is probably smart enough now to realize that on Monday mornings you tend to go to your office at 8 a.m. and so pops up a traffic alert when there's a crash on the highway when you're about to leave, so too are software packages now smart enough to know that a fuzzy, circular-shaped bunch of points is probably the top of a tree and that rectangular group of points set in the middle of a bigger rectangular group of points is probably a door.
Indeed, artificial intelligence is here in laser scanning and has been for some time. So why are we hearing about AI (!) and machine learning (!) in the news so much right now?
Partly it's a function of the hype cycle and where capital is flowing. Remember when 3D TVs were a big deal and then they weren't and then they were and now they aren't? Well, investment dollars were put into making those TVs and then trying to sell them to you. Then they didn't sell because they weren't any good. Then they tried again.
Obviously, the same thing happens in any technology-driven sector: Investments are made to drive technology into the marketplace and sometimes the tech isn't up to the hype.
Such has often been the case with artificial intelligence in the laser scanning arena. Quite simply, working with point clouds and 3D imagery is really hard.
Object identification and classification
David Boardman is the CEO of Stockpile Reports, a company that relies on AI to drive its software, which allows organizations to measure the amount of material in a big pile via photogrammetry. In broad strokes, you set up some cones around a pile, take pictures from a bunch of angles, and — voila! — you get a calculation of how many cubic yards you're looking at.
"We've been doing stockpile measurements for six years," he says. "And they work well in some cases and not well in some cases. That's the bottom line to machine learning. Everyone is fearful of the takeover of the robots, but I don't lose any sleep over it. On very defined, constrained problems, they're pretty good." But throw in a few variables and it's time to call the humans.
Boardman's favorite example, and one that's emblematic of the difficulty with what's often called "object-based image analysis," or OBIA, involves those orange cones his software uses as a touchpoint.
"You'd think that was really easy," he muses. "But there are so many interpretations of what a cone is; you have cones with reflectors, cones run over by trucks, cones that havre been left out and they're dirty and covered in mud." We, as humans, instantly know that all of those things in our fields of vision are cones. But, says Boardman, "getting a computer to do that 100 percent correctly is nearly impossible. That's my favorite example. Whether something is a cone or not should be pretty easy, and we've had hundreds of thousands of training cases, and it still doesn't get it right every time."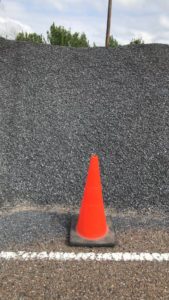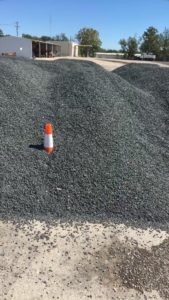 Similarly, it is nearly impossible for a computer to recognize every variation of curb cut, or guard rail, or stop sign, or license plate.
Everyone agrees that OBIA works best when there are two factors present: Consistent inputs and human verification and feedback. If you're always looking for a stop sign as they are normally constructed in the United States and you have a human who can do quality assurance, feeding back when a sign was missed or falsely identified, you're going to get to a point where the software can pick out a very high percentage of the stop signs you're scanning.
And therein lies the calculation: Is the error rate low enough that the quality assurance time and effort doesn't outweigh the gains of automation over manual object identification?
"Robustness"
"I would use the term 'robustness,'" says Tim Lemmon, marketing director for Trimble's geospatial office software business, which offers the object-based processing software eCognition. "The robustness of the AI or the automation to deliver the results that you actually need. They say it needs to be 85 to 90 percent [accurate]; if it's not higher than that it gets annoying and prohibitive." Without that level of reliability, the validation and quality assurance just becomes too time-intensive. "If you're picking out signs or poles and going through and manually clicking on points to create a CAD line, it's often faster to do that manually unless you're getting greater than 85 percent."