The use of UAVs, or drones, in a wide variety of industries and projects has been on a steady ascent over the last decade or so as the barrier for entry lowers and capabilities of the technology increase. Surveying, though, was one of the earliest adopters of UAVs, incorporating the technology into their workflows to improve efficiency and open up the possibility of jobs that otherwise would have been either unsafe or outright impossible. Even still, there are still new adopters in that space, and industries like construction are ramping up their own usage over the last few years.
All of that and more is going to be on display in Las Vegas starting on September 5 at Commercial UAV Expo. The three-day event held at Caesars Forum highlights all commercial usage of UAVs, including in surveying and construction along with other verticals like delivery and public safety. In addition to speaker sessions and panel discussions throughout the week, the event also features a unique outdoor flying demonstration on Tuesday morning, a showcase of new offerings from exhibitors later that afternoon, and a "Pitch the Press" event on Wednesday for newer companies to present their products in front of a panel of industry experts. And on Wednesday morning, the kickoff keynote explores the future of the industry, including how it will be affected by artificial intelligence.
As alluded to above, surveyors and those in the emerging construction technology space will have particular interest in a number of the sessions being put on throughout the week. With large amounts of focus on things like infrastructure inspection, construction site monitoring, and more, there is no shortage of expertise broaching these subjects. Below are just a few of the sessions that will be of interest to those in these industries.
Infrastructure Inspections
September 6, 11:00AM - 12:30PM PDT
Speakers: Michael Frecks, TREKK Design Group; Grant Barkman, Hudson Bay Railway; Brett Young, Hudson Bay Railway; Barritt Lovelace, Collins Engineering, Inc.; Scott Tiller, HNTB Corporation
Moderator: Shayne Gill, AASHTO
Greater focus than ever is being placed on the stability of our infrastructure, with resources being poured into renovations and new construction. Regular inspection is crucial for public safety, and UAVs are a key part of these inspections for both safety and efficiency reasons, which we recently discussed with respect to bridges and dams.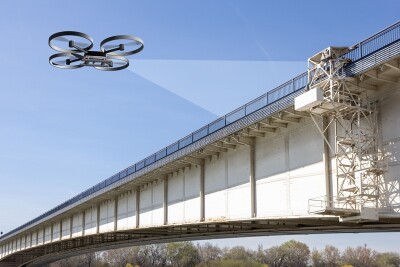 In this session, the important details associated with these workflows will be the focus, with four presentations about specific uses of this technology for infrastructure inspections taking center stage. There will be presentations on creating digital twins using AI for bridge inspections, how drone lidar can improve safety, railway monitoring in remote locations, and incorporating new data streams into existing workflows.
How to Leverage Drones in Construction: Launching, Logistics and Lidar
September 6, 2:00PM - 3:30PM PDT
Speakers: Ben Stocker, Skender; Brian Kravets, Spaceco, Inc; Louis Saccaro, Skanska Building USA; Kara Fragola, Skanska USA Civil
Moderator: Douglas Spotted Eagle, Sundance Media Group, LLC
The construction industry has a reputation for being hesitant towards introducing new technology and workflows into their normal processes, but UAVs are becoming more common for larger projects. That said, there is still plenty of room for growth in terms of this adoption, and more education on the tools from all angles is crucial.
This session will be focusing on some of those issues with three presentations. Two of these will look at the issue of appealing to a variety of stakeholders, some of whom will surely be skeptical about implementing UAVs into regular workflows. There will be a focus on how to present the long-term benefits while addressing the short-term concerns, as well as some of the logistics behind implementing a drone program from the ground up. Additionally, there will be a presentation regarding some of the need-to-knows regarding reality capture, and how lidar and photogrammetry work and deciding which to use depending on the project.
Surveying & Mapping: Case Studies and Lessons Learned
September 7, 11:00AM - 12:30PM PDT
Speakers: Ramesh Naidu Chalumuri, GVP College of Engineering; Carlos Femmer, HDR Engineering, Inc.; Jacob Lopez, Towill, Inc.; Austin Rains, Frontier Precision Unmanned; Brady Richmond, Coastal Frontiers Corporation; Robert Wilhite, LJA Surveying
Moderator: Thomas Haun, Turner Staffing Group
As mentioned above, surveyors were among the first to truly embrace UAVs as a game-changing and worthwhile tool to add to their toolbox, but that doesn't mean there isn't improvement to be made in the space and questions that need to be answered. This session is all about digging to that next level of information, speaking to an industry which knows the base level benefits but is always looking for ways to improve their usage.
The session will include six presentations addressing a handful of issues. That includes brand new best practices and guidelines for using photogrammetry and lidar with UAVs, which are being put together by ASPRS for the first time. Additionally,presentations will look at some of the keys for smooth implementation, a case study in mapping portions of the Grand Canyon, ground control techniques, and much more.
★★★
Registration for this year's Commercial UAV Expo is still open. Register here.