Webinar
Emerging Tech Showcase II
On-Demand Webinar | Free
On-demand Webinar | Free
Want to hear about the newest in 3D technology? Want to get a preview of the latest technology for digitizing the built world, improving construction workflows or saving time on the jobsite? Join us for a SPAR 3D and AEC Next Emerging Technology Showcase! This 90-minute session is an easy way to get up to speed around the latest product launches and innovations before anyone else.
If you have ever attended SPAR 3D / AEC Next conference in person, you may be familiar with the highly popular "Product Preview" sessions held at each event. These sessions are designed to give a rapid-fire introduction to new technology, updated software solutions and demonstrate the latest technology for your work. This year, we are thrilled to announce that the product previews are going virtual!
The second of two "Emerging Technology Showcases" will feature up to six companies per session demonstrating their products or launching their new tech in short, 15-minute videos. Some of these announcements are being kept under wraps until the presentation – so we can't share much more – but the companies below have already signed up to present.
Moderator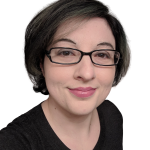 Carla Lauter, Editor, Geo Week News