"With photogrammetry, you really have to focus on what you want to scan. For the waste depot and incinerator stacks, I would have had to spend a lot more time at the site, taking specific pictures to get a good model. With Hovermap and LiDAR, you just fly around it. Hovermap is always scanning." -Scott Harrigan, President and Chief Pilot, Harkin Aerial
"For the project completed to evaluate the underground oil storage area, we were able to capture a complex environment in under 15 minutes. A tripod scanner would have taken hours to complete, not to mention an additional planning visit to scout out the site the day before. We captured the exterior with Hovermap on a drone and used the colorization feature to give the client additional context for visualization and analysis." -Scott Harrigan, President and Chief Pilot, Harkin Aerial
"Customers like Walden get huge value out of our use of Hovermap. We were an early adopter of this innovative system, and we continue to find new ways to leverage it." -Scott Harrigan, President and Chief Pilot, Harkin Aerial
"If we had used traditional surveying tools to map out the sampling locations inside the building, it would have taken us significantly longer to achieve the same results. We are always looking for ways to improve efficiency and save our clients' time and money." -Joseph Heaney III, P.E., President, Walden Environmental Engineering
Background
Walden Environmental Engineering (Walden) launched operations in 1995 and touts a long list of clients served by our highly experienced team of engineers, geologists, and environmental scientists. The company is a full-service engineering consulting firm dedicated to helping clients solve environmental and civil engineering concerns.
Walden delivers a breadth of services that include air quality and air emissions permitting, petroleum and chemical storage, site investigations and remediation, business and transaction advisory services, drones and remote sensing, environmental services and consulting, solid waste permitting, water quality, and more.
Walden's relationship with Harkin Aerial dates back to 2017, when the engineering firm began tapping Harkin Aerial for their drone expertise. "The number and types of projects involving drones and scanning technologies have expanded over the past four years," says Scott Harrigan, the president and chief pilot at Harkin Aerial. "We have a toolbox full of different solutions that benefit Walden."
Autonomous Scan of Waste Piles at Sanitation Depot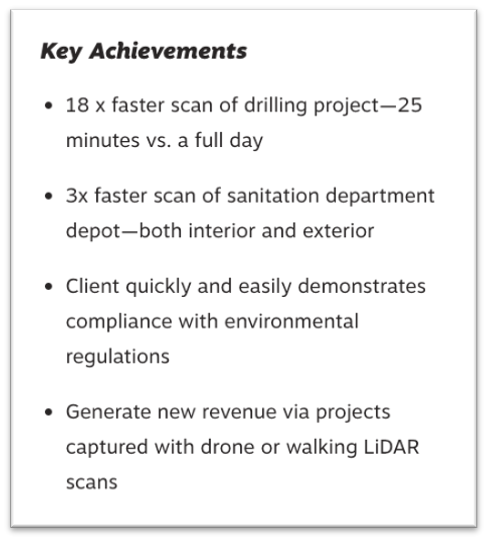 One of the areas where Harkin Aerial has provided Walden key support is the use of LiDAR—both on drones and walking. "We've worked on a few projects now with Harkin," said Robert LoPinto, VP and Senior Project Manager. "Each project has been a success and I'm pleased to work at a company like Walden that continues to be at the front of integrating the latest technology into our work, like LiDAR." As the relationship has matured and grown, Harkin Aerial has helped Walden tackle new and different engineering challenges.
The Challenge
Last fall was one such instance, when Walden turned to Harkin Aerial for help to scan piles of waste stored inside a metal building belonging to a local sanitation department. The objective was twofold. Walden sought to pinpoint the amount of waste stored in the building so that it could determine the total number of loads required to transfer it to another facility. Second, the scan results were compared to the regulations on the distance that must be maintained between mulch piles and the height of the piles.
"Traditional photogrammetry would simply not work," Harrigan notes. "There was no GPS navigation connectivity inside the metal building. Lack of lighting was also a challenge. There were too many shadows for us to capture an accurate picture without the use of LiDAR."
The Deliverables
Not to be thwarted, Harrigan simply reached into his toolbox and pulled out a different tool—Hovermap from Emesent. "With Hovermap, we can fly drones autonomously without GPS," Harrigan continues. "In a matter of 15 minutes, we were able to capture a full view of the building interior and the different waste piles. We couldn't use tripod scanners because they can't see above the piles and would not get the height."
Once Harrigan and his team were done scanning the interior, they took Hovermap outside and scanned the exterior of the building. It took less than 45 minutes to complete the scan.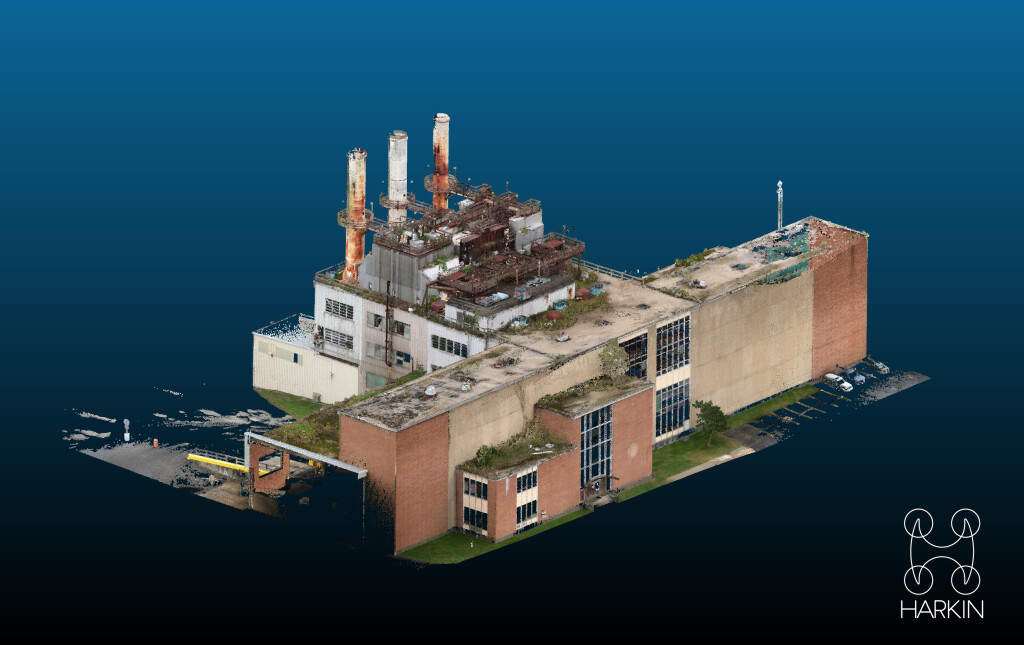 "If we had used photogrammetry with tripods, it would have taken us at least half a day to capture the images—and they would have lacked the amount of detail we captured with Hovermap," Harrigan explains.
"For example, detail around the incinerator stacks at the site could not have been gathered with tripods. To add context for Walden, we used the Colorization feature in Hovermap which enhances the client's visualization and analysis."
Heaney agreed, "Use of the Colorization feature resulted in scans that were rich and detailed. I was quite impressed with how little time it took to produce something so effective."