SPONSORED BY ORBIT GT
Just one year ago, Orbit GT released its 3D Mapping Cloud, a comprehensive SaaS that fuses street-level and indoor mobile mapping data with aerial, drone and terrestrial scanning on the cloud. Though the application already offered a broad range of functionality for viewing, data fusion, and sharing, Orbit GT is releasing a big update just in time for SPAR3D.
The new version of 3D Mapping Cloud includes a number of features that will make 3D mapping data easier to work with, search through, and convert into actionable data. What's more, it offers a new subscription tier that makes it more affordable for smaller firms to access the full feature set of 3D Mapping Cloud. In addition, Orbit GT is merging together its desktop products into a single tool to offer a wider range of functions to users.
Here's a quick overview of what you can expect.
New visualization features
CEO Peter Bonne says the upgrade will bring new visualization features. From its release, 3D Mapping Cloud could already handle point cloud streaming in unlimited volumes, but now it is adding further options for colorization, stereo visualizations, and VR with your smartphone or goggles. A less spectacular-looking upgrade that may turn out to be the most useful of all, is the ability to place your point cloud on a realistic photo backdrop as well as a base map to help users understand the wider context for the point cloud.
A subscription for smaller firms
"One of the great things this 3D Mapping Cloud SaaS platform has to offer," explains CEO Peter Bonne, "is sharing of big and complex data—like terabytes of point clouds. But we've also seen that such a need applies to small companies, and even the one surveyor who just bought a drone."
As such, Orbit is offering a new pricing model that gives a single user full access to all product features for $46 per month, with 100 GB of storage and 5 guest users for free. These free guest users will offer enough flexibility for any user—no matter the size of their organization—to share with peers, contractors, and customers without requiring their customers to log in.
The benefit, says Bonne, is putting behind us the age of shipping physical drives around, and making 3D data sharing easier for everyone. He says he hopes the new upgrades will "open a ton of opportunities, and make sharing data a piece of cake."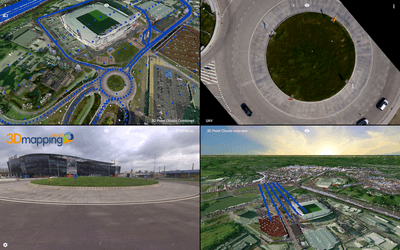 Vector-object search for investigative navigation
Given Orbit GT's 30+ years of experience in GIS, it's no surprise that the company's desktop products included a search function that finds objects based on attribute values. Now, the company is carrying that function over to 3D Mapping Cloud to enable a new approach to finding important objects in your 3D data. Bonne says users can now undertake he calls "investigative navigation," which involves jumping from one object with a particular attribute value to the next automatically.
"It sounds obvious," he says, "but we do it with any content you have. You can move from 3D point clouds to an object in the next spherical image, or in your aerial content. It can all sit next to each other, allowing you to move to the next object of your query. The software provides the proper insight to check on the data you've queried."
Orbit GT is also adding a feature that enables users to share with a managed "publication," giving them what Bonne calls "an almost real-time online content-based communication with their customer."
Closing the gap on automatic object recognition
Bonne says he accepts that there's no such thing as 100% perfect feature extraction, but believes that the company should continue working to make the automatic feature extraction as effective as possible.
"The closer we can get, the better," he says. Since most reality capture jobs are undertaken to gather point cloud data that can be converted into actionable information, Bonne believes that the more Orbit GT can automate the auto-extraction process, "the faster our customer can deliver, and that's what it's all about."
Desktop portfolio merge
Lastly, users of Orbit GT's desktop products will find that Orbit GT has put a great deal of effort into merging the various products into a single interface. Where the desktop portfolio used to offer separate products for oblique, UAV, mobile, indoor, and other kinds of mapping, the upgrade means customers can use one product for all kinds of mapping.
"Companies that have engaged in mobile mapping are now buying drones as well," says CEO Peter Bonne. "So why should they have to buy and then learn a new workflow?" No matter what method you use for collecting your mapping data, he says, Orbit GT will continue to support it in this one software product.
Orbit GT will be on hand at SPAR 3D demonstrating their software, so stop by booth #520 for more information.