Sponsored by MJ Engineering and Land Surveying, P.C.
One of the seemingly ubiquitous problems facing the surveying and engineering spaces when it comes to making the most of their laser scanning and other reality capture data is that it's too difficult to easily access and share. A lot of these barriers have only become more pronounced over the last couple of years as the COVID-19 pandemic has led to more remote work and fewer in-person site visits for everyone on a team. We know that any project is going to be more successful, both in terms of finishing on time and within budget, when every stakeholder has access to the data they need, and a way to properly collaborate.
This is something felt by nearly every firm in the industry, and MJ Engineering and Land Surveying, P.C. (MJ) is no exception. A multi-disciplinary engineering and land surveying consulting firm headquartered in Upstate New York, the MJ team has experience and expertise in utilizing the newest and most innovative tools in the space, they found that their team didn't always have the access to their data that was necessary. They needed to rely on expensive and specialized software, requiring expensive workstations as well.
To counter these problems, MJ developed an in-house tool known as MJ4D, allowing for easy, web-based data sharing and digital twin viewing capabilities. They've been developing the product over the last few years based on different needs arising on their team, and the result has been a much more positive experience for MJ engineers and their clients, who can all easily share and collaborate with data regardless of their location. Now, they are giving access to this web-based digital twin tool to the public, releasing the MJ4D app to all in November.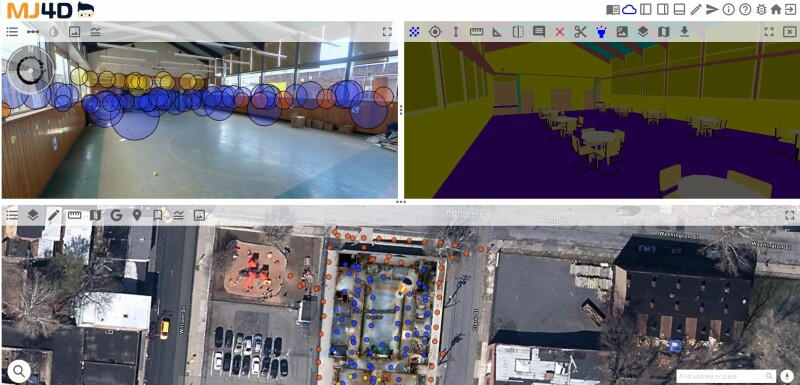 What you get from MJ4D
Although the MJ4D app's wide release was just a few months ago, the fact that it has been in development and used internally for years at this point means that the features have been refined and there is already plenty to offer. One of the first things you'll notice in the app, for example, is Mapper Mikey, who serves as your digital helper through the process. As you travel through the different options within the app and find any portions that may be unclear, Mapper Mikey is available to provide that guidance.
The very fact that this is a web-based app provides a leg up for the digital twin tool as well, removing the need to install cumbersome and expensive software onto specific devices. Being able to access data via a web browser provides solutions to some of the realities that have sprung up over the last couple of years. Specifically, those working remotely can have easy access to the data regardless of their workspace that day, allowing for those on the go to be able to do the work they need to complete. If, for example, a project manager is located in Denver but has multiple projects happening around the United States, they can view an accurate digital twin of a site whenever they need to without leaving that office. The web-based platform also allows MJ4D users to easily collaborate as every stakeholder can access data with minimal effort.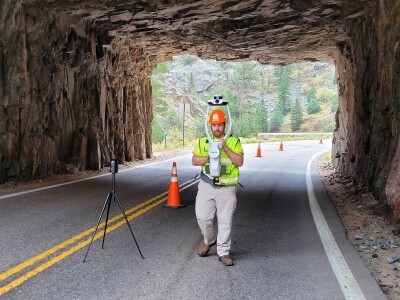 Of course, MJ4D is not simply for viewing data, either, as there are plenty of technical functionalities that are necessary for these types of projects. For example, within these digital twins users have measuring capabilities, being able to calculate accurate distances and slopes between two points right within the app. If a team member needs a measurement to make an order but is not on-site, rather than needing to wait for a response from someone who is present, they can simply go into the app and make that determination right within the digital twin. They can also complete full site "walks," checking the status of all areas within a project's range, all within the viewer.
Crucially, MJ4D can meet the needs of a large variety of project types as well, giving users the ability to incorporate data from multiple sources all at once. If there is, for example, a combination of laser scanning and 360-degree camera data, that can all be brought together within a single digital twin. Furthermore, the app allows for integrations with many of the biggest software platforms used in the industry, including MicroStation, AutoCAD, ArcGIS, and Google Earth, among plenty of others.
How has it been used?
As mentioned above, while this product has just recently been released wide to the public, the MJ team has utilized it for years with great success on a great number of different projects. MJ4D can be used for a project as small as creating a digital twin for a single building all the way up to an entire city, and in fact it has been. The platform was developed specifically with the AEC industry in mind, but it has been used by a range of occupations including surveyors and engineers, of course, but also community leaders and planners, and even law enforcement with the Schenectady Police Department and district attorney's office using the technology to assist with homicide investigations.
The specific projects taking advantage of MJ4D have been wide-ranging. That includes the creation of a digital twin of the SUNY-Oneonta campus, taking data from both mobile mapping systems as well as 360-degree cameras equipped on a UAV, with both the MJ team as well as their SUNY-Oneonta counterparts having access to the digital twin.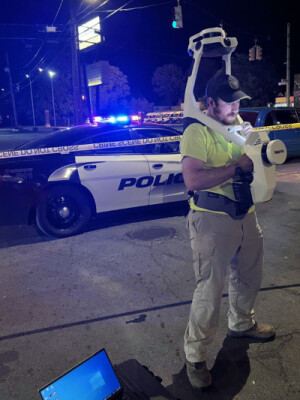 They also worked with the town of Halfmoon, New York, who were working on a project to add a new water tank in the town. MJ's team scanned the area where the new tank was to be placed, and was able to share a digital twin which included a 3D model of the new tank which could be viewed from a variety of places around the town within MJ4D.
With MJ4D, no two projects are ever the same. The firm recently utilized LiDAR and UAV to complete fire tower inspections at New York's Sterling Forest and Harriman State Parks. MJ used a wearable mobile scanner equipped with LiDAR sensors and 360-degree camera. MJ also employed UAV technology to document conditions in inaccessible areas. Data and imagery were imported into MJ4D, along with 3D BIM models that were created directly from the LiDAR data. The data was crucial to develop the inspection reports, as well as for future renovation efforts.
MJ mobile mapped a former school in Newburgh, New York for a local entrepreneur looking to redevelop the site. The team created an MJ4D digital twin, allowing the client to walk the site remotely. MJ also created a 3D BIM model to visualize what the future facility could look like. MJ4D has changed the way many architects and engineers approach building design.
MJ mobilized a team to document three natural rock tunnels in Colorado. 3D point clouds and imagery were imported into a custom MJ4D that will aid trainees in their understanding of real-world site conditions. Trainees can learn virtually how to complete critical inspections and maintenance reports to preserve essential infrastructure. MJ4D provides an innovative virtual training environment that is safe and efficient.
Does your team need a new, more intuitive and accessible way to view your reality capture data?

Sign up for MJ4D at the link below!

Sign up here!