For the past few years YellowScan has offered standalone lidar units for high-accuracy UAV survey. At ILMF this year, the company is launching a perfect complement to these products: LiveStation is an application for monitoring and verifying UAV lidar surveys while the airframe is still in flight.
It offers users the immediate and relevant information they need to make mission decisions in real-time, says Pierre d'Hauteville, head of sales and marketing for YellowScan. "It could be changing the flight plan to optimize the point cloud parameters, returning to the base if anything goes wrong, adding a flight to re-acquire some missing areas, and so on."
LiveStation was built by surveyors with the goal of making long-endurance and complex UAV surveys easier and more efficient. "The bottom line," d'Hauteville says, "is that they won't lose time in the field if anything is not going as expected. It will save them days of work, having to go back to the field to redo flights that were not optimal."
Functions
LiveStation's most obvious function is rendering a real-time point cloud during flight, and offering users the ability to zoom, translate, or rotate. But it does a lot more than that.
LiveStation also enables live transect visualization, which d'Hauteville says will help surveyors ensure that there are data points under vegetation in the capture area. Similarly, the software visualizes the UAV's in-flight trajectory so users can verify that it conforms to the original plan.
d'Hauteville points out that LiveStation also offers instrument status readings for the UAV and its sensors. By checking speed and altitude, the surveyor can have an up-to-the-moment idea of whether the survey is proceeding properly. By checking IMU and GNSS information, the surveyor can ensure that the final results will be properly geo-referenced.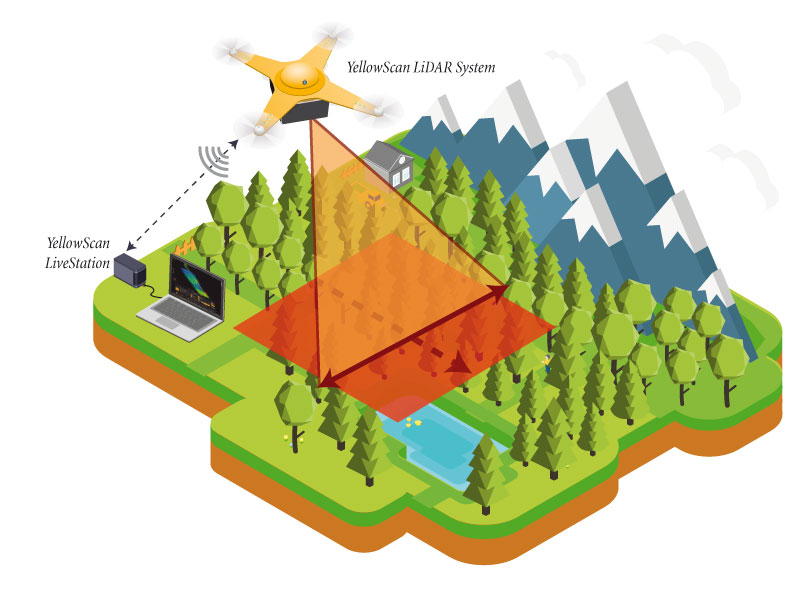 Mission Replay
One noteworthy is the mission replay function.
YellowScan added mission replay to the LiveStation software, says d'Hauteville, to offer surveyors a "faster learning curve for optimizing flight plans—speed, altitude, line space, and trajectory—to obtain the expected point cloud specifications." By reviewing a mission, in other words, surveyors can hone their UAV skills and achieve the desired results faster in the future.
The function also offers a better way to show data during a customer visit, a workshop, or a conference. Instead of showing a static data set, surveyors can use mission replay to present a dynamic view of the UAV survey and the captured data.
Attention to Visual Design
LiveStation offers a wide range of functions, but it has also been designed with ease of use in mind.
"We paid great attention to the visual details while designing the graphical user interface," says d'Hauteville. "This makes sure the tool is as handy as possible in the field of operations with sometimes difficult light conditions, UAV stations being monitored in parallel, and the stress and speed of operations."
The objective, he says, "is to provide meaningful and actionable information during stressful, difficult, and costly operations. That means real-time quality control, it means no delay in delivering the data to the end-customer, it means no surprises."
Most of all, he says, "it means happy customers!"
To discuss YellowScan's hardware and software solutions for UAV lidar mapping, see them at ILMF booth #35.