Emesent has made themselves known for pioneering drone autonomy with their Hovermap mapping and autonomy system. Hovermap enables a drone to fly autonomously beyond visual range and in GPS-denied environments, and the numerous use cases for such autonomy are growing day by day.
Emesent's technology is well-suited for GPS-denied environments such as caverns and mines, and has been successfully deployed to fly and map tunnels and explore previously inaccessible areas.
Since the launch of Hovermap, however, more than a third of their customers are finding uses for the autonomy outside of mining and underground applications, with a growing number who are finding use cases within AEC workflows.
Extended reach in previously un-flyable areas
There's an obvious inherent value in having a mapping solution where there is a limited or absent GPS signal, but that doesn't have to be deep underground. Some indoor spaces, urban areas, and other remote locations for critical infrastructure face these limitations as well. The autonomy in Hovermap has proven uniquely helpful in getting the drone into the areas that need to be inspected, no matter where they are located, says Emesent CEO Stefan Hrabar.
"In many cases, Hovermap allows a drone to have almost superpowers - now it can get into places that would otherwise be very difficult. And on the way, it produces beautiful point clouds, but often that is secondary. The main goal is to get an inspection camera into these areas to capture images to look for things that might not be usually easy to see in the point cloud."
In a recent project in New York City, a service provider needed to map a building and convert the as-built scan to BIM, said Hrabar.
"Flying a regular drone in that space was impossible because there is no GPS and you're flying close to the buildings. Hovermap allowed [the service provider] to get up and in-between the narrow spaces between buildings and map it, from there running it into Revit to digitalize it and produce the model they needed."
For infrastructure inspections, being able to get below a bridge deck or in similarly inaccessible places can provide more thorough inspections while keeping inspectors out of perilous areas. When drones aren't able to quite reach all of the locations that must be inspected, Hovermap can be removed from the drone platform and put on a backpack for a walking inspection.
Providing a consistent framework for machine learning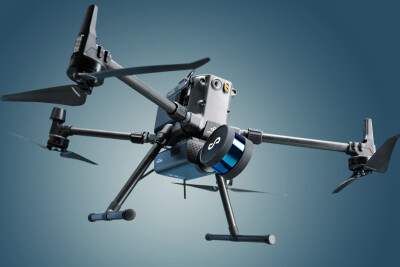 While drone inspections are not novel only to Emesent, the autonomy is a powerful addition, says Hrabar, and paves the way for other post-scan insights from other tools.
"You can use drones off the shelf without autonomy, and you can get it up there to take images, but the autonomy helps make that easier, more efficient and more repeatable. When a human is flying, every pilot is going to be slightly different, so to be consistent in the type of data you're capturing, the autonomy allows you not to need to train each pilot exactly the same way."
That increased consistency in data capture also facilitates applications that may use machine learning to automatically detect features. With a more consistent flight path - less prone to human error or variation - the data captured can be increased in quality.
Enabling optimized workflows in industrial assembly
Beyond infrastructure and inspections, there are other emerging use cases. For large-scale industrial assembly facilities, such as automotive plants, getting a rapid assessment of the state of a facility can be useful for finding equipment, planning changes and organizing the space for greater efficiency.
"Assembly facilities basically change day to day - they move things around… and it is easy to lose track of the current state. That can mean that they are not using the space optimally, they don't know if some material should be moved or if it can be moved in a safe way," said Hrabar.
"Here, autonomy is important because they want to do it every day, at the end of the shift, have a drone that can take off and scan the assembly area. The data can then be compared between the current and previous scan to highlight what is changed."
In pursuing use cases outside of purely drone-based applications, Emesent is pursuing its vision of enabling autonomous digitalization of challenging, inaccessible assets and places. The company works with AEC software vendors to plug in to existing workflows, creating new or bespoke solutions that their customers are after. By positioning themselves within these workflows, they can help to capture better data, and allow for that data to be converted into a usable format. Hovermap itself also has the potential use for other platforms beyond drones, such as autonomous jobsite robots (including those like the Boston Dynamics 'Spot' platform), says Hrabar.
"We're focused on the autonomous digitalization of challenging GPS-denied assets, like the places that are usually very hard to get to. There are other ways of doing digitalization of the easy stuff... but that's just not exciting enough for us."
Find out more about how Hovermap is revolutionizing data capture in the construction and infrastructure industry: