Esri's Drone2Map, released in 2016, is a software solution that processes UAV imagery for use in ArcGIS. It helps GIS users who lack the expertise to use complicated photogrammetry software, offering them an interface that requires only a few clicks to turn raw drone data into GIS-ready products.
At this year's ILMF, Esri is debuting version 1.1, the next big release of the product. In advance of the show I caught up with Drone2Map's product manager, Anthony Mason. He laid out how the software simplifies processing for GIS users and surveyors alike, and how the powerful new features in the latest version will make professional workflows even easier.
How Drone2Map Works
Drone2Map simplifies the data-processing workflow by offering templates for the different final products a user can generate.
"You might have some users who are only interested in creating 2D products, like orthomosaics, digital surface models, and digital terrain models," Mason says. "They can pick the 2D template, plug in the data, and go."
Drone2Map also offers a template for users who want 3D products, like point clouds or textured meshes. "Everything is already defined and optimized for them, and they just have to hit go," Mason says. He also points out that the software is flexible, offering options for generating multiple kinds of products at once.
As simple as this workflow is, Esri was careful to include options for power users with strict accuracy requirements. "We have quite a few surveying companies that are using Drone2Map," Mason says. "So to support them, we've got a pretty robust ground-control point interface."
This interface—tested in cooperation with the Army Corps of Engineers—generates products with an accuracy of less than an inch both horizontally and vertically.
In other words, Drone2Map is designed to make UAV data processing easier for the GIS user, but also supply options for professionals with much more stringent accuracy requirements. The new features in version 1.1 should appeal to both groups.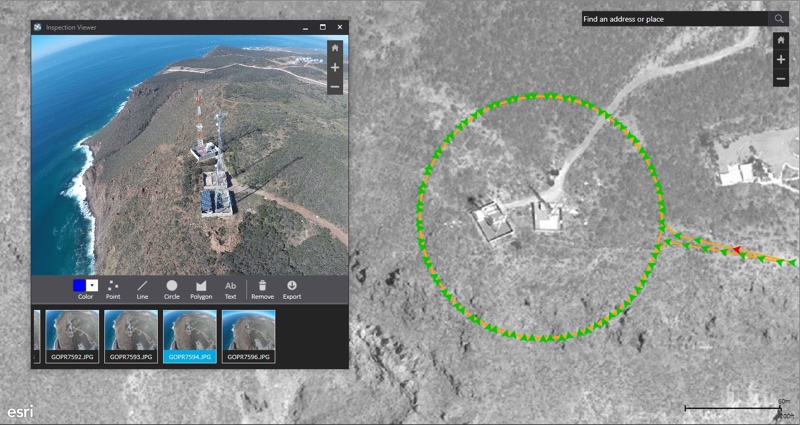 New Feature: Richer Products
Drone2Map has always offered users the ability to share tile layers (the sort of data you'd see displayed in Google Maps or ArcGIS), as well as the ability to share 3D Scene layers. Version 1.1 takes this a step further.
"What we've done," Mason says, "is we've tied this back into the ArcGIS Enterprise environment. This is actually pretty big. Instead of creating dumb tiles that are nice to look at and draw really quickly, we're actually letting you share the original data sets to ArcGIS Enterprise—including the full bit-depth and all the bands of the images."
That means a user can click a simple button in Drone2Map and share their data with colleagues to perform scientific analysis.
New Feature: Integration with ArcGIS Desktop
The other big change in Drone2Map is the new integration with ArcGIS desktop.
"Inside ArcGIS desktop," Mason says, "we have a pretty robust geoprocessing framework—although it can be quite difficult at times for people to string these different tools together and create models. It requires a bit of knowledge about the data, the system, and best practices."
Drone2Map 1.1 offers easy access to this geoprocessing framework. It includes functions "that string together common tools that people who fly drones care about."
The first function is a tool for calculating the volume of a stockpile or a sand hill with the click of a button. "Users simply draw a polygon on the screen," Mason says, "and it detects if they have ArcGIS installed, and leverages all of that ArcGIS desktop framework."
For more details about its workflows for land analysis, infrastructure inspection, change detection, feature extraction, monitoring, and more see Esri at ILMF booth #83.