Founded in 2015, Cupix is a cloud-based software company whose flagship is a 3D virtual tour solution, providing a simple means of capturing indoor & outdoor scenes. In the last year, they've been working towards taking their technology to an enterprise audience, focusing on AEC/FM. The launch of CupixWorks is in response to the growing interest in 3D site documentation in AEC, and comes with some unique features. 
Aiming to be a flexible hybrid – offering a variety of capture modes and the ability to integrate with other software – CupixWorks seems positioned to reach those who want to get more out of their reality capture efforts at the professional level but without having to take the leap into costly hardware or complex software.
Three modes provide capture flexibility
One of the features that stands out in CupixWorks is the ability to capture a variety of modes of data. The three modes – single-shot, 360° video, and multi-shot mode – offer a breadth of options that allow you to prioritize speed, accuracy, or geolocation in varying degrees. When combined with a georeferenced project template, these captures bridge the divide between BIM and as-built conditions.



CupixWorks can capture in single-shot mode (left), 360° video mode (center) or multi-shot mode (right).
The single-shot capture mode combines fast capture and high-quality imagery with simplicity, where users manually locate individual 360 photos on 2D plans. For many small contractors, this process may be similar to what they are currently doing for site documentation but provides valuable spatial context. 
If capturing large amounts of imagery in the shortest amount of time is the priority, the 360-video capture mode is your best bet. The still frames are extracted from the video and automatically located in physical space.
When quality, accuracy and completeness is paramount, the multi-shot mode can be employed. In this mode, many still, high-resolution panoramic images are captured, without requiring a continuous walk path. The images don't have to be captured with prescribed orientations, orders or heights – you are free to take shots below, above, from the side and in-between, which can be particularly useful in hard-to-access areas. The multi-shot mode results in both higher accuracy and better image quality than 360-video by eliminating the limitation of a camera in motion and degraded resolution. Even though this is slower than video capture, this mode is still many times faster than performing stationary scans with something like a Matterport camera or traditional, terrestrial laser scanners.
All imagery is piped through Cupix's proprietary machine vision technology, which not only calculates the position of imagery in physical space, but also ensures vertical and cardinal directions are correct.
Speed and size scalability
Cupix's platform is designed to scale beyond home-sized projects – and the data you can capture is unlimited, supporting any size facility. While you wouldn't need to capture an entire warehouse all at once, you can register captures relative to each other to create a large, interconnected visualization.
Because the data is georeferenced in three dimensions, the captures are not limited to being on flat ground. For example, areas above drop ceilings can be captured, and multiple scans at various heights can be stitched together to get a full view of larger, taller equipment like storage tanks. 
The latest release of CupixWorks' AEC collaboration tools comes at a critical time for the AEC market, says Simon Bae, CEO at Cupix.
"While virtual collaboration tools have quickly become the new standard among AEC professionals, COVID-19 has forced them to optimize workflows and make better use of resources wherever possible. This means overall time onsite needs to be as short as possible for everyone while optimizing the data capture process. Not only does CupixWorks enable "de-densifying the job site" by creating virtual job site environments that can be accessed from the office, it provides all stakeholders with the information they need to work remotely and maintain social distancing." 
Bridging the divide between as-built and BIM
One of the features that is both simple and powerful is the ability to load a view where the BIM can be directly loaded next to the captured view, and pieces of the BIM can be imported as a physical object within the view. This type of augmentation between the model and reality could be helpful for identifying errors, but also in making modifications that will work for those doing construction. For general contractors, these types of comparisons can help to de-silo information between designers and builders. If both parties can see both the model and reality (from wherever they are located).
Furthermore, CupixWorks' SiteView enables accessing virtual jobsite and supports collaboration workflows through customizable annotation tools, multi-views which show progression over time and free-hand image markups.
CupixWorks has also introduced a feature that allows point clouds captured from other reality capture devices to be overlaid on the panoramic view. Where this hybrid feature shines is when traditional reality capture methods can be included to support the 360° imagery captured by Cupix. Users can capture large areas quickly with the 360° camera, but can then add detail from traditional scanners where there is more complex geometry or strict accuracy requirements. When both datasets are mapped together, it can create a more complete version of the as-built conditions that are both comprehensive in scope and detailed where it is most important.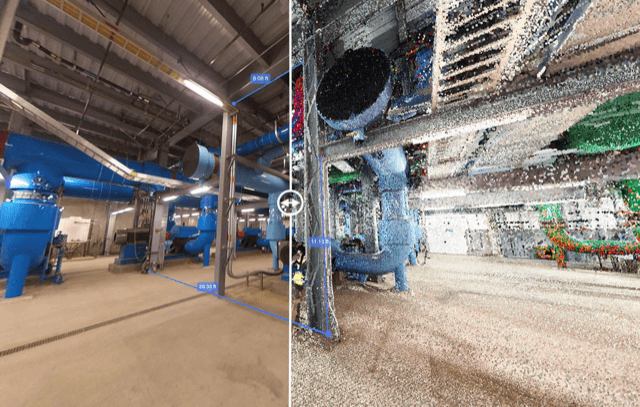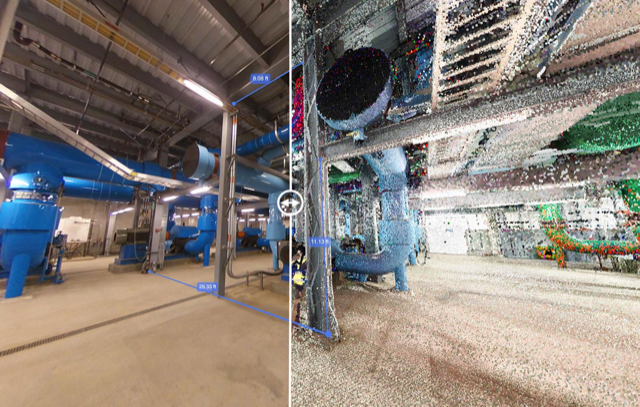 Paul Collart, VP Strategic Engagement at Cupix emphasized that the solution is designed to be easy to implement.
"Cupix enables the AEC industry to realize large cost savings, reducing site visits and rework, through the creation of virtual job sites. We are able to democratize the creation of digital twins by offering an easy and affordable way to create 3D virtual jobsite tours. Anyone can use our easy-to-use iPhone/iPad app to take a capture while controlling a 360 camera and take single, multi panoramas or videos, which can be accessed and shared through our CupixWorks 3D digital twin software platform."
While there are several other companies that have entered the world of simple reality capture – even Apple – Cupix seems to have taken this philosophy further by pairing it with more advanced and helpful features. This combination could provide enough information for the VDC folks to use for communication with those on-site, while not having too steep of a learning curve for general contractors and other stakeholders to engage with it on their end as well. 
For more information, visit the CupixWorks website.