GeoTracker combines photogrammetry, Sick scanners, machine-vision-based software
ÖREBRO, Sweden – After four years working with mobile scanning providers, Magnus Larson, Survey engineer at global engineering firm WSP, knew exactly the kind of system he wanted to buy in 2010. Unfortunately, as far as he could tell, it didn't exist. Two years later, WSP owns the first GeoTracker mobile mapping system, a system created to Larson's specifications by Swedvision Automation, a firm previously specializing in the machine vision industry.
Specifically, after working with laser-based mobile scanning systems, Larson was looking for something that married photogrammetry and lasers so that measurements could be easily taken from an image-based user interface. For example, the Swedish Transport Administration is often in need of surface area measurements for asphalt to complete road maintenance. This, said Larson, can be quickly done with the new GeoTracker system.
"If you use the laser data instead, it will take a lot longer time to do the same thing," he said, speaking from his office here. "You have to read in 300 million points and start to do sectioning and …," he trails off, as if overwhelmed by the prospect. "The images are very useful when you only want to take a single measurement, that's the point."
Swedvision had never created a mobile scanning system of any kind, or worked with 3D data capture for the purpose of creating a point cloud per se, but Larson had a friend there, Dan Parsmo, who was willing to work with him and who had heard Larson talk many times about the possibilities of photogrammetry and laser scanning. "Machine vision is all about image analysis … and also distance measurements is something that they already do," Larson said. "Just usually on a much smaller scale. If you compare it like that, it's not that big of a difference between industrial machine vision and mobile mapping."
The GeoTracker software was built on Swedvision's existing machine vision software, so only so much new code had to be written, and Larson said it is "very simple to add different sensors" whose data can be incorporated into the system.
This means the GeoTracker system is effectively fully customizable to what the buyer of the system is trying to accomplish. This is how Larson has his system set up:
Hardware 
4            Sick LMS511 PRO scanners (customized configuration and mount)
1            Inertial platform, OXTS Inertial+ 100Hz
1            High precision wheel speed sensor
1            GNSS receiver
2            5Mpix industrial cameras (for stereo measurements)
2            Canon SLR
1            High resolution 360 camera (wec360 camera)
1            HD Video camcorder
1            GPR system (Ground penetration radar)
Software 
1            GeoTracker Road for data collection
1            GeoTracker Office for data viewing and tools for laser data post processing
1            Novatel GrafNAV for satellite data post processing
1            RT Post-process, application for reprocessing inertial data and satellite data
The system allows up to five Sick lasers. The lasers Larson chose have the following main specs:
• Relative accuracy 7 mm
• Frequency 25/50/100 Hz
• Up to 5 pulse returns
• Intensity data
• Range 60 or 80 m, depends on settings
• Export to LAS-format
Why use Sick lasers, when they, themselves, don't actively promote them for use in laser scanning? Well, it mostly came down to price. "We did a test with Riegl," Larson said, "and we have done a lot of things together with a lot of mobile scanning providers, but the price for the scanners was too big for WSP, mainly because they were not sure if they had the projects in the pipeline." Looking for other options, Larson talked with Swedvision, who had used Sick for other applications.
"I looked at the specifications and realized that this could work," Larson said. "I bought the [Sick] scanner and started to test it. The difficult part was to process the data, of course. You only have a timestamp, distance, angle, and echo information. That's all. So Swedvision had to write their own software for everything. That was the tricky part. It took five months to do that."
He said the R&D folks at Sick were helpful as Swedvision worked to get what WSP needed out of the scanners. "We have a good relationship with them," he said, "and I've seen that the data is often very much better than they say." He laughed. "In industrial applications, they say it will be six millimeter accuracy, and it will probably be four. They always want to be safe. Especially the German companies – that's what I realized when I started to use the scan data."
Below are a couple examples of point clouds generated by the scanners: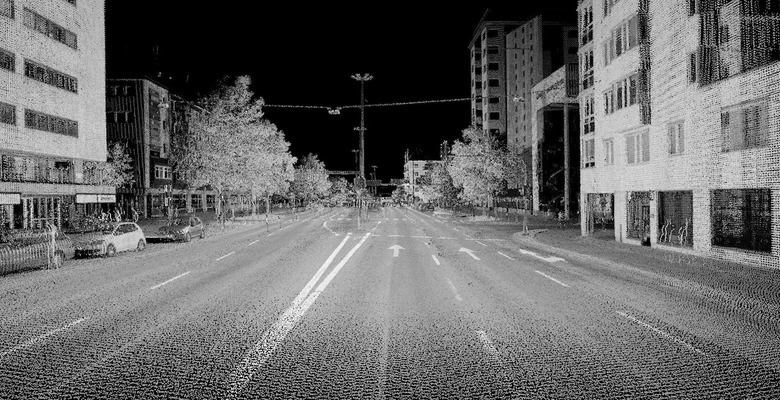 Among the system's advantages, Larson said, is that the post-processing is "very fast." He said GeoTracker Office transforms and saves 17 million points per minute to LAS files on a laptop. By way of example, he said 25 kilometers of data, some 260 million points, takes only 16 minutes to process. Further, the TerraMatch correction is performed during the transformation process, which he said "can save hours."
Here's a screenshot of GeoTracker Road: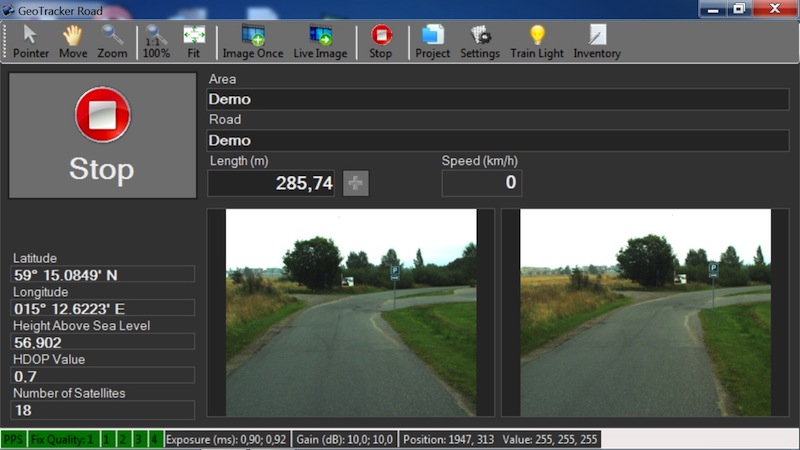 Another advantafe is the possibility of running the system in low temperatures; the scanners and the GeoTracker system are heated and work down to -30 C, "which is an important thing in the Nordic countries," Larson said.
With the system now built and operational, Larson said WSP plans to use it for road maintenance applications; for all stages of the road design and construction process; for asset management applications, such as inventories of bridge heights; even for virtual reality.
"We have a WSP department for virtual reality," he said. The Swedish Transport Administration was early to virtual reality. Nowadays, the data is often connected with BIM projects, and WSP has, for example, used mobile laser scanning to find building facades to help with the construction of building models, combined with image data for textures.
And other applications are constantly presenting themselves. "I scan everything nowadays," said Larson. "I ran 200 kilometers last week."
For Swedvision's part, WSP has no exclusive right to the product, and the company is looking to sell other GeoTracker systems. The goal, however, said Swedvision's Parsmo, "is not to build and sell hundreds of GeoTracker systems like a standard product, but to customize and build systems that are optimized for the customer and their specific needs. This is the way we sell all our machine vision systems."
"We can see that there is a potential and a need on the market for an accurate mobile mapping system at a reasonable price," he continued. "The goal has never been to build a system with the highest point density, biggest or best performance and so on, but rather a system with a high position accuracy with the required data output at a reasonable price. The mobile mapping technique with positioned images and a 360° laser system has come to stay, and the method gives the survey personnel increased safety when working on the roads and also high-quality data for all kind of design works and mapping products."
Larson reports, too, that the system is lightweight and relatively easy to port between different vehicles, although there is always calibration that needs to be done when moving from vehicle to vehicle.
The GeoTracker will be at InterGEO in the OxTS booth for those looking to check out the system. WSP has the only one currently in existence, but watch GeoTracker's web site for further developments.