RIEGL's new RiALITY app lets users view lidar data in 3D or AR
RIEGL Laser Measurement Systems GmbH on Tuesday debuted the world's first iTunes app that lets users visualize point clouds – containing up to 2.5 million lidar points – in traditional 3D and in augmented reality (AR), on an iPad.
RIEGL, headquartered in Austria, said the new iPad point cloud viewer is called RiALITY, and is now available for free in the iTunes App Store. RIEGL manufactures and markets terrestrial, industrial, mobile and airborne laser scanning systems and software. RIEGL USA, the company's North American office in Orlando, Fla., is celebrating its 20th anniversary. 
The new RiALITY app features true-color point clouds and 3D navigation with an AR mode that virtually projects lidar point cloud data into the real world. RIEGL's RiALITY App enables users to visualize and navigate through point clouds acquired with RIEGL laser scanners such as the accompanying dataset of the Rosenburg Castle in Austria.
RIEGL said the new app also allows easier lidar data demonstrations through the use of a third-generation iPad or newer. RIEGL scan files (.rqx) can also be imported from a licensed version of RIEGL's RiSCAN Pro software (v1.8.0 and later).
"Now you can easily send your client a 3D point cloud that they can visualize on their iPad, for free," said Ananda Fowler, RIEGL's manager of terrestrial laser scanning software.
RiALITY: Each point of the clouds can be visualized in true color or single color mode 
Other features include:
– Touch Navigation: Use standard touch gestures to navigate through the point cloud.
– Augmented Reality: Print a reference image and experience point clouds in Augmented Reality.
– Single color and True color mode for point clouds.
– Adjustable point size.
– Orthographic and Perspective visualization mode.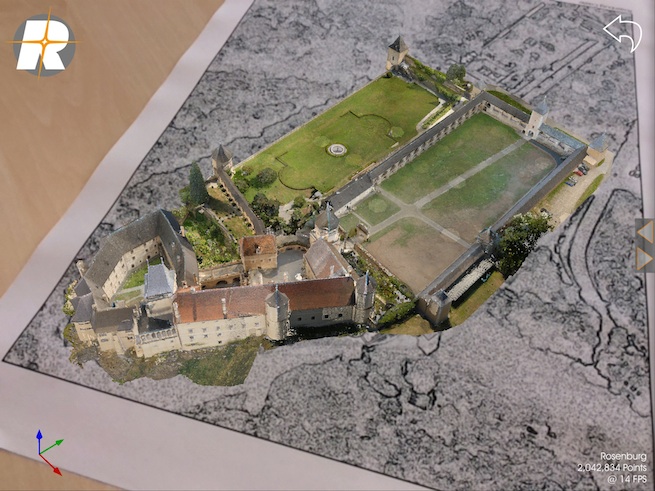 RiALITY's Augmented Reality Mode