Last week Merrick & Company's Geospatial Solutions (GSS) team announced a business partnership with Juniper Unmanned, a full-service provider of unmanned aerial systems (UAS) solutions.
Roger Hanson, director of strategic programs for Merrick's GSS team, explained the value of partnership to SPAR. "Merrick and Juniper Unmanned provide a deep and broad understanding of unmanned aerial systems that is primarily unmatched by any other organization," he said. "Specifically, the collective body of knowledge of the two firms allows our customers to obtain valuable consulting and hands-on support. Since Merrick and Juniper Unmanned have been actively engaged in UAS politics, technology and field operations at an early stage, we can offer "real-world" experience and lesson-learned to our customers."
The partnership aims to offer "end-to-end solutions" for customers looking to participate in the UAS marketplace, both in the US and internationally.
As Hanson told me, this means that Merrick and Juniper offer "a complete range of solutions for most, if not all the needs of a UAS customer. This may include consulting for program design, system procurement, regulatory compliance, as well as risk and safety management. We not only provide advice on the FAA COA and Section 333 Exemption process, but can complete the documentation for customers as well. Operationally, we can provide flight planning, testing and UAS operations as well as downstream data management, processing and product development."
After an initial period of consultation, Hanson explains, "a customer can determine their participation level for their particular needs and requirements. For example, a customer may wish to own and operate their own UAS (or UASs). Or they may prefer to have the partnership own and operate the UAS. Or they may wish to own the UAS but have the partnership operate the UAS. We walk the customer through the pros and cons of all options."
Somewhat surprisingly, the customer may not always be the end user of the UAS. According to Hansen, "consulting and support can be provided to UAS manufacturers for training, documentation, research, marketing materials, test flights and risk mitigation."
Partnership Details
According to Hansen, Merrick was motivated to form this partnership when Juniper Unmanned caught their attention at one of SPAR's conferences.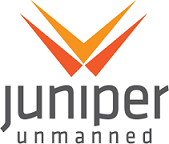 "Merrick's initial contact was with Jeff Cozart, Juniper Unmanned's President, and some of his staff at ILMF 2014. These were clearly people that understood the UAS marketplace, technology, regulations and challenges. From there, Jeff and I sat down and developed a compatibility matrix based on each organization's strengths and weaknesses relative to the UAS market. As we progressed through this exercise it became clear that one company's weakness was the other's strength."
As for what each company brings to the partnership, Juniper's business includes a strong consultation element, with "extensive experience writing COAs and petitions for Section 333 partnerships. Merrick's business, on the other hand, includes deep knowledge of UAS from the operations side, among other strengths.
"I think Jeff Cozart would tell you that aside from our operational experience, Merrick has a deep understanding of the "back office" challenges associated with data collected; the actual processing of the data and associated workflows. I think Jeff also felt that we take a proactive and systematic approach to addressing issues in the UAS industry and educating the public."
But a compatibility matrix doesn't necessarily make for a good partnership, so it was a benefit that the two firms fit together well in other ways. "There is also a cultural match between companies – similar to Merrick's motivation for forming the partnership, we share the same company values," Hanson said. "It's not just about doing the job, but doing the job right and prioritizing customer satisfaction and value."