LiDAR and 3D scanning can be good for safety, helping to keep workers out of hazardous situations, reducing the amount of time spent on site, and so on. It's also proven very useful for safety in the automotive industry, helping to sense obstacles for partial or fully autonomous vehicles. However, Carnegie Mellon noted in a press release, "there has been minimal adoption of active safety technology in the construction industry; being struck by a vehicle or mobile equipment is the largest single event for fatal occupational injuries."
That's set to change as Volvo Construction Equipment (Volvo CE) has partnered with the Integrated Innovation Institute at Carnegie Mellon to use new technologies to improve construction-site safety by providing greater awareness of the surrounding environment for machine operators.
The proposal created by students in the CMU College of Engineering is called Site Aware, and it fuses data from a number of different sensors to give machine operators "an accurate, real-time representation of their current work environment."
There are two sensor stacks per system, and each one includes three RGB cameras with a 130-degree field of view, and a LiDAR sensor with a 360-degree field of view. Ground personnel are given RFID tags, which communicate with sensors on the machine.
Included inside the machine is a screen that displays the data gathered by these sensors in order to show her where other machines and personnel are located. When another person or machine gets too close, the screen flashes and the system plays a warning sound from the direction where the possible collision was detected.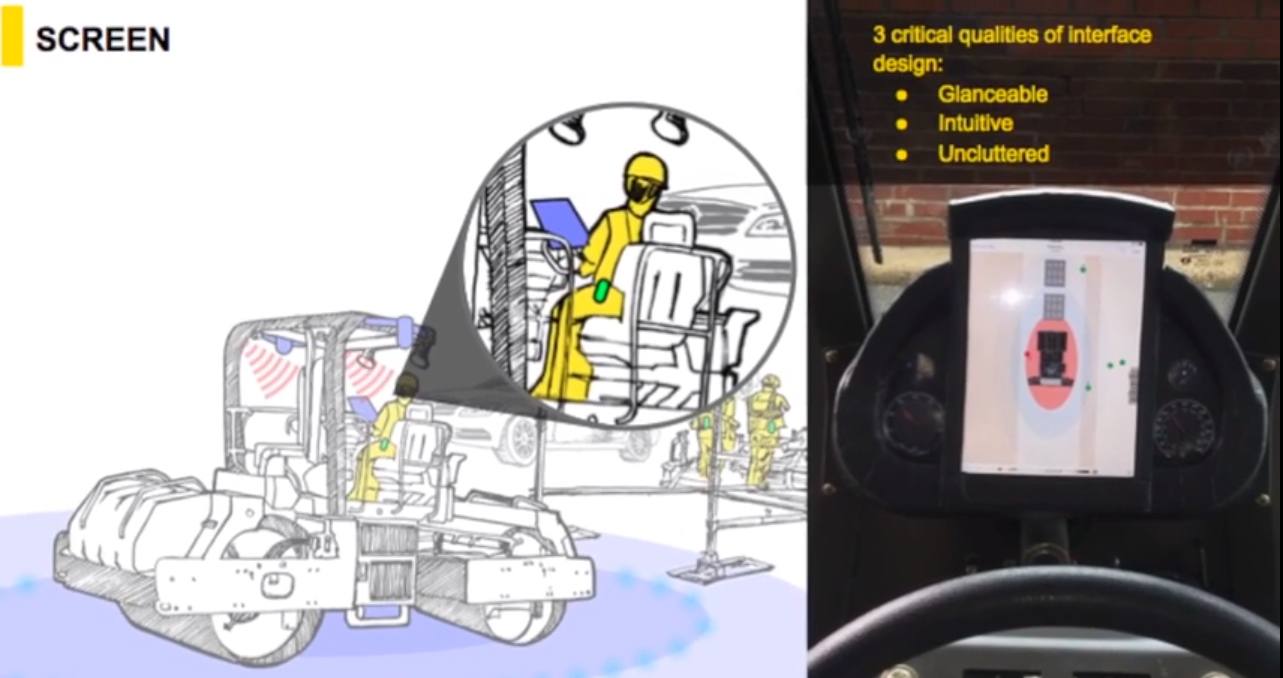 A screenshot of CMU's video showing the screen.
If the possible collision is a worker, the system recognizes them from their RFID and calls them out by name. The team explains that this helps to cut through the noise of the construction site. 
As far as SPAR can ascertain, the LiDAR unit is responsible only for detecting the presence and direction of a possible collision. This would mean that the system requires only a rudimentary LiDAR unit, keeping costs down.
In Construction Week Online, Dr Fares Beainy, a research engineer in Volvo's CE Emerging technology department praised the students' work. "We gave the students a simple mandate, without any restrictions or limitations: to design the future road construction operator's workplace, with an emphasis on safety. The students developed new ideas and, in the process, brought forth improvements that will make an impact in the field. Ultimately, that means saving lives."
Volvo will not be pursuing proprietary rights to the student research, which means that the Site Aware technology may be available for